CSI Writer Elizabeth Devine Wrote Her First Episode Under A Pen Name To Avoid Interfering With A Real-Life Case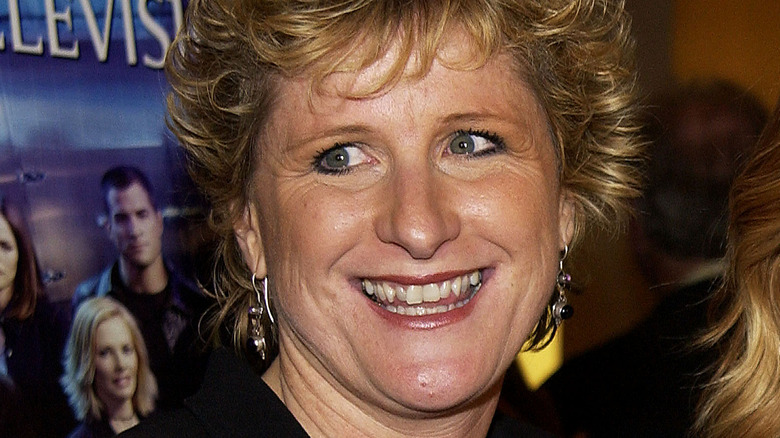 Vince Bucci/Getty Images
It's almost easy to forget, but during its 15-season run on CBS, "CSI: Crime Scene Investigation," was one of the most popular shows on television. The series even earned cheers from legendary filmmaker Quentin Tarantino, who jumped at the chance to helm the show's two-part Season 5 finale. 
During its run, "CSI" was, of course, renowned for its hyper-stylized depiction of the crime scene wizardry utilized in bringing down killers across the greater Las Vegas area. It was just as renowned for its depiction of the troubling, often gruesome crimes that pressed Vegas' CSI team into action week in and week out. While those crimes were undoubtedly sensationalized for the sake of small-screen drama, many were indeed inspired by disturbing real-world cases. That includes the Season 1 episode titled "Blood Drops," on which long-time "CSI" consultant and producer Elizabeth Devine earned a "Story By" credit. 
The episode actually marked Devine's first writing credit on "CSI," but few outside of the hit series' production knew that when "Blood Drops" went to air. That's because the writer was credited on the episode under the pen name Tish McCarthy. And it seems Devine herself insisted on the name change because she feared having her own name on the episode might taint an ongoing real-world investigation.
Devine needed to make sure she didn't inadvertently affect one of her ongoing cases
Elizabeth Devine initially joined the "CSI: Crime Scene Investigation" production as a consultant after working as a criminalist for the Los Angeles County Sheriff's Department (via Los Angeles Times). It seems the incredibly disturbing "Blood Drops" episode of "CSI" was loosely based on one of her cases. That episode finds the CSI crew investigating multiple homicides involving the killing of an entire family, save for the two daughters Tina (Allison Lange) and Brenda Collins (Dakota Fanning). As the case unfolds, Dr. Gil Grissom (William Peters) and his CSI pals eventually uncover the unsettling truths that led to the murders.
While Devine didn't divulge the details of the case "Blood Drops" was based on, she told CSI Files in a 2011 interview she still had good reason to keep her name out of the credits when it went to air. "My first writing credit on 'CSI' was listed as Tish McCarthy," Devine said, adding "primarily because the episode was based on an actual case of mine that had just happened and hadn't been to court yet." Devine apparently insisted on using the pen name to ensure her affiliation with the episode in no way affected the outcome of the case, telling CSI Files, "I didn't want to interfere with any aspect of putting away a murderer of a whole family by having my name pop up in a crime scene that might seem familiar."
As for that pen name, Devine claimed Tish McCarthy is a combination of her childhood nickname and her original surname. But any detective worth a salt probably could've figured that out.