Avengers: Infinity War Features A 25-Page Final Fight Sequence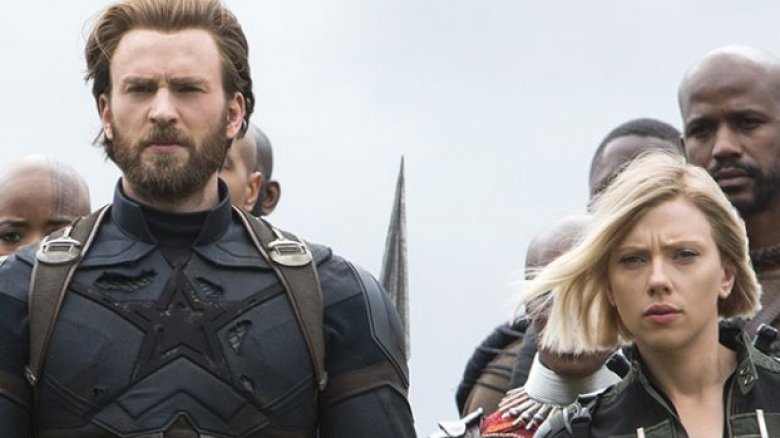 It's clear that Avengers: Infinity War is going to be massive — just take a look at the film's mile-long confirmed cast list, or skim through any past news headlines touting its size, scale, and scope. Marvel enthusiasts from all across the globe have long been prepared to see something huge when the film touches down in theaters in late April, but what star Anthony Mackie (Falcon to the fans) has just revealed pushes Avengers: Infinity War into territory yet uncharted by the Marvel Cinematic Universe.
Mackie appeared as a guest on the April 19 episode of ABC's Good Morning America, where he spoke about the final fight scene in Avengers: Infinity War. His character, the high-flying hero Falcon, is very much a part of the closing showdown (as evidenced by the footage unveiled on the morning talk show), which Mackie disclosed was 25 pages long in the movie's script. 
"I got 25 pages, which was the final fight sequence," Mackie said. The actor then joked that he initially misunderstood the enormous scene, adding, "I sent a long email saying, 'This movie's going to be awful. How does this work? There's no story! This is going to be the longest fight sequence ever.'"
As a general rule of thumb, one page of a script equates to roughly one minute of screen time, so if the conversion works out as expected, fans should anticipate seeing a 25-minute-long battle sequence in Avengers: Infinity War — the longest in MCU history. For comparison, the airport tussle in Captain America: Civil War ran for 11 minutes. Holy smokes.
The epic end rumble of Avengers: Infinity War is expected to take place in Wakanda, as most of the film's trailers have seen the Avengers and co. charging forward in the country's lush landscape, running in that specific slow-motion manner that can only mean they're about to defeat the bad guy and save the world.
Given this new information, and Mackie's previous tease of a huge Infinity War scene featuring "like 40 superheroes," it's evident Avengers: Infinity War will go out with a bang — and set a new record in the process. 
Directed by Joe and Anthony Russo, Avengers: Infinity War brings together essentially every last one of Marvel's biggest heroes: Captain America (Chris Evans), Bucky Barnes (Sebastian Stan), Iron Man (Robert Downey Jr.), Thor (Chris Hemsworth), Loki (Tom Hiddleston), the Hulk (Mark Ruffalo), Black Widow (Scarlett Johansson), Spider-Man (Tom Holland), Black Panther (Chadwick Boseman), Shuri (Letitia Wright), Vision (Paul Bettany), Scarlet Witch (Elizabeth Olson), Doctor Strange (Benedict Cumberbatch), Wong (Benedict Wong), War Machine (Don Cheadle), Star-Lord (Chris Pratt), Gamora (Zoe Saldana), Nebula (Karen Gillan), Groot (Vin Diesel), Rocket (Bradley Cooper), Drax (Dave Bautista), Mantis (Pom Klementieff), Ant-Man (Paul Rudd), and Hawkeye (Jeremy Renner) — plus many more. 
Fans can find out just how monstrous Avengers: Infinity War is when the film is released in theaters on April 27.