The Young Sheldon Actor Who Had A Stint On Better Call Saul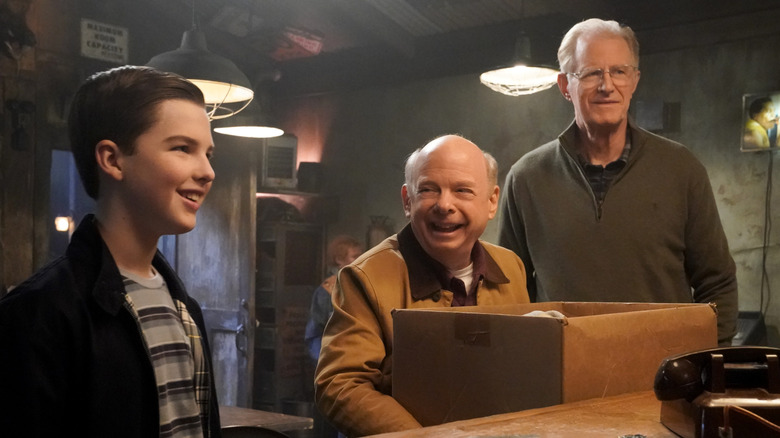 Robert Voets/ 2022 Warner Bros. Entertainment Inc
It'd be tough to come up with two shows more different than "Young Sheldon" and "Better Call Saul." Both are prequel spinoffs of popular shows, but one if a laugh track-infused CBS sitcom about a boy genius, and the other is a dark — though oft humor-infused — AMC drama following a corrupt lawyer navigating New Mexico's criminal underbelly. 
"Young Sheldon" follows boy genius Sheldon Cooper (Iain Armitage) before he becomes the adult Sheldon (Jim Parsons) audiences know from CBS' "The Big Bang Theory." "Better Call Saul" on the other hand is a prequel (and later, epilogue) focusing on the origins of corrupt lawyer Saul Goodman (Bob Odenkirk) from AMC's "Breaking Bad." While both shows can thank their predecessors in part for their success, they're both critically-acclaimed hits of their own. "Better Call Saul" wrapped up in 2022 after six seasons, while "Young Sheldon" is still going strong in its sixth season.
One small commonality between both shows that casual viewers may not have noticed is that one "Young Sheldon" star actually had a significant stint on "Better Call Saul." The actor's role on "Better Call Saul" involved some far darker material, but on both shows, he brought a warmth to his characters — something that made him an especially unique presence on "Better Call Saul," where he was just one pawn in the tragic game of chess involving Goodman.
Ed Begley Jr. played Clifford Main on Better Call Saul
In "Young Sheldon," Ed Begley Jr. portrays Dr. Grant Linkletter, a physics professor who works with Sheldon and is something of a mentor. The veteran actor also played Clifford Main on "Better Call Saul" and appeared in 14 episodes over four seasons. Main was briefly the boss of Saul Goodman, née Jimmy McGill, though the job ends in disaster when Main's penchant for the rules rubs Jimmy the wrong way and he makes it his mission to get fired. Main continued playing an important role in "Better Call Saul" even after Jimmy's job doesn't work out, as they're both behind a nursing home lawsuit that could bring in windfalls of cash. He also acts as a mentor in many ways to Kim Wexler (Rhea Seehorn), Goodman's eventual partner at home, work, and eventually in crime. 
As good as Begley Jr. is as Clifford Main, it's not the role he originally auditioned for. The actor revealed in a September 2022 interview with Closely Observed Frames that he was a massive fan of "Breaking Bad" and wanted to be part of "Better Call Saul" from the beginning, so he auditioned for the role of Chuck McGill, Jimmy's brother.
"After I read for the part, Vince [Gilligan] said there was a problem. There was a wonderful actor and he had promised him a long time ago that they would work together again. He made up his mind and he rightly chose the better performance, Michael McKean," the actor said.
Luckily, co-creator Vince Gilligan didn't forget about Begley Jr. and called him in to take on the role of Cliff, a performance he'd kept up through the show's final season in 2022.