Young Sheldon Is Possibly Retconning A Big Detail From The Big Bang Theory Canon (And That's Fine With Us)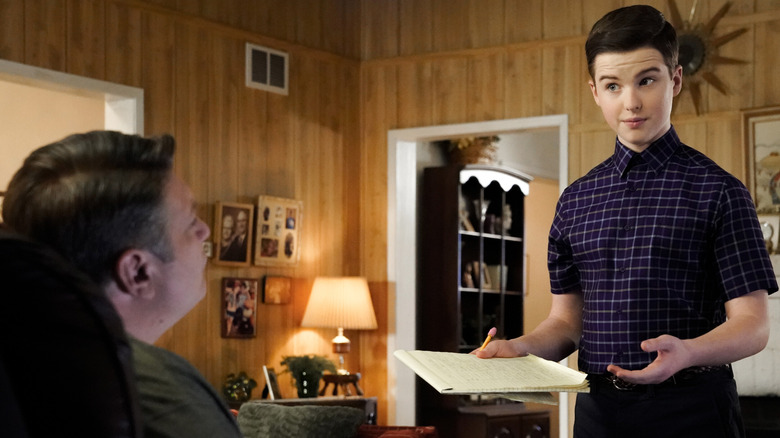 Robert Voets/CBS
The character of Sheldon Cooper was a highlight on the CBS sitcom "The Big Bang Theory." Played by Jim Parsons, Sheldon starts the series as a prickly character whose high level of intelligence is only matched by his inability to relate to people.
Over the show's 12 seasons, the audience learns a lot about Sheldon's past from before the series, meeting his mother Mary (Laurie Metcalf) as well as his siblings George Jr. (Jerry O'Connell) and Missy (Courtney Henggeler). Based on the stories Sheldon and his family shared about his childhood, as well as his interactions with his family members, many viewers were curious to learn more about what Sheldon was like as a child. This ultimately led to the creation of the spinoff series "Young Sheldon," with Iain Armitage taking over the role of (young) Sheldon from Parsons, and Parsons remaining onboard as the narrator.
However, what Sheldon's told about his childhood in "The Big Bang Theory" and what viewers have seen on "Young Sheldon" haven't always lined up. A major detail from the original series may now be retconned on the spinoff, and that's not necessarily a bad thing.
A formative event in Sheldon's childhood may not happen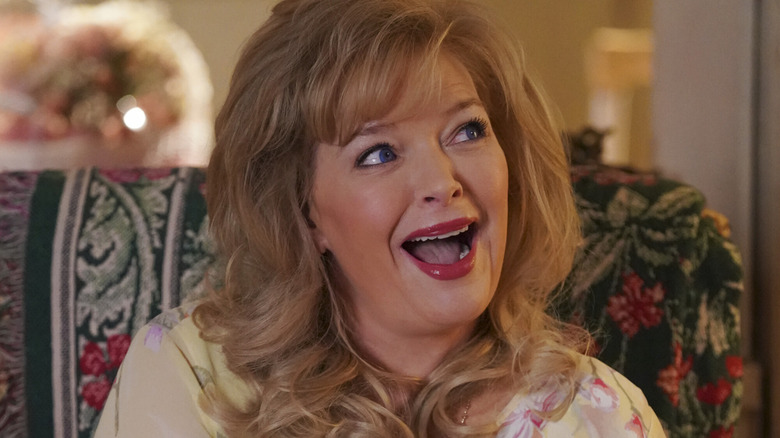 Michael Yarish/CBS
On the tenth season of "The Big Bang Theory," Sheldon spoke about how his habit of knocking three times came from when he walked in on his father sleeping with another woman at 13, something that has stayed with him since. In Episode 11 of the sixth season of "Young Sheldon," titled "Ruthless, Toothless, and a Week of Bed Rest," Sheldon's twin sister Missy, played by Raegan Revord, who is also now 13, confronts their father, George Sr., played by Lance Barber, about having an affair with their neighbor Brenda Sparks, played by Melissa Peterman.
However, on the show, George and Brenda haven't slept together yet. There have been signs of the two having feelings for each other, but while it was inching towards a full-blown affair, that hasn't happened yet. And with Missy's confrontation, any plans the two may have to act on their feelings are sure to be delayed, assuming it happens at all. This means that a formative part of Sheldon's childhood is unlikely to occur in "Young Sheldon" when it reportedly occurred in "The Big Bang Theory."
Retconning the event could deepen Sheldon's character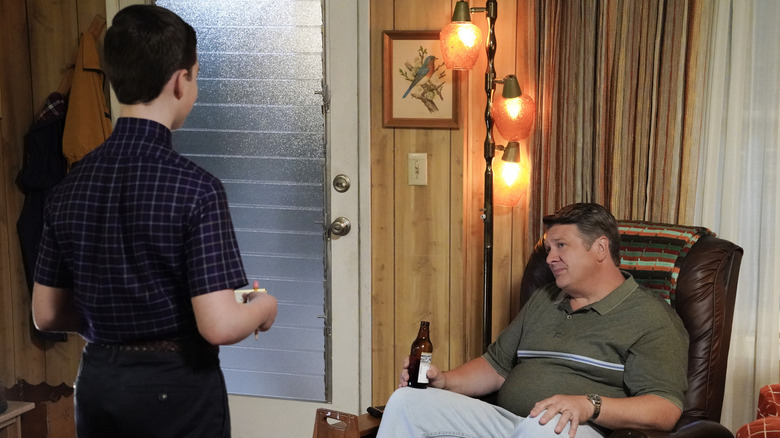 Robert Voets/CBS
This is, however, perfectly okay with us. A key element of "The Big Bang Theory" over its run was how Sheldon, as an adult, learned how to relate to other humans on an emotional level. As a child, Sheldon would naturally not have that same level of emotional maturity. This would color the interactions he'd have with his family, as well as how he'd perceive those interactions in the future.
In addition, Sheldon's above-average intelligence puts emotional stress on him that few children would be able to cope with, let alone someone who was already having difficulties with people around him. Over the course of the series, Sheldon has had trouble forging friendships in school with children his own age. Now, in college, he's surrounded by older people, making things more difficult.
Thus, Sheldon having a misperception of his father's relationship with Brenda due to his everyday struggles deepens the character in both shows and creates a more complex experience that Sheldon had to deal with. Sheldon not understanding that there are stages to a relationship between two people who are attracted to each other makes sense with a lot of the ways he's interacted with people and commented on relationships in "The Big Bang Theory," and his misunderstanding affecting his relationship with his father adds a tragic edge to the character on "Young Sheldon."