60 Minutes' Sharyn Alfonsi Recalls The Difficulties Of Traveling To Afghanistan For An Interview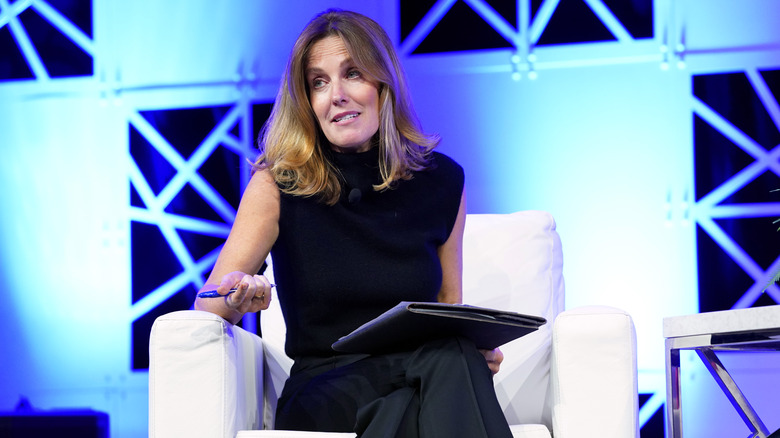 Marla Aufmuth/Getty Images
Most prestigious news shows have done their fair share of reporting from danger zones, including "60 Minutes." Even with some viewers pondering whether the journalistic quality of the famous news magazine show is in fact declining, and even though not every attempt to spin-off from the original has proven successful, there are plenty of examples of its journalists putting themselves in situations that aren't entirely cushy and secure.
There was, for example, the 2014 report from the Chernobyl exclusion zone, home to the worst nuclear accident in history (via CBSnews.com). More recently, in 2017, "60 Minutes Overtime" ran a segment that reported from the demilitarized zone between North and South Korea (via CBSnews.com).
Even more recent has been the example of stories in and about Afghanistan. As most will know, there is an ongoing humanitarian crisis unfolding in the central Asian country, following the end of the twenty-year occupation by the United States military and the return of the theocratic Taliban to power. So when "60 Minutes" decided to try to interview a Taliban official in Afghanistan in 2021, it was obvious that reporters, producers, and crew would be taking a massive risk. In fact, even getting into the country would prove a challenge.
'Not as easy as buying a plane ticket'
Speaking with The Hollywood Reporter, "60 Minutes" correspondent Sharyn Alfonsi recounted how difficult it was to travel to Afghanistan in the first place. "Obviously, it's not as easy as buying a plane ticket," she said. Indeed, the U.S. State Department lists Afghanistan at "Level 4: Do Not Travel," citing risk of violence and kidnapping, and a lack of the diplomatic relations needed to make it possible to negotiate for U.S. citizens' safe release.
Rather, Alfonsi, her producer Ashley Velie, and their camera crew had to get to Afghanistan by hitching a ride with a United Nations humanitarian aid mission. Entering the country, Afghani border guards checked their documents and passports. "Our crew, photographers and sound, who were from Europe, their passports got stamped and they went right through," said Alfonsi, "and then my producer Ashley Velie and I, with our American passports, and being women, show up and the guy gave us this look of death, stamped the passports and threw it back at us."
Nonetheless, they had gotten in. And though it took a good amount of careful negotiation, toward the end of the trip, Alfonsi and her crew were able to interview Taliban Health Minister Dr. Qalandar Ebad (via CBSnews.com).