Stephanie March Attributes Law & Order's Success To Its Amazing Guest Stars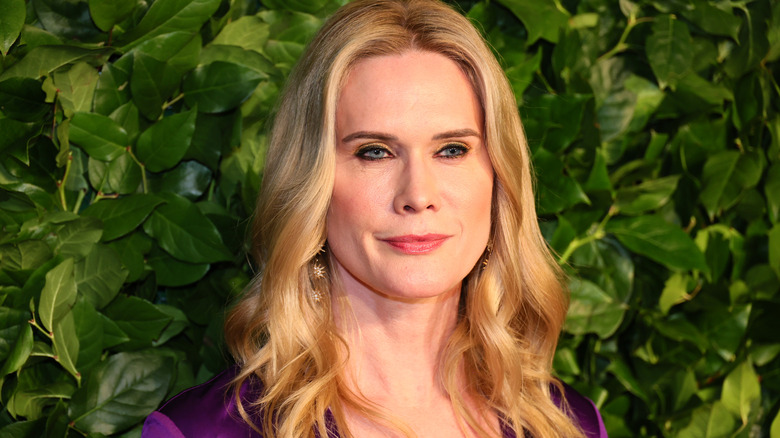 Theo Wargo/Getty Images
In the first season of "Law & Order: Special Victims Unit," there wasn't much balance between the law and order sides of things, as the show didn't have its own prosecutor. They changed that in Season 2 when the show brought in ADA Alex Cabot (Stephanie March) to become the dedicated attorney for the SVU squad. Cabot was written off in the Season 5 episode "Loss," with her character being forced into witness protection, but she came back for an episode in the next season called "Ghost" and then headed up the short-lived "Law & Order" spin-off "Conviction," where she led a group of young district attorneys. In 2009 she returned to "SVU" and has been an on-again-off-again cast member ever since.
In a 2018 interview with E! Insider, March explained what she thought made "Law & Order: Special Victims Unit" so successful, and she brought up the fact that the show is so episodic — even though she professed a love for long-form, serialized drama — and that the characters are so well written. In an interview with the Today Show in 2009, March was asked how the show succeeded despite having such grim subject matter, and she talked about the fact that "SVU" depicts sexual assault without sensationalizing it, allowing them to reach an audience that really wants to learn more about these types of crimes.
That being said, in another interview, March had a different explanation for the show's success: she chalked it up to all of their great guest stars.
Stephanie March says that SVU gets the best actors from the New York theatrical community
NBC
In a 2011 interview with MovieWeb, March was asked what the secret to the show's success has been over the years, and she mentioned the characters, especially Olivia Benson (Mariska Hargitay), but then also gave credit to the show's amazing guest stars. "[W]e draw from some of the best people in the theatrical community in New York on camera and off I should say and they do such a wonderful job with these really meaty, juicy roles." It's true that the "Law & Order" franchise has had its share of notable guest stars. "SVU" alone can boast some truly amazing guest appearances, one of the most notable of which was the late, great actor and comedian Robin Williams in the Season 9 episode "Authority," for which Williams was nominated for an Emmy.
In a 2021 thread in the r/SVU subreddit, u/tvshowgraphs put together a chart that shows how famous each of the show's most notable guest stars was compared to how evil their character was on the show, showing that the lesser-known actors usually played the most sinister characters. But the thread that ensued turned into fans talking about their favorite guest stars, and everyone had a different one, from Patricia Arquette to John Stamos to famed comedienne Carol Burnett. Redditor u/sammysummer said that Pablo Schreiber and Ludacris had done such good jobs that the user couldn't watch anything else they've been in without thinking of their "SVU" character. So it would seem most fans would agree with March that the guest stars are part of what makes the show so successful.