Michael Keaton's 60 Minutes Episode Only Made Fans' Love For Him Grow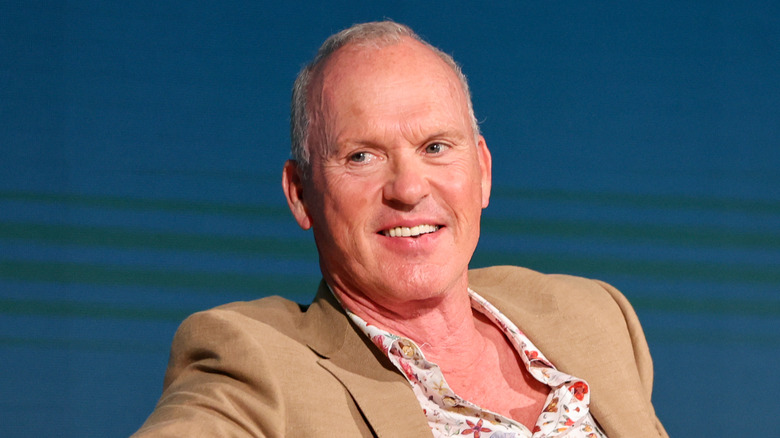 Matt Winkelmeyer/Getty Images
Michael Keaton made his professional debut in show business as a member of the "Mister Rogers' Neighborhood" floor crew in 1975 (per Fred Rogers Productions). Today, Keaton is a distinguished, multi-faceted thespian who steals scene after scene. He totally commits to every part and unearths the whole truth about his characters for moviegoers. Whether it's flexing his comedic chops in Ron Howard's "Night Shift," or terrorizing new homeowners Melanie Griffith and Matthew Modine in "Pacific Heights," fans always walk away knowing Keaton gave his very best.
Over the years, Keaton brought an assortment of unforgettable characters to life, including Beetlejuice, McDonald's founder Ray Kroc, and "Spider-Man" villain Vulture. However, the DC fandom will forever hold Keaton's interpretation of the Dark Knight in the highest esteem, even with so many worthwhile Batmen comprising the hallowed fraternity. "Keaton had a darkness to him, something uncomfortable," u/BoomDockSaint_x wrote. Meanwhile, u/lingdingwhoopy added, "Keaton fits [Tim] Burton's world like a glove. He has an effortless sense of presence no other actor in the role has been able to capture." 
Keaton is wonderful at capturing crucial "heroic" elements in his acting, and he was actually inspired by his own heroes: yesteryear's cowboys. "What I watched and learned and grew up on and loved was really television — and old Westerns primarily," Keaton told "60 Minutes." "I wanted to be those people." The fans' admiration for Keaton over the decades is apparent, but the actor endeared himself to them even more during his interview with the CBS news show.
The real-life Keaton is as compelling to fans as his on-screen characters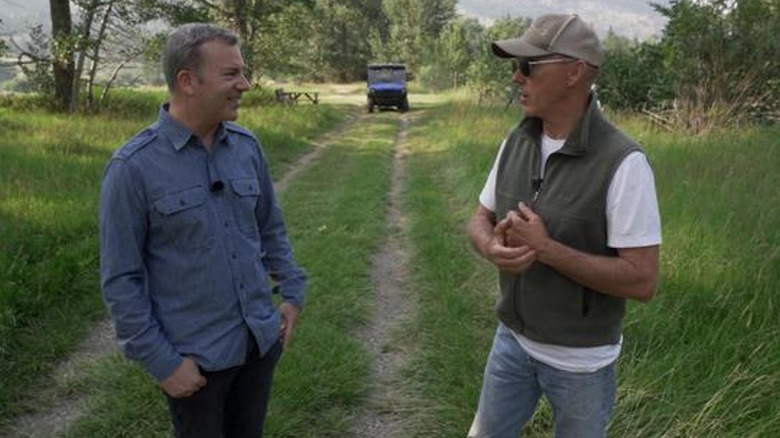 CBS Media Ventures
Michael Keaton exudes an electric on-screen charisma, but his real-life charm also endears him to fans. And those same enthusiasts only fell in love with Keaton more when his humble nature came shining through during his October 2021 interview with "60 Minutes." Keaton reflected on his formative years with Jon Wertheim (via YouTube), and the actor revealed that he had very little money growing up. "[Keaton is] one of those rare Hollywood talents who comes across as being completely genuine and supremely decent," YouTuber Travis Furber responded to Keaton's interview in the comments. "Love this guy," YouTuber E.T. wrote. "Personable and down to earth."
"And [he] always comes across as a great, down-to-earth guy," YouTuber Tarantino 01 also commented. In 1989, Keaton stepped into the Bat boots once filled by television's first Batman, Adam West, but his cinematic version of the Dark Knight remains a fan favorite — and Keaton loves it. "No, I am the Batman," Keaton told Wertheim with a straight face. "Let's be clear about that." Suddenly, that infectious smile of Keaton's crept across his face revealing that sense of humor he is so well-known for. "No, kidding," he laughed. 
"When he is asked are you Batman, and he said, 'No, I am the Batman,' Michael Keaton, you sir are 100% correct," YouTuber Darran commented. Meanwhile, YouTuber Phil Walsh concurred, writing, "One of the finest actors out there — and the best Batman."