Deadpool 2 Favorite Peter Gets His Own Fan-Made Poster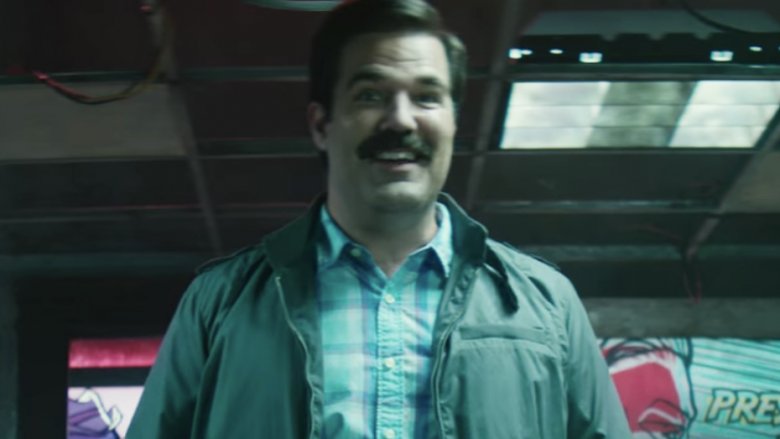 Not all heroes wear capes. Peter from Deadpool 2 is the prime (and perhaps currently most well-loved) example. 
When 20th Century Fox dropped the surprise final trailer for Deadpool 2, Marvel fans expected something stellar but standard: raunchy jokes, witty one-liners from Wade Wilson, mutant-on-mutant rumbles, additional peeks at Terry Crews' Bedlam and Lewis Tan's Shatterstar, a few gratuitous shots of Ryan Reynolds' backside (or frontside, as it turned out), Josh Brolin's Cable packing a literal punch, and the Merc with a Mouth simply proving his comeback is one for the history books. But what they got was even better.
The unexpected star of the latest Deadpool 2 promo footage was Peter, the kind-hearted guy who just wants a shot at joining X-Force, despite not having any powers like the rest of Deadpool's rough-and-ready team of heroes. He makes his debut right at the end of the trailer, rocking up to Deadpool and Weasel's (T.J. Miller) X-Force audition panel and admitting that he can't shoot fire out of his hands or read people's minds or manipulate probability in his favor, but he saw the advertisement looking for help and wanted to lend a hand. Deadpool clearly digs his gusto, and announces that he's got a spot on the X-Force squad.
To commemorate Peter's official inclusion on the team, popular digital artist Boss Logic created a fan-made poster just for him. The one-sheet shows Peter standing proud, a big smile plastered across his mustachioed face, and features the perfect tagline: "Some heroes are born, some just show up." Check it out below.
Played by comedian and actor Rob Delaney, Peter has become something of an overnight sensation amongst Marvel fans, who recently discovered that the character actually has a Twitter account, which was started in an incredible stroke of marketing genius a few weeks ago. Peter's bio describes him as the apex of stereotypical father figures: "Husband. Experienced Apiarist (Beekeeper). I like sports and grilling on my deck." His tweets read exactly like a dad who created a Twitter account in efforts to stay on-trend and keep up with his tech-savvy kids. Peter's first-ever tweet reads, "Wife's always telling me to 'get out of my comfort zone!' So, I figure making a Twitter and doing this #BeDeadpools2nd thing is a great way." Another is just as hilarious: "Have you ever looked at your face upside down in a mirror? Ha, my moustache looks like a unibrow! #Sundayfunday." 
Delaney's Peter joins a handful of returning Deadpool stars — like Morena Baccarin's Vanessa, Brianna Hildebrand's Negasonic Teenage Warhead, Stefan Kapičić's Colossus, Leslie Uggams' Blind Al, and Karan Soni's Dopinder — but also brushes shoulders with new-to-the-series actors Shioli Kutsuna, Eddie Marsan, and Bill Skarsgård, whose roles have yet to be announced.
Fans can see plenty more of Peter (and not just in a fan-made poster or on Twitter) when Deadpool 2 flies into theaters on May 18.
This is all I care about now #Peter @deadpoolmovie @VancityReynolds pic.twitter.com/MDf3qIQnuI

— BossLogic (@Bosslogic) April 20, 2018