That Time When Norm Macdonald Classically Sank A Movie Before It Premiered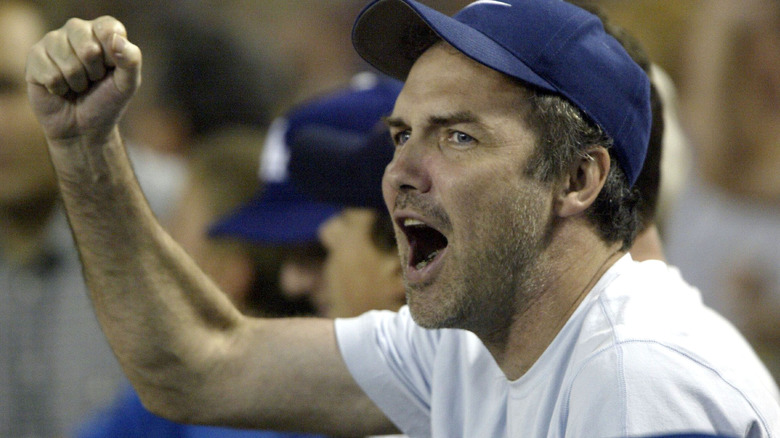 Lisa Blumenfeld/Getty Images
Years after his passing, Norm Macdonald continues to be remembered for his various appearances, comedic bits, and takedowns. The funnyman, who inspired several contemporary comedians, has a legacy filled with his highs and lows. Following his death in September 2021, several of his former colleagues and friends came out to praise the "Saturday Night Live" alum. "Most fearless funny original guy we knew," Adam Sandler shared on Twitter. The "Uncut Gems" actor is certainly right in bringing up Macdonald's fearlessness, which persisted throughout his career.
How difficult is it to pick the best moment that encapsulates Macdonald's wit, charm, and sarcastic edge? Very hard. Luckily, Looper sister site /Film compiled some of the comedian's most iconic moments, diving deep into the archives. One moment that particularly stands out from the list is when Macdonald found himself in the middle of hoopla involving Courtney Thorne-Smith, Conan O'Brien, and Carrot Top. Macdonald was caught in a PR nightmare, of his own doing, with the most hilarious rotation of players.
What exactly did the farcical comedian do? Using just his words, Macdonald classically sank a movie before it premiered, possibly changing Hollywood forever (but probably not).
Norm Macdonald ridiculed Carrot Top's first major film on Conan's show
Norm Macdonald never shied away from speaking his truth, no matter how brutal it was. Consider the comedian's taunting of fellow comedian Carrot Top, which reached a boiling point when he belittled one of his films before it even hit cinemas.
Take a step back to 1997, when Macdonald appeared on "Late Night With Conan O'Brien" alongside guest Courtney Thorne-Smith. The actress appeared on the talk show to discuss two pivotal happenings in her life: her departure from the Fox soap opera "Melrose Place" and upcoming appearance in a Carrot Top-starring flick. MacDonald quickly began to mock Thorne-Smith's costar, echoing the criticisms the prop-focused comedian received at the time, with Cracked dubbing Carrot Top an "easy target" that came across as "cheap."
Before Thorne-Smith revealed the title of the film, Macdonald jokingly called the movie "9½ Seconds." After Conan pressed Thorne-Smith to reveal the title of the film, Macdonald once again interjected, saying, "If it's got Carrot Top in it, you know what a good name for it'd be? 'Box Office Poison.'" Thorne-Smith, while laughing, asked Macdonald "What about my career?" Conan playfully scolded Macdonald to reign in his heckling. The former "Saturday Night Live" star maintained that he would see the Carrot Top-led film purely for Thorne-Smith's performance.
After reeling the two's playful banter in, Conan reminded Thorne-Smith that the audience still didn't know the film's name. "Chairman of the Board," the actress answered. After being pressed by Conan to come up with a play on the title, Macdonald said, "I've got [it]... the 'Board' is spelled b-o-r-e-d," a response that left both Thorne-Smith and the audience in stitches.
Carrot Top's film was a flop but he still called Norm Macdonald a friend
Ethan Miller/Getty Images
Norm Macdonald's comments certainly had a ripple effect on "Chairman of the Board's" success. The film went on to gross just over $300,000 at the domestic box office, failing to recoup its $7 million budget, per The Numbers. Upon its release, the film was torn apart by critics. Described as "lifeless" by Entertainment Weekly critic Lisa Schwarzbaum in a D- review, the film wasn't able to capitalize on Carrot Top's '90s success. While the comedy wasn't adored by many, the EW critic couldn't help but point out that "[...] many weirdly interesting supporting actors and some elaborate production design go to waste in this charmless comedy," essentially affirming Courtney Thorne-Smith's performance.
It's fair to suggest that the film's legacy wouldn't have become so sour if Macdonald hadn't torpedoed the film. It's likely that "Chairman of the Board" would have come and went, with many forgetting its existence. Instead, the film is now directly tied to Macdonald's barrage. He apologized to Carrot Top the day after the taping (via Times Colonist), saying he "felt kinda bad after that."
Following Macdonald's death in 2021, Carrot Top paid tribute to the comedian at one of his shows (via Instagram), playing the infamous "Conan" clip for all to watch. "Norm was a very funny dude and a unique kind of talent," Carrot Top said, setting up the clip. "I wouldn't say we were best of friends, but I think we were friends ... This thing he did on Conan O'Brien is just [expletive] great."
As for how Thorne-Smith sees the situation? She praised Macdonald in a Vanity Fair interview for taking over during the interview. "It didn't even occur to me that it could possibly be negative ... I was like, good, Norm, you take over."