The Real Reason Norm Macdonald Was Fired From SNL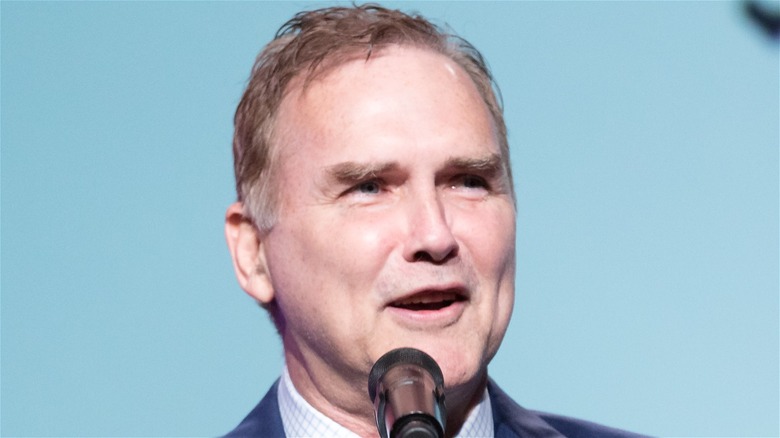 Greg Doherty/Getty Images
Norm Macdonald was one of the most eclectic and revered comics working over the past few decades. Like many before and after him, he got his introduction to the zeitgeist at large on "Saturday Night Live." His dry wit made him an instant hit with fans, and in 1994, he put it to good use by becoming the anchor on the "Weekend Update" segment. A highlight of the show became Macdonald telling jokes about the news only he could get away with.
Macdonald passed away on September 14, 2021, and his many fans looked back on his comedic legacy in the immediate aftermath. Social media soon became flooded with video clips of some of the actor's best moments in film, television, and as a guest on late-night talk shows. Macdonald metaphorically spat in the face regarding the ways talk show moments are typically handled, and a great example of that comes during a 1998 appearance on "The Late Show with David Letterman." 
Letterman actually introduced Macdonald as the host of "Weekend Update," only to learn shortly thereafter he had been fired. So this was monumental news for everyone involved. It begs the question: What caused the abrupt firing in the middle of the "SNL" season?
The popular theory is that Norm Macdonald ruffled some feathers with his O.J. Simpson jokes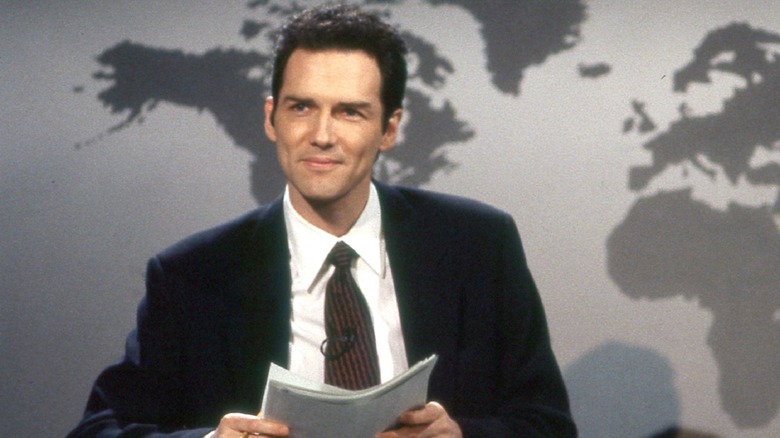 NBC
When Macdonald appeared on Letterman's show, he didn't specifically give a reason for his firing, but he does mention it was somewhat out of Lorne Michaels's control. Instead, the blame rested on NBC executive Don Ohlmeyer, and by the sound of it, Ohlmeyer wasn't a fan of Macdonald's brand of humor. At the time, the comedian didn't harbor any ill will toward Ohlmeyer, even going so far as to call him a good man.
Macdonald didn't indulge in any hot gossip. But rumors persisted that his firing had to do with a running bit Macdonald had on "Weekend Update" where he would make fun of O.J. Simpson by telling jokes about how he allegedly murdered Nicole Brown Simpson and Ron Goldman. Often, these references came entirely out of left field.
Ohlmeyer was apparently good friends with Simpson, and he didn't take kindly to the plethora of jokes at his expense. In fact, the bad blood carried over even after Macdonald left "SNL" (via IndieWire). Ohlmeyer allegedly told Conan O'Brien not to book Macdonald any more on his late-night talk show, but O'Brien defended his friend to the executive. The conversation ended with Ohlmeyer telling O'Brien something along the lines of "I expected better of you." Macdonald didn't have an issue getting work, though, as he continued appearing in movies and television across the next couple of decades. As always, it would appear as though Macdonald got the last laugh.