Anna Kendrick Thought Scott Pilgrim Vs. The World Would Be A 'Tough Buy' For Audiences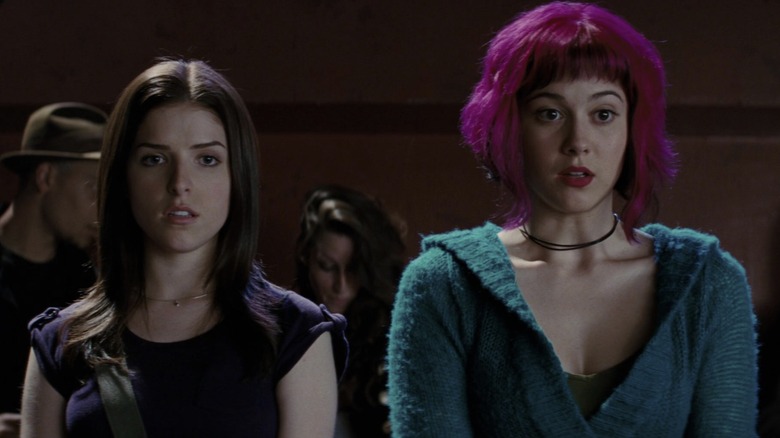 Universal Pictures
Although it may not seem like it today, "Scott Pilgrim vs. the World" was far from an instant hit when it was released in 2010. In fact, it wasn't successful at the box office whatsoever, earning only $47 million worldwide on a budget of roughly $60 million.
On paper, "Scott Pilgrim vs. the World" looks like a recipe for success, with critically-acclaimed director Edgar Wright, who was coming off hits like "Hot Fuzz" and "Shaun of the Dead," bringing the popular comic book to live-action. It also boasts a particularly talented cast, including Michael Cera, Mary Elizabeth Winstead, Kieran Culkin, Chris Evans, Anna Kendrick, Brie Larson, Aubrey Plaza, Brandon Routh, and Jason Schwartzman. Even critics gave "Scott Pilgrim" the glory it deserved, with many praising its gleeful and unique comic book visuals.
However, since then, "Scott Pilgrim vs. the World" has become a cult classic, with more and more fans rallying behind the movie every year. Cera thinks the movie's growing popularity stems from finding the right audience. He credits the incredibly fun time he and the cast had during filming for its ever-lasting success, believing it shows in the final product. However, while on-set, another "Scott Pilgrim" star, Anna Kendrick, wasn't so sure the movie would sit well with audiences.
Kendrick may have predicted Scott Pilgrim's box office, but not its legacy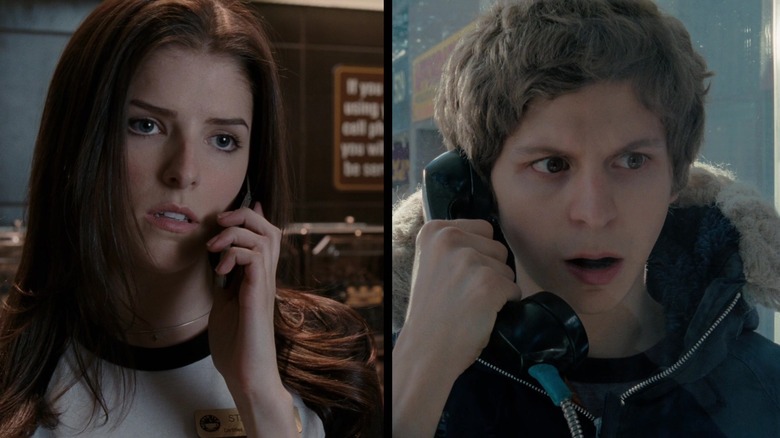 Universal Pictures
During a recent interview, Vanity Fair sat Anna Kendrick down and made her rewatch some of her own iconic performances, including her work in "Scott Pilgrim vs. the World." When she rewatched a scene from Edgar Wright's comic book movie, Kendrick revealed that she initially wasn't sure if the film would register with audiences, but she signed on to work with the director regardless. 
"I'll be honest, when I read this script I was like, 'I totally don't get this, but I love 'Shaun of the Dead,' I love 'Hot Fuzz,' and I just wanted to work with Edgar Wright,'" Kendrick admitted. "But I do remember this on paper being like, 'I don't know how this is going to work, but I'm just going to trust that he sees it,' which he did. It's so awesome." 
During the interview, she watched the movie's first fight scene, when Scott takes on Michael (Satya Bhabha), one of Ramona's evil exes. The battle of the bands quickly turns into hand-to-hand combat between Scott and Michael, with Ramona and Stacey (Kendrick) watching from above. To make things even stranger, Michael randomly bursts out in song, and that's when Kendrick began to have some questions. She said, "I remember sort of being the only one to be like, 'I think that this might be a tough buy for the audience.'" 
Kendrick couldn't keep her thoughts on the weird scene to herself, and Wright recorded her natural reactions, using some of them in the movie for Stacey's genuine response to what is happening in front of her.