Steve-O Never Imagined Jackass' Explicit Scenes Would Be Allowed On TV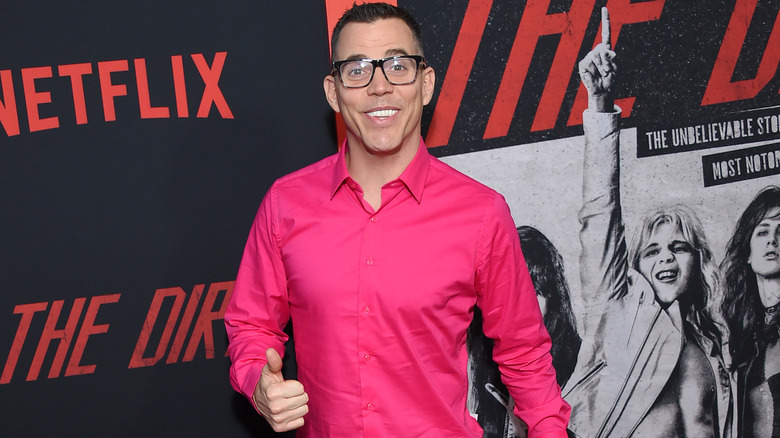 DFree/Shutterstock
Few shows aimed at teenagers rattled the cages of their parents as much as "Jackass" did. While series like "Beavis and Butt-Head" or "South Park" drew the ire of many groups for their foul language and over-the-top adult content, MTV's live-action stunt show was seen as dangerous in a whole other way. Mainly, that it might inspire viewers to attempt the often incredibly dangerous stunts that its cast regularly undertook.
All the same, the franchise is still going on strong to this day, with the latest film, "Jackass Forever," having only been released in 2022. Members of the original cast like Johnny Knoxville, Bam Margera, and Steve-O are still beloved by fans. However, that doesn't mean that the success of the series that made them household names makes any more sense to them. According to recent comments by Steve-O on an episode of his podcast, the cast was just as confused as to how they were able to get away with so much on TV.
Steve-O says they worked around the rules to get Jackass on TV
Steve-O regularly talks about his time on "Jackass" during episodes of his "Steve-O's Wild Ride!" podcast. Still, it seems that not even the stars of MTV's line-crossing stunt comedy series were sure that their episodes would make it to air during the beginning of the show's legacy.
"The problem I envisioned us having is just being allowed on TV," Steve-O explained. "Like nobody's gonna show what we do. We became rather nimble in working our way around the rules and kind of jumping through hoops," the actor went on. Considering how often the characters were naked or almost naked and how often genital trauma or extreme pain was a part of the series, it's pretty easy to see where the "Jackass" star is coming from here.
"We found ways to get away with showing what we do," Steve-O said, shaking his head with exasperation before exclaiming: "I don't know how this is on TV." Well, as the aforementioned controversy clearly displays, there were many who thought that "Jackass" should not, in fact, be on television. Still, that doesn't do anything to diminish the show's long-lasting legacy or the major impact it had on the lives of many of its stars.