John Travolta Loses An Eye In Images From Fred Durst's Moose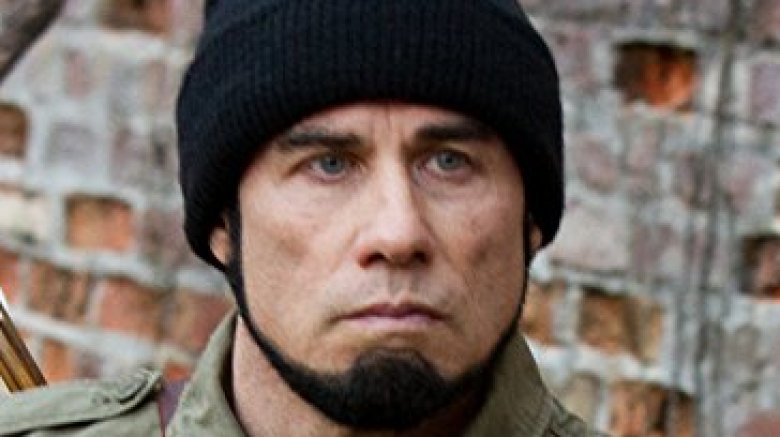 Millennium Films
Limp Bizkit frontman Fred Durst is directing John Travolta in a semi-autobiographical movie called Moose, right here where we live in the strangest possible timeline — and new images from the production make the unexpected movie look like a bloody good time.
The feature, principal photography for which took place in Alabama, follows Travolta as a passionate movie fan whose obsession with one actor goes from merely creepy to potentially murderous. 
According to the movie's logline, Travolta plays Moose, an older man who develops a dangerous obsession with his favorite action star, played by Devon Sawa. 
After being slighted at an autograph convention, Moose loses his mind and invades the actor's home, sparking a Misery-esque power struggle between the actor and his unhinged fan as Moose turns from a distant admirer to a revenge-driven psychotic.
Images from the movie's Instagram page provide a glimpse at what to expect from the surprising picture, which is based on a true-life story of fan stalking Durst experienced, according to a report by Variety.
Check out the images below.
Moose was written by Durst and Dave Bekerman, serving as the singer's first screenwriting credit.
It's not the first movie Durst has directed — in fact, the frontman has directed two feature movies prior to Moose. His debut, The Education of Charlie Banks, was released in 2007, starring Jesse Eisenberg, Jason Ritter, and Sebastian Stan. His second, 2008's The Longshots, told the story of the first girl to play Pop Warner football, starring Ice Cube in the lead. 
Both movies proved surprising to critics, who were under the impression that the Chocolate Starfish's directorial work would be more immature, or less restrained. From the look of the set of this violent thriller, Moose appears to be a little more aligned with the Limp Bizkit brand.
In addition to Travolta and Sawa, Moose stars Ana Golja, James Paxton, and Jessica Uberuaga. At the time of this writing, no release date or distributor for the movie has yet been announced.