No, An Eleven Spin-Off Is Not In The Works Says Stranger Things' Writers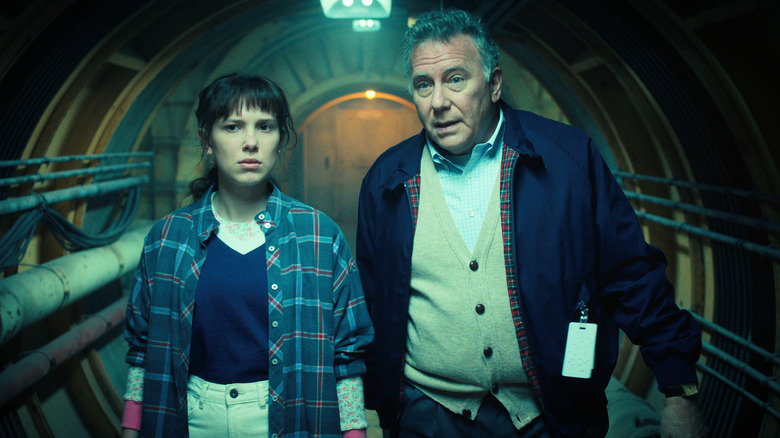 Netflix
Netflix had absolutely no idea what it had on its hands when "Stranger Things" premiered in 2016. To say the Duffer Brothers' science fiction drama was a hit would be a massive understatement, as the series has become practically synonymous with the streaming platform.
Fast forward seven years, "Stranger Things" still reigns supreme as Netflix's all-time most popular show, and it looks like the only thing that would dethrone Season 4 as Netflix's top season of TV would be Season 5. After a return to form in Season 4, Netflix was quick to announce Season 5, which will be the final time audiences get to see some of their favorite Hawkins characters. Although it's a long way away, the Duffers started writing the season about halfway through 2022, and "Stranger Things" star David Harbour assured fans it'll be worth the wait. To hold fans over until Season 5 hits the platform, Netflix revealed the episode title for the premiere, showing them what they can expect from the show's epic conclusion.
While Season 5 will wrap up the main story, chances are Netflix will continue the "Stranger Things" universe in some way, shape, or form. The streaming service is just as quick to milk its properties for all they've got as they are to cancel projects they deem underperforming, so an announcement of a "Stranger Things" spin-off would surprise no one. With rumors recently circulating online about just that, the show's writers took matters into their own hands, denying that an Eleven-centered spin-off is in the works.
Stranger Things' writers dispel those pesky spin-off rumors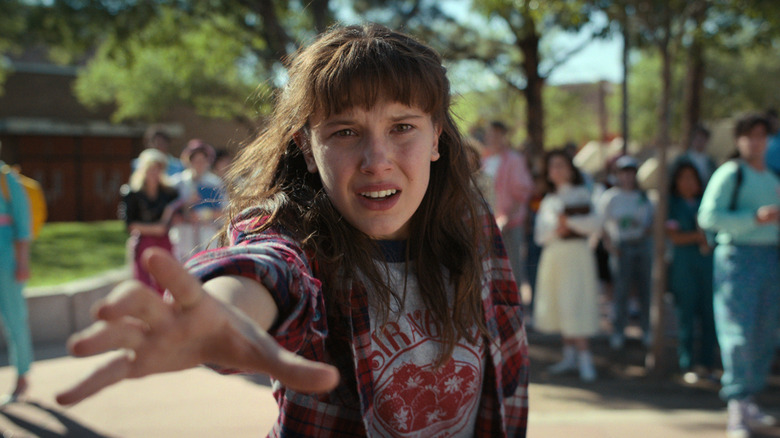 Netflix
Earlier this week, rumors of a "Stranger Things" spin-off ignited Twitter after a report by Giant Freakin Robot hit the internet. The website claimed that series breakout Millie Bobby Brown had signed on to reprise her role of Eleven in a spin-off focused on the character. Unfortunately for the outlet, their "exclusive" turned out to be nothing more than false reporting, as the "Stranger Things" writers' team put the rumors to bed with a simple reply: "Not true."
It's probably best that the writers took care of the rumors before fans got their hopes up, and a spin-off focusing on Brown's Eleven makes the least sense, as she's practically the show's main character. Of course, that doesn't mean "Stranger Things" won't continue past its fifth and final season, but don't expect any fan-favorite characters to be the focal point. After Season 4 hit Netflix, Matt and Ross Duffer confirmed on the "Happy Sad Confused" podcast they were working on a spin-off, but it would be "1000% different," saying, "It's not following ... I've read these rumors that there's gonna be an Eleven spinoff, that there's gonna be a Steve and Dustin spinoff, or that it's another number. That's not interesting to me because we've done all that. We've spent I don't know how many hours exploring all of that. So it's very different."
When it comes to "revealing" what the "Stranger Things" spin-off will be centered around, don't believe any of the news online. During their podcast appearance, the Duffer Brothers confirmed that not even Netflix knows what they're up to, but they're excited to tell the world one day.