Stranger Things Unearths The First Episode Title For Season 5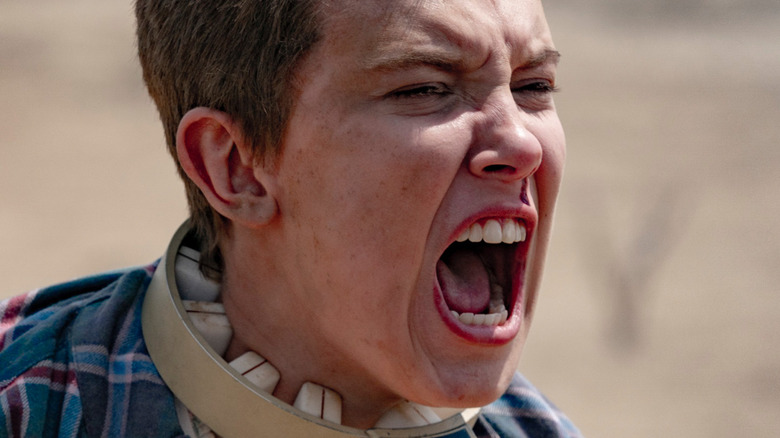 Netflix
The engine on the "Stranger Things" hype train might be dying down briefly since the end of last season, so what better way to fire it back up to Eleven with some tantalizing tidbits from Netflix about what the future holds? That's precisely what was hinted at over the weekend by the House of N in the lead-up to Stranger Things Day, also known as November 6, the date that Will Byers (Noah Schnapp) disappeared and when a girl in hospital scrubs gained a love for Eggo waffles. Might we have been treated to some words from the cast? A snippet of a finger twitch for the incapacitated Max (Sadie Sink) to ensure she was running up that hill to get back to us? Well, not entirely, but hey, it's better than nothing.
Ever since we first sat down with our favorite D&D enthusiasts, the trend for every "Stranger Things" season is to be pieced together with episodes stamped with cryptic titles. Sometimes, it's been the best way for fans to predict and pick apart what the future holds for Eleven and the rest of Hawkins' heroes. Now the show's creators have given us a morsel of what the final season will open up with, and it understandably has our cogs turning.
The final season of Stranger Things will start with a crawl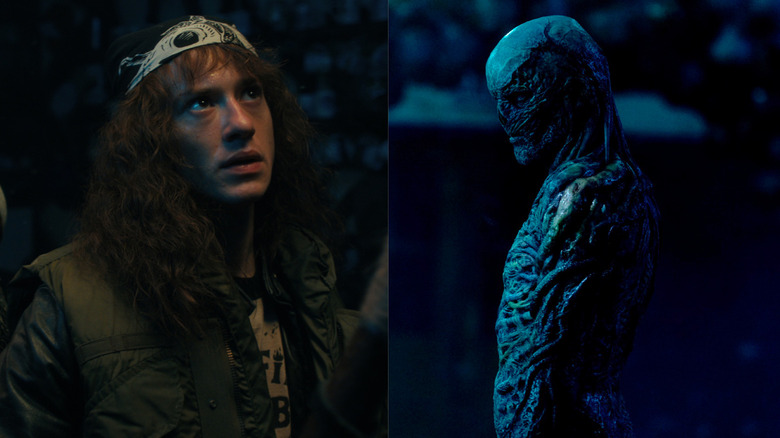 Netflix
Netflix tweeted, "To close out #StrangerThingsDay, very excited to reveal that the Stranger Things 5 premiere episode is titled... THE CRAWL." That's it. That's all we've got this year, and naturally, it's enough for fans to go full Murray (Brett German) and try and decipher what it could mean concerning our heroes' final battle against the Upside Down. Those hopeful among the Stranger Things fandom have already theorized that 'the crawl' could well be last season's MVP and Metallica fan, Eddie Munson (Joseph Quinn), somehow coming back from the brink after dying in the arms of Dus...you know what? We can't talk about it still. The pain is still raw.
Of course, while we're all keen to see a fallen legend come back from the dead, this could also be referring to Vecna/Henry Creel (Jamie Campbell Bower) making a slow return. Following his demise at the hands of Eleven (Millie Bobby Brown), a few raised hairs hinted that the One who proved the most major threat would undoubtedly be back in the show's final chapter. Who says that veiny overlord of the Upside Down gets all the attention, though? Besides our champion axe player and a villain with an axe to grind, 'The Crawl' might well be referring to the one person that helped put Kate Bush back in the charts in 2022 and might have a hill to crawl rather than run up.
Will Chapter 1 of the final season begin with an arduous journey back for Max?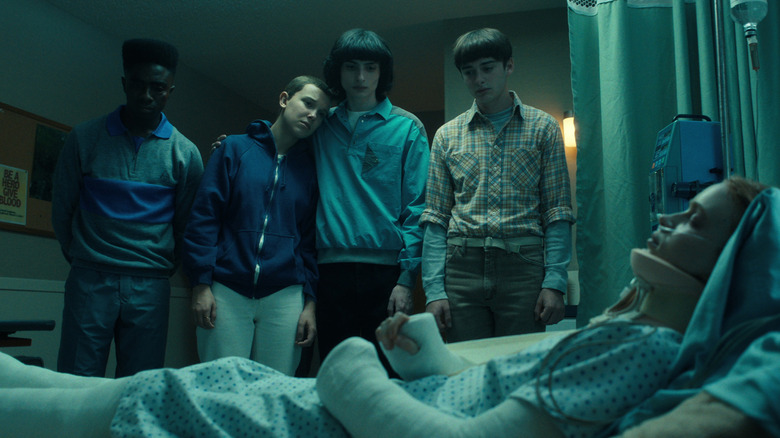 Netflix
The last time we saw her, Max Mayfield was bedbound and in a vegetative state, with Lucas (Caleb McLaughlin) sitting reading to her, hoping that somehow he'd get through with an exciting book choice. Sadly, there was no accurate indication to confirm this was working, and with the confirmed time jump (via Radio Times) between this and next season, it may take a few more chapters.
With that said, whatever breakthrough Eleven and her pals make with their fallen friend, it would make sense for Max's revival to be more of a crawl than a hop, skip, and jump back to the real world. The Max we know and love is non-existent following Vecna accomplishes his goal, and whenever she wakes, the world might be as alien to her as the permanently red-tinted one riddled with Demogorgons. When that wake-up call is, though, still has yet to be confirmed. Guesses are that the final season of "Stranger Things" will be arriving in 2024, but there's no date penciled in, annoyingly. Come on, Duffer Brothers, level with us. Tell us the truth. Friends don't lie after all, right?