Young Sheldon Fans Are Loving The '80s References In Season 6, Episode 11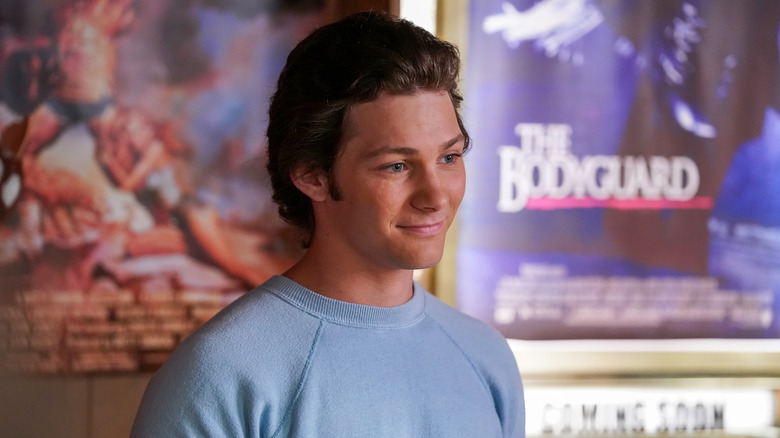 Adam Rose/CBS
"Young Sheldon" fans were thrown for more than a few surprising loops in the latest hilarious episode, "Ruthless, Toothless, and a Week of Bed Rest." Mandy (Emily Osment) finally revealed her baby's gender after sharing a heartwarming moment with Mary (Zoe Perry). Georgie (Montana Jordan) continued proving himself as a capable father and provider, while Sheldon (Iain Armitage) and his colleagues raced to complete the lucrative database. Last but certainly not least, Missy (Raegan Revord) dropped a major bomb on her father George (Lance Barber), shocking him and viewers alike with news we definitely did not expect.
As the Cooper kids grow older, the themes of "Young Sheldon" mature and we get closer to those two foreboding events that shaped adult Sheldon (Jim Parsons). We know the premature death of his father is looming over the series, which will surely deliver a devastating blow. However, after Missy's juicy reveal, we can also assume George's affair isn't too far off. "The Big Bang Theory" fans will remember Sheldon actually caught the act, which caused his distinctive knocking pattern.
Thankfully, the episode balanced out this dramatic moment with plenty of laughs, including Meemaw (Annie Potts) throwing her back out, and George out of his element working at the laundry mat. We even got the pleasure of witnessing Mary unleash her righteous fury on Mandy's deserving mother (played by Rachel Bay Jones). Among these humorous and exciting plot lines, fans couldn't help but cheer for the abundance of 1980s references as Missy helps out in the video store.
The abundance of references have fans happily nostalgic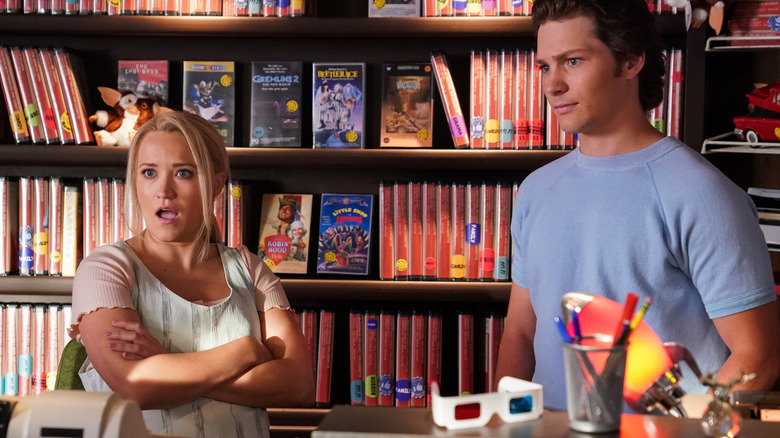 Adam Rose/CBS
"Young Sheldon" fans got a special trip down memory lane in Season 6, Episode 11, "Ruthless, Toothless and a Week of Bed Rest." To help her family, Missy works in the video store and suggests a certain adventurous flick that distinctly stood out to fans. Additionally, Sheldon's professor (and database rival) Dr. Linkletter (Ed Begley Jr.) borrows a direct quote from one of the 1980s' most beloved films. Some eagle-eyed fans even noticed the posters in the background referencing a lesser-known comedic gem.
Missy made an incredibly convincing argument to an older boy about the swashbuckling tale "The Princess Bride," which viewers felt was a long overdue reference. The fitting recommendation from Sheldon's no-nonsense twin left @DayaRyelle tweeting, "About time this show name-dropped Princess Bride!" Others were more taken by the iconic line from "The Breakfast Club," like @NotYerAvgChick who wrote, "There is an old saying..." with an accompanying gif from the film. This will surely inspire fans to rewatch the classic, which embodies Missy's rebellious spirit. 
Another fan even noticed a late '80s reference in one of the video store's vintage (to us) posters. Alongside VHS tapes and collector's items, @disgruntmonkey pointed out the poster for the 1989 comedy hit "Penn & Teller Get Killed," starring the titular duo. They added, "How awesome to see a Penn and Teller Get Killed Poster in the background during #YoungSheldon," celebrating the episode's numerous, welcome Easter eggs.