Creed III's Super Bowl Trailer Is A Shirtless Testosterone Fest (What Is It Compensating For?)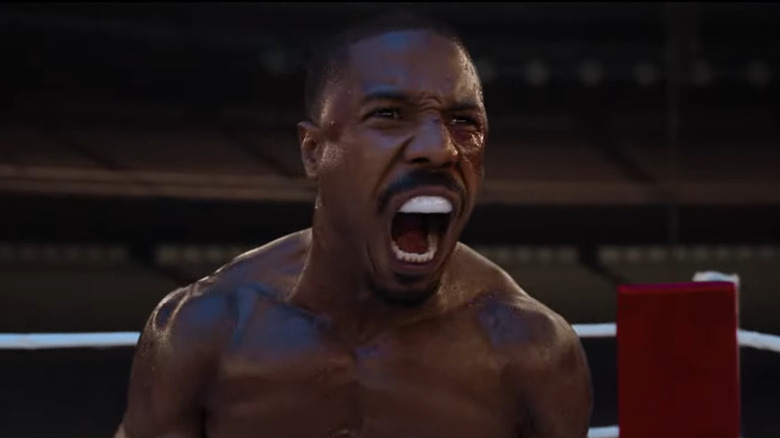 Metro-Goldwyn-Mayer
In no time at all, the "Rocky" franchise took off when it arrived in the 1970s — thanks largely to its engaging story and the believability of its lead, a then-relative unknown named Sylvester Stallone. His turn as Rocky Balboa in the original 1976 film launched him into the Hollywood stratosphere, allowing him to seek out projects of all kinds in the decades to come. All the while, he kept the "Rocky" series in his back pocket, but seeing as it's a series about boxing, he could only stick with it for so long. It had to evolve beyond Balboa, and evolve it did in the 2010s.
Under the direction of Ryan Coogler, "Creed" premiered in 2015 to carry on the legacy of the "Rocky" saga. Starring Michael B. Jordan as Adonis Creed — the son of the late Apollo Creed (Carl Weathers) — the film sees him become a boxing star with Rocky at his side. "Creed" proved immensely successful, leading to "Creed II" in 2018, which follows his efforts to train for and hopefully defeat Viktor Drago (Florian Munteanu): the son of Balboa's old rival Ivan Drago (Dolph Lundgren), aka the man who killed his father. It, too, met financial and critical success, prompting the development of the Michael B. Jordan-directed "Creed III."
The third entry in the "Creed" trilogy is on the way, and to get audiences ready for another round in the ring, a second trailer has arrived.
The Creed III Super Bowl spot promises a major battle
The first "Creed III" trailer hit the internet in October 2022, with the second one that aired during Super Bowl LVII successfully building on it. Now an established name in the world of boxing, Adonis is on top of the world. He's even reunited with his childhood friend, Damian Anderson, who recently left prison after being locked up since childhood. This reunion quickly turns sour when Adonis realizes that Damian isn't back in his life so they can go back to being buddies. He wants revenge, believing that his former friend never cared that he took the fall and effectively went to prison for him.
So, the stage is set: Adonis Creed will take on Damian Anderson one-on-one for the world to see. Damian seems to be a challenger like no other, with his conditioning and ruthlessness matched by no one Adonis has faced before. This time around, he has his partner, Bianca Taylor (Tessa Thompson), and their daughter Amara behind him, but conspicuous by his absence is Rocky himself. He'd previously supported Adonis during his in-ring endeavors, but this time around, Sylvester Stallone will not feature as the retired fighter — something Michael B. Jordan has discussed at length ahead of the movie's release.
Moviegoers everywhere can step into the ring for "Creed III" when it premieres on March 3, 2023.