Michael B. Jordan Enters The Ring Again In The First Trailer For Creed III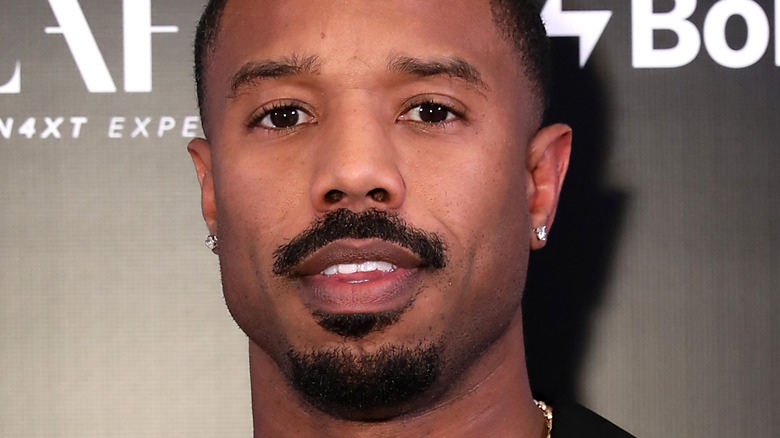 Anna Webber/Getty Images
Legacy sequels are all the rage these days. People love looking toward the past to see how their favorite franchises would fare in the modern day. From "Top Gun: Maverick" to "Hocus Pocus 2," every genre imaginable seems to have a knack for mining the past for new story ideas. However, few have managed to be as successful as the continuation of the "Rocky" franchise in the form of "Creed" and its subsequent sequels. 
In 2015, "Creed" saw the son of Apollo Creed, Adonis (Michael B. Jordan), try to follow in his father's footsteps to become the next great boxer. To accomplish this, he seeks guidance from Apollo's old acquaintance, Rocky Balboa (Sylvester Stallone). Both Jordan and Stallone returned for "Creed II," but Stallone will be noticeably absent once "Creed III" comes out to showcase the next installment of the life of Adonis Creed. 
Even without Stallone's Rocky, there's still plenty to get excited about in the third chapter of the "Creed" franchise, especially now that the trailer is out for all to see. Adonis has his allies, but there's a new adversary in town ready to cause him trouble. And said adversary is going to be played by one of the most exciting actors working in Hollywood today.
Michael B. Jordan vs. Jonathan Majors
This time around, Adonis Creed goes up against someone from his past, namely Anderson Dame, played by Jonathan Majors. Majors is on a bit of a hot streak at the moment. He's appeared in many critically-acclaimed films and TV series over the years, from "Da 5 Bloods" to "Lovecraft Country," and he's already entered the Marvel Cinematic Universe as a variant of Kang the Conqueror in "Loki." He's set to return as Kang in the upcoming "Ant-Man and the Wasp: Quantumania." 
2023 will be a villainous year for Majors, as he's also set to play the antagonist in "Creed III." As seen from the trailer, he comes back into Adonis' life after a stint in incarceration. As it turns out, he holds a bit of a grudge against Adonis and the world at large, and he has his sights set on becoming a boxer to rival the talents of Adonis. It'll be a tough match, especially as the trailer shows how positively ruthless Anderson is in the ring.
"Creed III" also sees the return of franchise favorite characters like Bianca Taylor (Tessa Thompson) and Mary Anne Creed (Phylicia Rashad), who will undoubtedly be in Adonis' corner as he faces off against someone who could easily be his toughest rival to date. "Creed III" drops in theaters on March 3, 2023.