Guardians Of The Galaxy Vol. 3 Super Bowl 2023 Trailer Promises An Emotional MCU Swan Song For James Gunn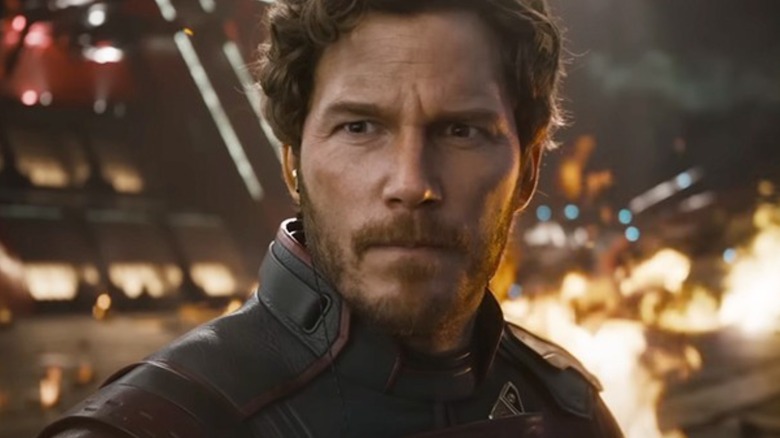 Marvel Studios/Disney
The first two "Guardians of the Galaxy" movies from director James Gunn turned out to be highlights of the ever-expanding Marvel Cinematic Universe. With an ensemble cast of entertaining characters and stories that could make you switch from crying to laughing in mere moments, moviegoers came out in droves to support both. However, this all nearly came crashing down when Gunn was fired by Marvel Studios in 2018, which left the third film without a director and the future of the Guardians uncertain. Thankfully, both the characters and the threequel are in a much better place in 2023.
Gunn has since returned to the Marvel Studios fold, and to wrap up his run, he has put together two final "Guardians" adventures. The first, "The Guardians of the Galaxy Holiday Special," premiered via Disney+ in late 2022, taking everyone's favorite ragtag band of intergalactic superheroes out for a Christmas celebration — one of laughter, joy, and the kidnapping of Kevin Bacon. Next up is "Guardians of the Galaxy Vol. 3," a film that will more than likely bring some laughs, but it seems to be a far less happy-go-lucky affair.
Building on the inaugural "Guardians of the Galaxy Vol. 3" trailer, a second one has been released to give us another glimpse into the final outing of our beloved Guardians lineup.
The Guardians of the Galaxy Vol. 3 Super Bowl trailer is a wild ride
Among the many movie trailers to premiere during Super Bowl LVII was the second for "Guardians of the Galaxy Vol. 3." It had plenty new to show while featuring some clips from its predecessor, doing exactly what a trailer is supposed to do: give audiences a taste of the story ahead. For this final installment in the "Guardians of the Galaxy" series, the team is in a strange position. Star-Lord (Chris Pratt) is struggling to keep his teammates in check while simultaneously trying to locate Gamora (Zoe Saldana). For those who don't recall, the 2014 version of her ran off following the Avengers' battle against Thanos (Josh Brolin) in "Avengers: Endgame."
Thankfully for Star-Lord, he gets his wish once Gamora finds him and his Guardians companions. The problem is that she was plucked out of time long before she fell in love with him, so to say she's not interested in romance would be an understatement. Meanwhile, High Priestess Ayesha (Elizabeth Debicki) of the Sovereign is hot on their trail with her dangerous new creation, Adam Warlock (Will Poulter). Worse yet, the High Evolutionary (Chukwudi Iwuji) seems to be after one of his creations, Rocket Raccoon (Bradley Cooper), who may very well meet his end by the time the credits roll along with other members of the Guardians team.
The almost certainly tear-jerking, action-packed, and hilarious "Guardians of the Galaxy Vol. 3" will premiere on May 5, 2023.