The Guardians Of The Galaxy Vol. 3 Trailer Beautifully Reunites Gamora With Her Team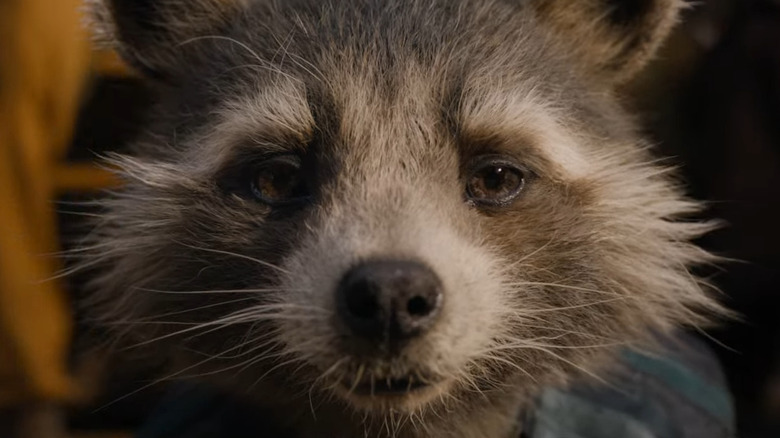 Marvel Studios/Disney
Fans of the "Guardians of the Galaxy" franchise have been chomping at the bit for more news about their favorite film series. The galaxy-spanning adventures of Star-Lord (Chris Pratt), Gamora (Zoe Saldana), Drax the Destroyer (Dave Bautista), Mantis (Pom Klementieff), Nebula (Karen Gillan), Rocket Raccoon (Bradley Cooper), and Groot (Vin Diesel) have tickled, thrilled and touched viewers who have watched the ragtag group of outlaws become a galaxy-roaming band of do-gooders. The last we saw the team was in "Thor: Love and Thunder," as the Asgardians of the Galaxy helped those in need across the universe, sans Gamora. The deadly assassin is MIA since the events of "Avengers: Endgame," but she is a past version of herself as the present-day Gamora was killed by Thanos (Josh Brolin) in "Avengers: Infinity War." 
Now we know how Gamora and the team come back together, thanks to the drop of the first "Guardians of the Galaxy Vol. 3" trailer. It gives us everything we've ever wanted — and then some — when it comes to our favorite band of merry, morally flexible adventurers.
Gamora is back in Guardians of the Galaxy Vol. 3
The first trailer for "Guardians of the Galaxy Vol. 3" did not disappoint, and James Gunn is bringing the feels for the group's third outing. The teaser held nothing back, giving us shots of Gamora, Adam Warlock (Will Poulter), and baby Rocket. If they're willing to provide us with that much upfront, we can't wait to see what the entire film offers. Unfortunately, seeing a young Rocket could mean we have to suffer through watching him get tortured, as we know the tech genius has a very tragic past. 
Peter Quill also takes the lead in the trailer, where we can see he's stricken with the pain of losing Gamora. Swoll Groot is also back after "The Guardians of the Galaxy Holiday Special" and he's learned a new... word?! We also see the High Evolutionary, played by "Peacemaker" star Chukwudi Iwuji. Sickened by ordinary beings, the High Evolutionary is obsessed with creating perfect humans by mixing their DNA with animals. Fun. But the highlight is truly Adam Warlock who is beautifully golden and all too powerful.
The first "Guardians of the Galaxy Vol. 3" trailer promises an emotional rollercoaster in theaters on May 5, 2023.