George P. Wilbur, Stuntman Who Played Michael Myers, Dead At 81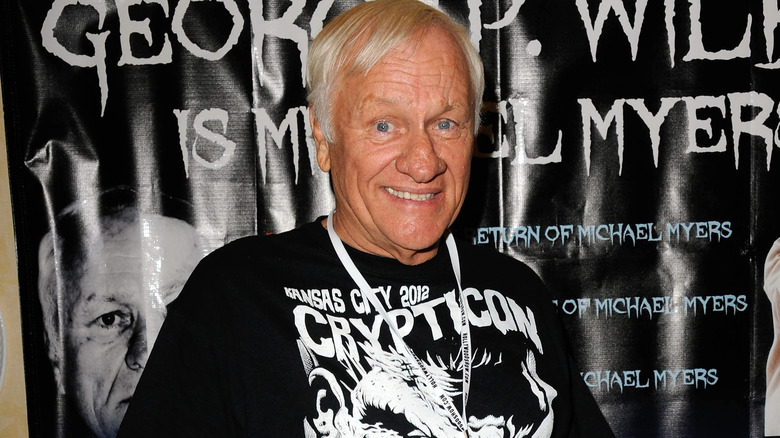 Albert L. Ortega/Getty Images
Veteran stuntman George P. Wilbur — who was one of the only actors to portray Michael Myers more than once in the "Halloween" movies — died Wednesday, February 1, at the age of 81. His passing was confirmed by fellow stuntman Chris Durand, who played Michael in "Halloween H20: 20 Years Later" (via Horror Geek Life). 
"George P. Wilbur passed away last night," said Durand in a Facebook post. "George, you were a class act and well loved. You will be missed. May you Rest in Peace."
Over the years, Wilbur appeared in at least three "Halloween" installments as either a stuntman or Michael fill-in. The films were "Halloween 4: The Return of Michael Myers," "Halloween 5: The Revenge of Michael Myers," and "Halloween: The Curse of Michael Myers" (via IMDb). Wilbur described himself in interviews as being the perfect size to play Michael at the time, with him being over 6 feet tall and physically menacing on account of his bulkier and heavier build, which later become a topic of controversy. 
"The producers were looking for a specific body type," Wilbur told horror site Racks and Razors. "I happened to be the right height and build so I fit the description. They knew what I could do as a stuntman since the stunt coordinator, who brought me in, was a good friend of mine." 
Wilbur's career in Hollywood spanned four decades and included work on a number of major film and television franchises, including "Planet of the Apes," "Ghostbusters," "Die Hard," "Magnum, P.I.," and "Days of Our Lives." But as he himself said in the past, the longtime Hollywood pro will forever be remembered as Michael Myers. 
'He was such a kind soul and a beloved member of the Halloween family'
Universal Pictures
In a statement posted to Facebook, "Halloween: The Curse of Michael Myers" screenwriter Daniel Farrands described George P. Wilbur as someone who was a prominent and well-liked figure in the "Halloween" community. "Very sad to hear of George's passing. He was such a kind soul and a beloved member of the Halloween family," Farrands wrote (via Horror Geek Life). Fans of Wilbur also took to social media on Thursday, February 2, to talk about the stuntman's impact on not just the film franchise, but their personal and professional lives as well.
"Anyone who knows me knows what discovering HALLOWEEN 4 meant to me as a kid," wrote horror film composer Jerry Smith on Twitter. "It saved me when I was 7," he said. "This one hurts." 
Video producer and horror YouTuber Jimmy Champane tweeted, "George P. Wilbur played the Michael Myers that scared me most as a kid and he seemed like such a cool guy in all the interviews I watched. RIP." Twitter user @YallMustaForgot wrote, "I absolutely LOVED his portrayal as Michael Myers in The Curse. The way he played Michael in that movie, was bone chilling! So creepy, so brutal...The atmosphere and his performance, made The Curse one of my favorites in the franchise."
Wilbur's death comes nearly 28 years to the day after "Halloween" star Donald Pleasence, aka Dr. Loomis, died of heart failure complications on February 2, 1995. He is reportedly survived by his daughter, Gena Wilbur (via Bloody Disgusting).