Debra Jo Rupp And Topher Grace Kept A That '70s Show Tradition Alive In That '90s Show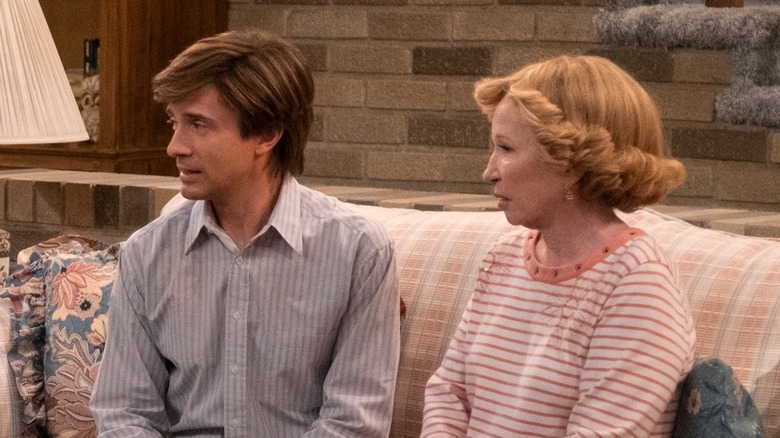 Netflix
"That '90s Show" certainly has a lot of fun playing around with references and nostalgia that audiences love, but then again, when a show's focus is specifically a period of time, that is probably not only expected but encouraged. As the next chapter after the events of its predecessor, "That 70s Show," this new series is all about Leia Forman (Callie Haverda) and her teenage group of friends. However, much like the show that inspired it, Leia and her compatriots spend their time hanging out in the basement of Red (Kurtwood Smith) and Kitty Forman (Debra Jo Rupp), her grandparents.
Considering that Leia is a legacy character since her mother and father are Donna Pinciotti (Laura Prepon) and Eric Forman (Topher Grace), respectively, there are plenty of callbacks and quirks that can be attributed to her family. As one might be able to tell, several actors from "That '70s Show" pop up in "That '90s Show," which is an absolute delight for long-time fans who've been waiting to see how fan-favorites like Fez (Wilmer Valderrama), Kelso (Ashton Kutcher), and Jackie (Mila Kunis) are doing 20 years later. However, having these original actors on set has acted as a bridge between the two series, and as such, there happens to be a tradition that has been carried over.
The young cast of That '90s Show were happy to be included in the tradition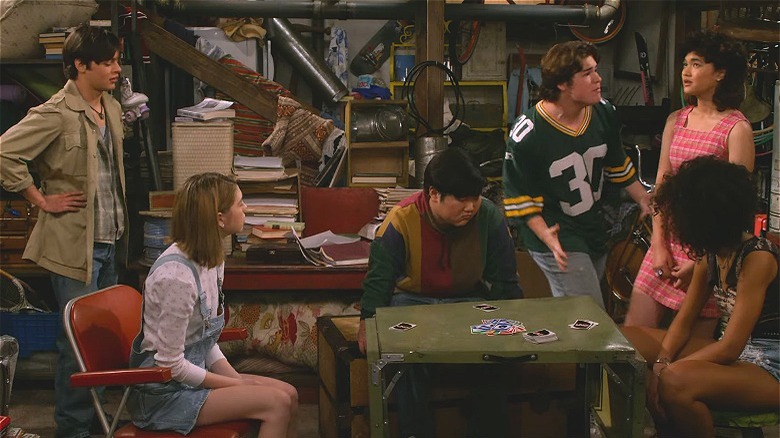 Netflix
Speaking with Seventeen Magazine, the younger cast of "That '90s Show," including Reyn Doi, Sam Morelos, Maxwell Donovan, and Ashley Aufderheide, had a chance to speak about this brand-new show and their experiences on it. Asked who gives the best advice, Donovan replied and said that they felt like Kurtwood Smith and Debra Jo Rupp took them under their wing, and then mentioned that on the first day of filming, Topher Grace and Debra Jo brought them lunch and explained the traditions from "That '70s Show." Donovan added that these actions helped take a lot of the stress away from being on set.
Doi then jumped into the conversation and explained the aforementioned tradition by saying, "Every time we do the live show, we always gather Kurtwood, Debra Jo, all the kids and then we put our hands in." Morelos continued, "And we say our favorite line from that episode," and Aufderheide finished by saying, "They had that tradition in '70's Show' too, which is cute that they included us in that." It is fun to imagine what this interaction looked like, and it sounds like the younger new cast feels totally honored in being included and taught about this specific tradition from "That '70s Show," which sounds like one part team-building and one part being proud and excited about one's work. Let's hope that there is much more "That '90s Show" so this tradition can continue.