M. Night Shyamalan Compares Working On Knock At The Cabin To Servant - Exclusive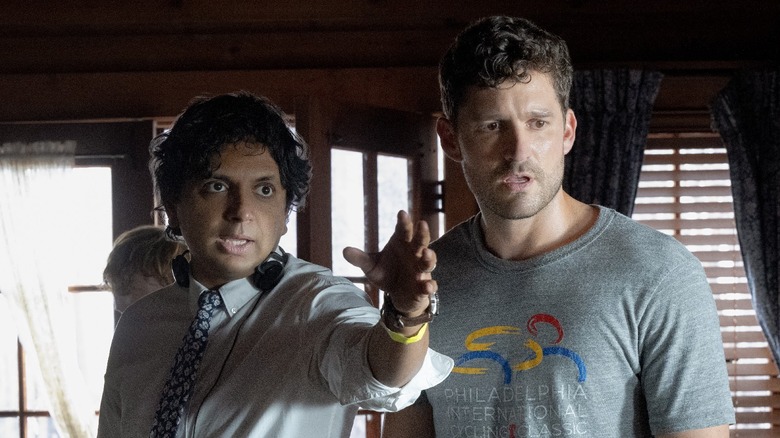 Universal Pictures
M. Night Shyamalan's 15th feature film as a director and screenwriter, "Knock at the Cabin," finds him working in territory that will be familiar to his fans, but with a twist: This dark thriller, which walks a thin line between the psychological and the supernatural, is just the second of his movies that Shyamalan has directed and scripted from previously existing material.
The first attempt was 2010's ill-fated "The Last Airbender," but this time, he's working from a best-selling horror novel by author Paul Tremblay called "The Cabin at the End of the World." In addition to the book, there was already an existing screenplay by Steve Desmond and Michael Sherman on which Shyamalan did his own rewrite.
Although Shyamalan notably deviates from the source in the movie's third act, the rest of the film is largely faithful to the book and its central premise: Two men and their little daughter are taken hostage in their vacation cabin by four intruders, who insist that the world will end unless the three family members make an unspeakable choice based on nothing but a twisted version of faith.
Adapting the work of another author may not be something that he does very often, but M. Night Shyamalan tells Looper in our exclusive interview that the material had too much of a pull on him: "I thought about it and said, 'Should I produce it or should I write and direct it?' And then I went, 'God, I love this story,' so I just did it myself."
How Servant and Knock at the Cabin were similar experiences for Shyamalan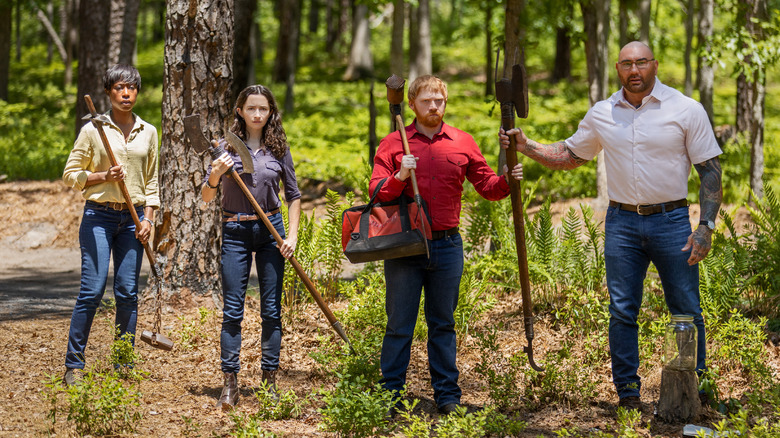 Universal Pictures
With Shyamalan writing mostly original films for the bulk of his 30-plus-year career, it's worth asking whether he changes his approach or employs a different set of creative muscles when it comes to adapting something like "Knock at the Cabin."
In response, M. Night Shyamalan points to "Servant," the Apple TV+ horror series on which he's served as showrunner and occasional director for four seasons. "It just popped into my head that I guess I was [also adapting material] with 'Servant,'" he explains, "which was a set of characters and a premise that was brought to me by Tony Basgallop, who wrote the original pilot for the show. For years and years, I had been coming up with ideas based on that premise and based on those characters."
Working as a showrunner on "Servant," which didn't initially spring out of one of his own original concepts, allowed Shyamalan to see the project from a different perspective, something he says also happened with "Knock at the Cabin."
"I'd say, 'I have an idea. Let's have the characters all around the car, outside on the street.' Or I would [say], 'I want this movement for the characters,'" Shyamalan explains about the way he worked on "Servant." "I've been doing it for years already, and there is a little bit of freedom in that, [which] makes it feel slightly separated from me as a human being [so] that I can actually see it a tiny bit clearer. ['Knock at the Cabin'] was an interesting mix of taking an author's characters and then going in a new direction. It felt like those muscles I've been using on 'Servant.'"
"Knock at the Cabin" is in theaters now.