Stranger Things Star Dacre Montgomery Envies An Essential Element Of The Show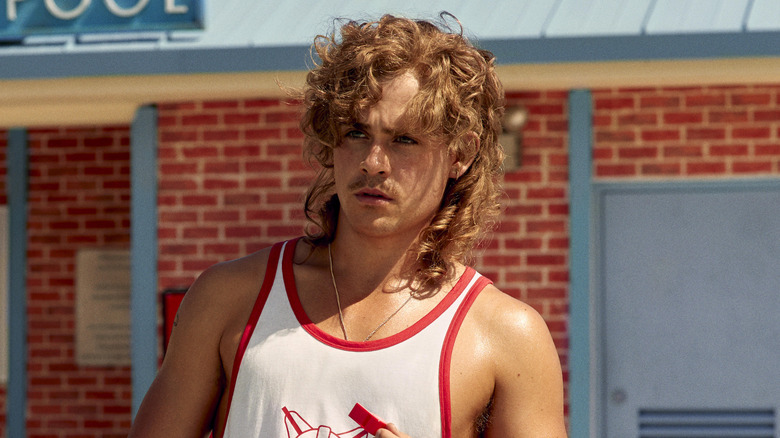 Netflix
One of the draws of "Stranger Things" is its infectious reverence for the 80s. From the show's soundtrack being chock full of hits from the decade to its very inception spawning from the creators' love for the 80's era work of Steven Spielberg and Stephen King (via The Hollywood Reporter), there's no second guessing what era "Stranger Things" takes place in. In that process — and thanks to the show's solid storytelling and great characters drawing audiences in — "Stranger Things" has allowed an entirely new generation to experience what life and culture in the 80s was like — albeit with a few more monsters than there might've actually been. 
And through the creative team's efforts, the show goes beyond simply presenting the decade but successfully immerses its audience into the bygone era. Need proof? Just look at how popular the Kate Bush song "Running Up That Hill" became after its use in the show's fourth season (via Billboard). Or how online searches for how to play Dungeons and Dragons skyrocketed following the game's extensive use throughout the series (via FanSided). But while the appeal of the time period for many fans lies in its pop culture, "Stranger Things" actor Dacre Montgomery is more in love with a societal aspect from the era that he would welcome into his everyday life. 
Montgomery has no problem tossing out social media
The 80s gave us plenty of awesome things, from MTV to Mötley Crüe. But before you sign up for a life of sugary cereals and Jane Fonda workout videos, keep in mind that there are things from our current time you would have to abandon. And perhaps the most obvious of these sacrifices is what "Stranger Things" actor Dacre Montgomery, who portrays the character Billy Hargrove, would be more than happy to be without. 
In a 2019 interview with MiNDFOOD Magazine discussing the show's third season, Montgomery is asked if he would have been alright living without a smartphone or social media. The "Power Rangers" star replies, "I think I would've liked it; I don't like social media that much. I use it for one specific purpose. I can imagine it very well." Montgomery goes on to mention feeling envious of his "Stranger Things" co-star Cary Elwes, who called the era a "simpler time." 
As wonderful as a world with fewer Twitter wars and more leg warmers sounds, Montgomery is well aware of social media's benefits. He continues telling MiNDFOOD, "My generation has a lot of access to a lot of information that can lead to a lot of social change because we're aware, we're forced to be aware ... so you can't live in an ignorant place." Looks like we'll leave the upcoming final season of "Stranger Things" (via Deadline) to give us our 80's fix.