Power Rangers 2 - Will It Ever Happen?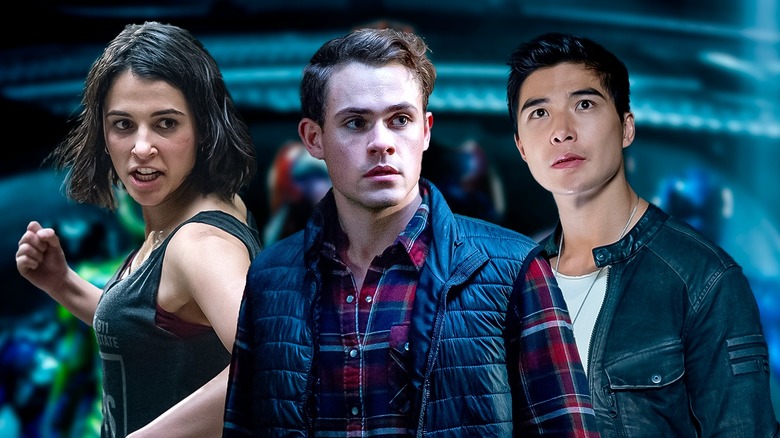 Static Media
In the 1990s, there were few pop culture sensations bigger than "Mighty Morphin Power Rangers." Originating in Japan as "Super Sentai," it was a kids' action TV series that featured over-the-top fight scenes between a team of colorful superheroes and evil monsters from other dimensions. Thanks to the way the action was filmed, all it took to bring it to the United States was filming new scenes of the young heroes before they transformed into the color-coded Power Rangers, and it became as big a hit stateside as it was in its native country.
Decades later, Hollywood came calling, looking for a revival with the rise of '90s nostalgia, and "Power Rangers" was the result, landing in theaters in 2017. The film starred "Stranger Things" actor Dacre Montgomery as the Red Ranger, Naomi Scott as the Yellow Ranger, RJ Cyler as the Blue Ranger, Ludi Lin as the Black Ranger, and Becky G as the Pink Ranger. Rounding out the cast, there was Elizabeth Banks as the villainous Rita Repulsa, while "Breaking Bad" star Bryan Cranston played the Rangers' mentor, Zordon.
Intended to spark a series of films, "Power Rangers" has somehow never managed to get a sequel, and it currently serves as a standalone entry. But considering the long-running popularity of the "Power Rangers" franchise, it's a little surprising there hasn't been a follow-up to the reboot. So fans of the 2017 relaunch have been wondering for the past few years where a part two might be, as rumors have swirled about a possible continuation. So, will a sequel to "Power Rangers" ever really happen?
What were the studio's original plans for Power Rangers sequels?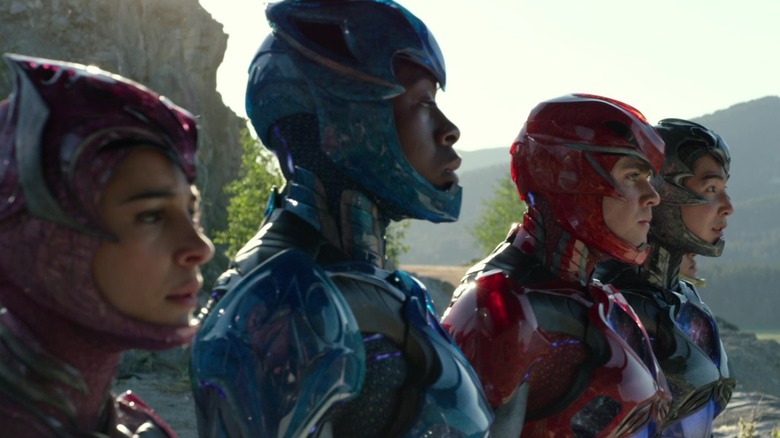 Lionsgate
The 2017 revival of "Power Rangers" was the first-ever attempt to bring the popular, long-running kids franchise to blockbuster movie territory. It was a big-budget enterprise, with the studio shelling out well north of $100 million to bring the project to life with high-quality CGI special effects that were a far cry from the cheap-looking rubber suits that fans were used to on the original TV series and its feature-length adventures. And they spent all that money with the hopes of turning the movie into a sprawling franchise with plenty of sequels. 
A year before the movie was even released, in fact, Variety published a report that Lionsgate was planning an entire series of films to follow. "We are really, really excited about the 'Power Rangers' movie," said CEO Jon Feltheimer. "We could see doing five or six or seven [films]." The executive supported his enthusiasm for the project by noting the positive early reactions to the movie's costume reveals. Additionally, the cast of diverse, young actors seemed perfectly poised to lead a decades-long series of movies, and heading into the film's release, all signs were pointing to a winner.
Yet, years later, we have yet to see a single one of those proposed sequels, and Lionsgate's dreams of an epic, big-screen saga have stalled out of the starting gate.
Why a sequel to Power Rangers isn't happening yet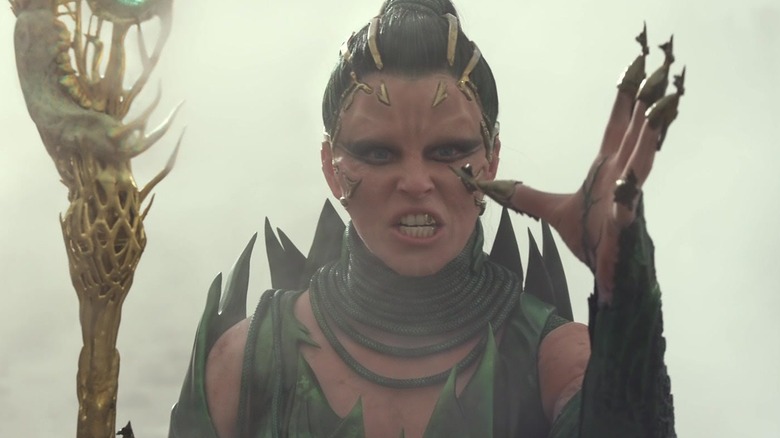 Lionsgate
Some movies that struggle with a sequel can have complicated reasons for not being able to get a follow-up going. It might be a challenge to reunite the cast and crew due to scheduling difficulties, or it might be due to unforeseen delays, budget problems, or issues developing the script. But when it comes to "Power Rangers," the reason there's yet to be a sequel is pretty simple: It just didn't live up to expectations.
Produced for $120 million, "Power Rangers" probably would've needed to rake in something close to $250 million if it wanted to guarantee itself a sequel. But when its initial theatrical run was complete, reviews were mixed at best, and it sat at a lackluster $142 million. In fact, it was just the 62nd highest-grossing movie of 2017, beaten out by the likes of "King Arthur: Legend of the Sword," "Geostorm," and "The Emoji Movie." Lionsgate was then faced with a tough decision: Do they move forward with a second movie, perhaps with a lower budget, and hope that it could outperform the first movie and salvage their grand plans for a series of movies? Or do they wait five or six years and start over? 
Neither option seemed particularly enticing, and it would be a few years before any concrete decisions would be made. In the interim, they'd go through several different ideas, and announcements would be made, delayed, and scrapped. Many involved with the movie — in front of and behind the camera — also had a lot to say about the possibility of a second film.
What has the cast said about a Power Rangers sequel?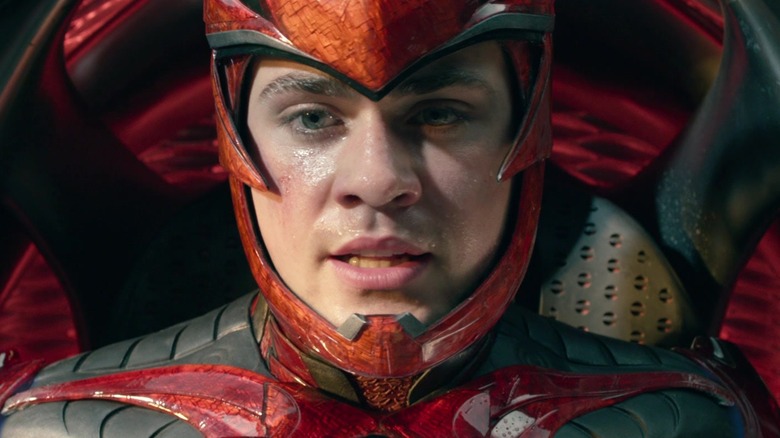 Lionsgate
With an ensemble cast of young heroes, "Power Rangers" had a number of talented actors who were probably looking forward to making the movie into a long-running franchise to give a boost to their careers. Chief among them was Dacre Montgomery, who played Jason Scott, also known as the Red Ranger. Screen Rant spoke to the actor not long after the movie was released and asked about a possible sequel, but Montgomery was tight-lipped. "I can't. I can't say anything. I'm sorry," he responded, but when asked about the end of the first movie that suggested the Green Ranger would be joining the team, he opened up a bit more.
"I think it's open for interpretation. So we shall see. I'm not saying there's a sequel," he cautioned. Still, if it ever were to happen, he did express hope that fans would embrace a second movie, whether the Green Ranger was there or not. 
Several months later, when the decision about a sequel was still being debated, Montgomery's co-star RJ Cyler — who played Blue Ranger Billy Cranston — spoke up about what he wanted from his character in another film. "Billy will definitely be the same Billy, but he'll be more comfortable because he's got friends who got his back," Cyler told Inverse. "Billy has something else to do other than blow stuff up. He doesn't just have science, he has Jason and Zack and Kimberly. In the second movie, you'll definitely see more of a confident person. He'll be more strong of a person."
What would be explored in a Power Rangers sequel?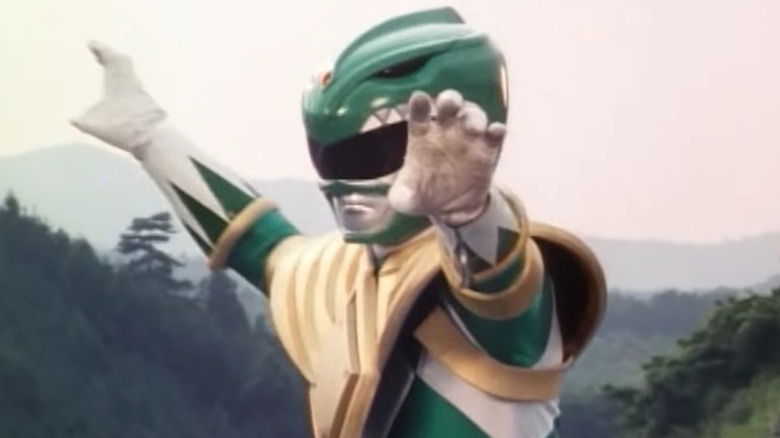 Saban
Even though a sequel to "Power Rangers" was dead in the water by 2019, there had been at least some thought put into a second movie. The first film's director, Dean Israelite, clearly wanted to return, and he had ideas about the addition of the Green Ranger, who was teased at the end of the first movie when new student Tommy Oliver arrived at school. "Obviously it's Tommy," he told Inverse. 
"[Tommy] would come into the sequel. That's a no-brainer. Then it's all about what villains we bring in," Israelite said. But there was no debate over who that baddie would be either. "We've talked about Lord Zedd and him needing a place in the sequel." Of course, Israelite wasn't the only one with ideas for the next movie, as star Dacre Montgomery expressed a desire to see the sequel do something different. 
"A lot of the cast and I have discussed that we think [the Green Ranger] should be a girl. It makes it even: three girls, three boys," he said in an interview with The Hollywood Reporter. While this would be a major change from the original show and would even go against what was suggested at the end of the first movie, Montgomery was confident it could work. "It's left blank. It's a cliffhanger. Whoever you're going to drop into that position — whether it's a girl — it's inevitably going to create drama. It'll be interesting to drop that drama into it and see how we all relate to it and work with it."
Who would star in a sequel to Power Rangers?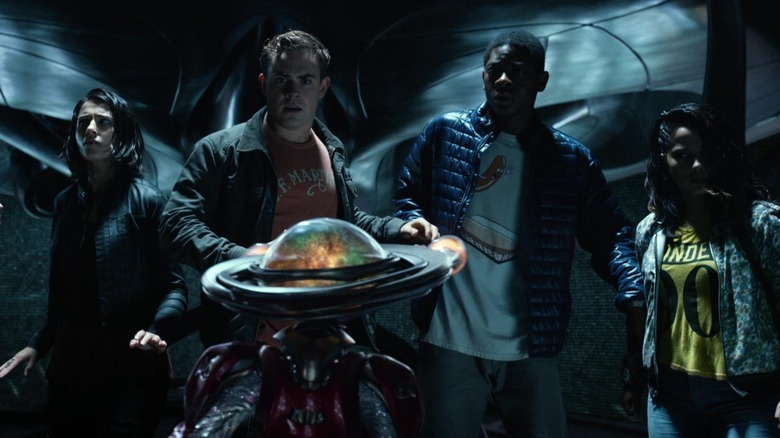 Lionsgate
If a sequel is ever going to happen, it'll need to reunite the cast of the first move. We know that Dacre Montgomery has been keen to return, and RJ Cyler also wants back, based on comments he's made about what he wants to see in a sequel. "I want to see the growth Jason has with his pa," Cyler told TV Insider. "I want to see how deep in forgiveness and understanding both of them get with each other. ... I also want to see more of the Trini character because there were a lot of good nuggets of who Trini is and how she could potentially be a part of the LGBT community." 
Elizabeth Banks would also love to return as Rita Repulsa, according to an interview with Screen Rant. "I think it's really fun, I think it speaks to young people in a great, fresh way. I love this cast, so I'm down for whatever, but I don't predict the future." Co-star Naomi Scott, meanwhile, seemed to be in the dark about the studio's plans for a half-dozen movies but did acknowledge that she was signed up for at least one more.
"I did not sign up to [do] that many," she told Collider in 2021, adding, "I don't know if it was one or two extra movies. I don't know. Yes, they would have, of course, been like, 'We want to do other movies,' but no, it wasn't a seven-year type situation." 
A sequel to Power Rangers very nearly happened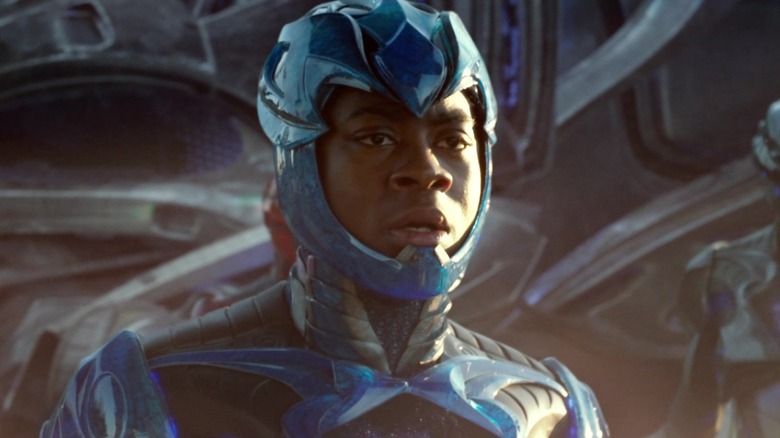 Lionsgate
There was no question that "Power Rangers" was a major flop at the box office, barely earning enough to recoup its budget, let alone marketing, distribution, and the healthy cut taken by the theater chains. But despite all of its failures, there was still some reason to think a sequel might happen, especially as licensing and merchandising surrounding the film apparently proved successful. It was even reported that toy sales for the movie's tie-in products were particularly strong, leading to speculation from some that a sequel could happen after all.
"These are fantastic results testament to the strength of the 'Power Rangers' brand, which at the end of April, ranks 11th across all toy properties," said toy partner Bandai in an earnings call that year. Not long after, home video sales were also reportedly doing well, fueling rumors that the studio was engaged in talks for another movie. Though it took some time, Hasbro — which had acquired the "Power Rangers" brand in 2018 –  did reveal that negotiations were underway a year later. IGN even reported that a sequel to the film was indeed happening, built around an expansive program of new merchandise, toys, games, and more.
Within six months, however, reports began to circulate that the deal had been altered and was taking shape around a new idea. Instead of a sequel, Hasbro and Paramount had inked a deal to take the franchise in a whole other direction.
Power Rangers is being rebooted on the big screen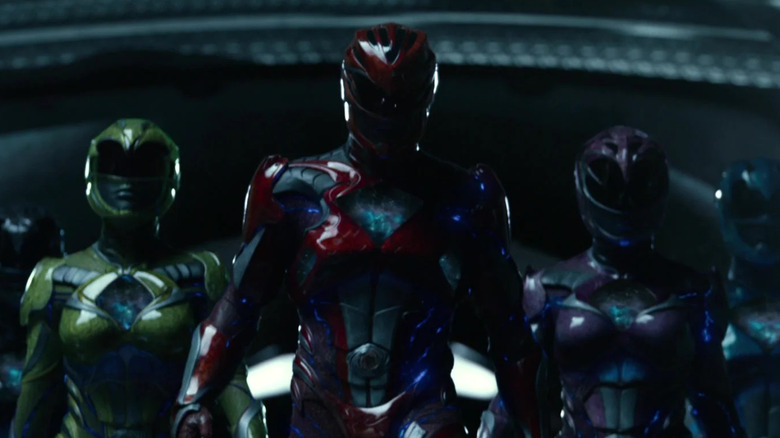 Lionsgate
In 2017, it looked like there was a real chance for a "Power Rangers" sequel to happen, and two years later, it was even reported to have gotten the green light. But while he'd previously been excited at the prospect, star Dacre Montgomery was forced to admit that another movie wasn't going to happen. "I think there is a ['Power Rangers'] movie in the works, but it's not with me and the cast," he said during a Reddit AMA. The official word came down that new franchise owner Hasbro was working with Paramount Pictures on a reboot that would wipe the slate clean and start over from scratch.
In October 2020, it was reported that a reboot was in the works, and that director Jonathan Entwistle ("I Am Not Okay With This") had been chosen to helm it. While no cast members were announced, it was expected to be an entirely new roster of young actors playing the Power Rangers. But the biggest news was that the movie would be coming to Netflix, and it wouldn't just be a single film but a shared universe of TV shows and movies in a fully connected universe of projects.
Of course, it's been years since that announcement, and the reboot remains in limbo, making some wonder if that too will ever happen. In the meanwhile, the 1990s team from "Mighty Morphin' Power Rangers" has reunited for a new celebratory TV movie, but no new big-screen feature has been made.
Power Rangers already has a sequel story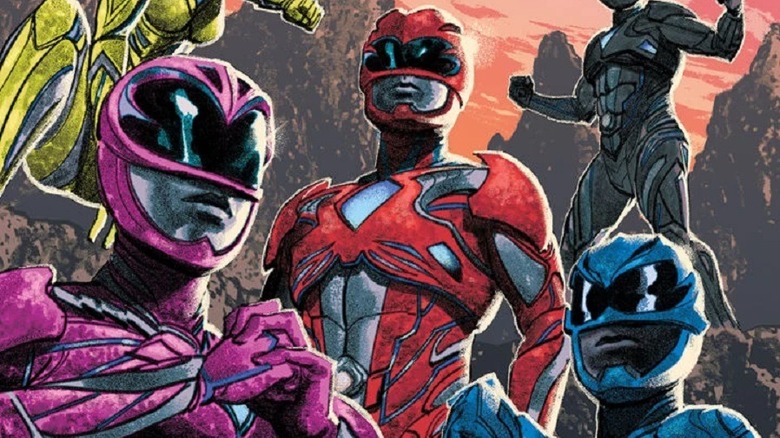 Lionsgate
Over the years, the notion of a sequel to "Power Rangers" has seen plenty of discussion behind the scenes and in the press, with a few starts and stops along the way. But the truth is, the film actually already does have a sequel, and believe it or not, it happened before the movie was even released. It's titled "Power Rangers: Aftershock," and it was published as a graphic novel by Boom! Studios, a company known for producing comic book sequels to beloved films like "Big Trouble in Little China" and "Labyrinth."
The comic, written by Ryan Parrott and Kyle Higgins and drawn by Lucas Werneck and Hendry Prasetya, is set in the immediate aftermath of the film. It's been just a week since the cataclysm in Angel Grove, and the newly-minted Power Rangers team is battling the remnants of Rita Repulsa's foot soldiers. Still adjusting to their new powers, they manage to save plenty of lives, but a pair of evil Putties take control of a boy named Jacob and his sister, Audrey, and use them to attack the Power Rangers. It's a worthy follow-up to the first movie, and if a sequel does ever materialize, it will be interesting to see if any of it is addressed on screen.
Why a Power Ranger sequel could still make sense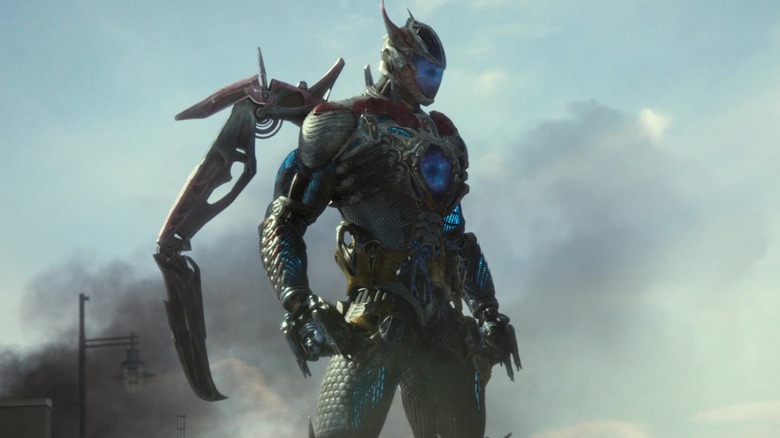 Lionsgate
It's probably right to assume that a sequel to the 2017 version of "Power Rangers" is going to be a tough sell given its lackluster box office, mediocre reviews, and of course, that it was called off in 2019. Replaced by a reboot, the launch of a new cinematic universe might feel like the final nail in the coffin, but never say "never" because in Hollywood, anything can happen. And the "Power Rangers" franchise loves bringing back familiar faces, with the 1990s series returning to the screen in 2023.
Throw in the fact that the rebooted "Power Rangers" seems to be facing some of its own problems in getting made, and one begins to wonder if there could be life yet in a sequel to the 2017 film. Not because it was a smash hit, but because it won't be long before kids who saw it in the theater have genuine nostalgia for it in the years to come.
Plus, with multiverse stories being bigger than ever, the notion of having different versions of the Power Rangers meeting on screen in an epic, reality-skewing story can't be discounted either, as movies and TV shows that crossed over generations have been done more than once, and they're usually wildly popular. With most of the "Power Rangers" cast still fairly young too, there's still decades left for us to see them reunite for a sequel.