Jurassic World: Fallen Kingdom: See 60 Photos From The New Trailer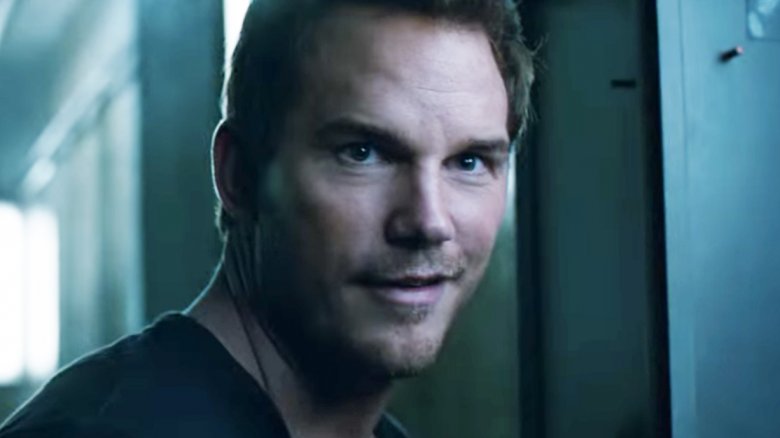 The latest Jurassic World: Fallen Kingdom trailer was packed edge to edge with pandemonium. We're talking dinosaurs hanging out in oceans and terrorizing surfers, climbing on top of roofs during thunderstorms and threatening to eat Chris Pratt's Owen Grady alive, rummaging through children's bedrooms and drooling on their bedsheets — the footage featured creatures in all kinds of places, plus plenty of peeks at the stacked cast and mysterious new settings. 
To prove just how much goodness Universal crammed into two minutes and 30 seconds of footage, we combed through the trailer and compiled a gallery of the coolest, most intense, and downright best moments. Check out the full collection of images below. 
Directed by J.A. Bayona, Jurassic World: Fallen Kingdom takes places four years after the events of the first Jurassic World, and opens by exploring the fallout of the now-closed park. An enormous volcano erupts on Isla Nublar, the fictional island where Jurassic World was held, and puts the man-made dinosaurs in danger of extinction. Now a dinosaur-rights activist with the Dinosaur Protection Group, Bryce Dallas Howard's Claire Dearing teams up with her ex-boyfriend Owen Grady to evacuate the surviving creatures from the island. The pair enlist the help of Justice Smith's Franklin Webb, the Dinosaur Protection Group's systems analyst, and James Cromwell's Benjamin Lockwood, the former partner of original Jurassic Park founder John Hammond, who owns a sanctuary where the rescued dinosaurs will be taken. 
However, things don't exactly go as Claire, Owen, and Franklin expect. Writer-executive producer Colin Trevorrow recently revealed that the question of whether Lockwood's estate is as harmless as it seems will push the sequel's plot. "Whether that's a sanctuary or not is all part of where the story takes you," he told Entertainment Weekly. "The worst instincts of mankind are revealed. The first film was very clearly about corporate greed. This is just about human greed."
Additionally, Jurassic World: Fallen Kingdom will feel like a different film in its second half, transforming from a disaster flick into "a haunted house movie with the characters trapped in a giant, creepy estate with a bloodthirsty raptor hybrid," as Trevorrow later explained. 
Here's what fans can expect to see in forthcoming film: "It's been four years since theme park and luxury resort Jurassic World was destroyed by dinosaurs out of containment. Isla Nublar now sits abandoned by humans while the surviving dinosaurs fend for themselves in the jungles. When the island's dormant volcano begins roaring to life, Owen (Chris Pratt) and Claire (Bryce Dallas Howard) mount a campaign to rescue the remaining dinosaurs from this extinction-level event. Owen is driven to find Blue, his lead raptor who's still missing in the wild, and Claire has grown a respect for these creatures she now makes her mission. Arriving on the unstable island as lava begins raining down, their expedition uncovers a conspiracy that could return our entire planet to a perilous order not seen since prehistoric times."
Jurassic World: Fallen Kingdom also stars B. D. Wong as Dr. Henry Wu, Ted Levine as Ken Wheatley, and Daniella Pineda as Zia Rodriguez. Jeff Goldblum reprises his Jurassic Park franchise role as Dr. Ian Malcolm, while Toby Jones, Rafe Spall, Isabella Sermon, Kevin Layne, and Geraldine Chaplin top off the cast. 
Mark your calendars for Jurassic World: Fallen Kingdom's release on June 22.