New Jurassic World: Fallen Kingdom Story Details Unveiled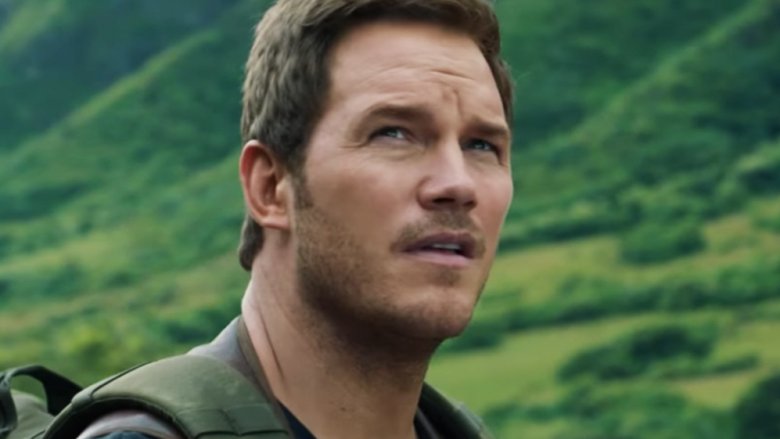 A dinosaur black market and a rescue mission gone wrong and a potential villain hiding in plain sight, oh my. 
There's a lot that goes down in Jurassic World: Fallen Kingdom, and until Universal Pictures released the final full-length trailer for the upcoming sequel, much of the movie's narrative was a mystery. Now, following the new footage unveiling, Jurassic World: Fallen Kingdom stars Chris Pratt and Bryce Dallas Howard, writer-executive producer Colin Trevorrow, and executive producer Steven Spielberg have spilled some seriously insightful details about the film's story.
Entertainment Weekly has the full scoop, including a breakdown of Fallen Kingdom's major plot points alongside the cast and crew commentary. The information does tread into slightly spoiler-y territory, so those wanting to go into the film without knowing anything should avert their eyes. 
Jurassic World: Fallen Kingdom takes place four years after the events of the first film, with the now-defunct Jurassic World in absolute ruins and countless man-made dinosaurs roaming free on Isla Nublar. The first half of Jurassic World: Fallen Kingdom will focus more heavily on the rescue mission Pratt's Owen Grady, Dallas Howard's Claire Dearing, and newcomer Justice Smith's Franklin Webb embark on. Early footage confirmed as much, but something that fans haven't been privy to yet is the fact that the second half of the sequel will become "akin to a haunted house movie with the characters trapped in a giant, creepy estate with a bloodthirsty raptor hybrid." 
Trevorrow explained how the fallout from Jurassic World impacts what happens in the first half of the film as such: "You have this extinction-level event on that island, and the world is looking at these creatures that we created and asking, 'Well, what is our right? Do we let them die because we created them and they shouldn't be here in the first place, or do we have a responsibility to save them?'" 
To accomplish the heart-stopping tone of the film's back half, Trevorrow actually attuned the script to director J.A. Bayona's tastes. Bayona is known for directing the tense disaster movie The Impossible and the gothic horror flick The Orphanage. 
As far as individual characters are concerned, Jurassic World: Fallen Kingdom sees Dallas Howard's Claire working as an activist for dinosaur rights and welfare for the Dinosaur Protection Group, an organization she founded. This is quite a difference compared to what Claire did in the first film: served as the park operations manager of Jurassic World. Dallas Howard explained her character's change of heart: "Basically, her sense of purpose now is to ensure that these animals have the same protections as any other endangered species."
Since Claire has been so focused on saving the dinosaurs, she didn't have much time for Owen — not until she really needed him, that is. Pratt spoke about the shift in dynamic, stating, "She appeals to my [Owen's] better self when she brings up Blue because she's still alive. Claire's going to try to get the dinosaur out of harm's way, and I can join her if I want. And, of course, I do. Spoiler alert: We go back. I'm in the movie!"
Claire and Owen will join forces with Benjamin Lockwood (James Cromwell), the former partner of Jurassic Park creator John Hammond, to orchestrate the rescue mission in hopes of transporting the dinosaurs from Isla Nublar to Lockwood's United States-based sanctuary. But is it really a sanctuary? Trevorrow teased that the mystery of Lockwood's estate is "all part of where the story takes you," and Fallen Kingdom will reveal the "worst instincts" humans have. "The first film was very clearly about corporate greed. This is just about human greed," he added.
The latest trailer teased that type of avarice, as well as the horror-filled house that various dinosaurs were seen running through. Spielberg discussed how director Bayona worked with the set piece, revealing that the filmmaker really knows how to build tension and terror. "[The film] has a wonderfully, deliciously scary third act. J.A. knows how to create terror, but he also knows how to orchestrate it so you're not brutalized by it, and he has the gift of restraint," said Spielberg. "But when he needs to open up the throttle, he really knows how."
Dallas Howard agreed, saying, "What becomes scary about it is it becomes more contained, like we have an Indoraptor in a little girl's bedroom. That's a kind of hell that we haven't seen in a Jurassic movie. It's surreal to see dinosaurs in that kind of an environment. And let me just tell you, there's so much carnage!"
By all accounts, it sounds like Jurassic World: Fallen Kingdom really will blow us all away when it arrives in theaters on June 22.