Yellowstone's Piper Perabo Had A Blast While Shooting The Fair Episode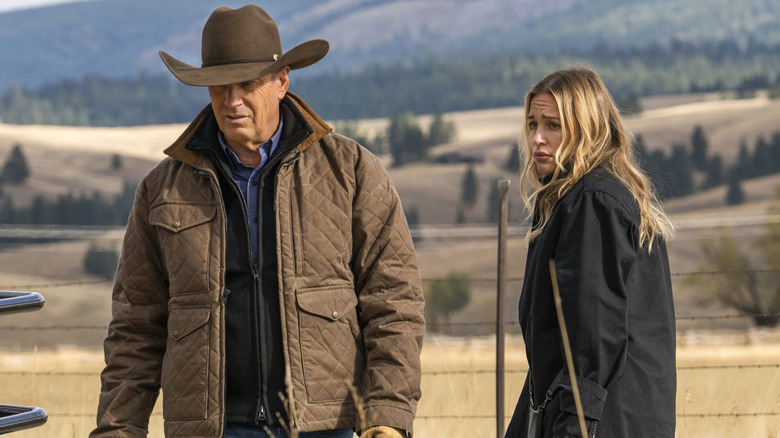 Paramount Network
Piper Perabo made herself right at home on Taylor Sheridan's "Yellowstone." Perabo's stubbornly opinionated vegan-eating Summer Higgins first appeared in the Season 4 episode "Under a Blanket of Red." Summer initially seemed to be an obstinate obstacle for John Dutton (Kevin Costner) to overcome, but it didn't take long for Higgins and the show's lead protagonist to kindle a romance.
Summer enjoyed many standout sequences in the first half of Season 5, but one of the most explosive was her long overdue fight with John's overprotective adult daughter, Beth (Kelly Reilly). Fans knew from the moment the rivals met, and Beth insinuated Summer was a sex worker, that fisticuffs were in their future. And when they finally came to blows in the Season 5 episode titled "Watch 'Em Ride Away," both performers worked diligently to pull off their own stunt work.
"Kelly and I started to learn the fight — this is more than a month before we're filming," Perabo said in an interview with Variety. "As we learn it, our stunt coordinator will watch us to see what parts we would do well. If there was a part that he didn't like, he would take it out and then he would re-choreograph. So even just learning it, and him creating a long fight that we can do — except for the hip toss, Kelly and I could do the whole fight." While the epic face-off with Beth won't soon be forgotten, it's Summer's day at the fair Perabo can't forget.
Perabo loved spending time at the fair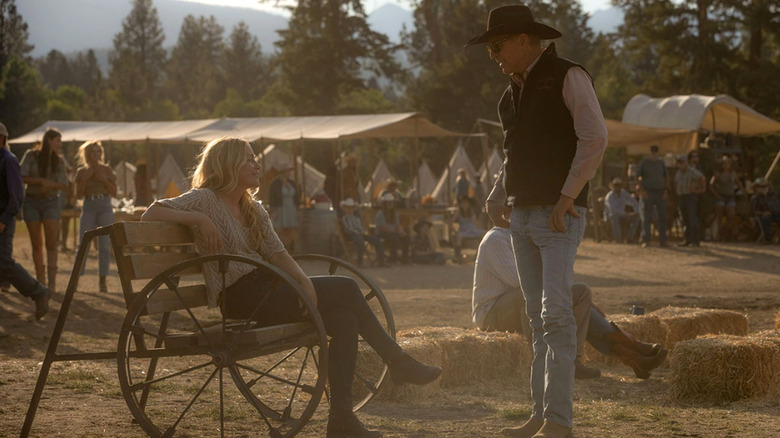 Paramount Network
"Yellowstone's" Summer Higgins shared a star-filled night at the fair with John Dutton in the Season 5 episode "The Dream Is Not Me." The two even kissed, even though the governor's cowboy hat obscured it, but the actors truly kissed, even as Piper Perabo's husband, Stephen Kay, directed the scene. "I kissed Kevin before in the kitchen and a couple of other times, so we were like, 'Let's just make this right,'" Perabo explained in an interview with The Hollywood Reporter. And in addition to that romantic moment, Perabo thoroughly enjoyed shooting the entire fair sequence.
"As fun as that scene is for the fans of 'Yellowstone,' that day was so epic for the cast and crew," Perabo said in the same interview. Everyone was enjoying the atmosphere. Members of the hair and makeup department even took the time to enjoy some funnel cakes on their breaks. Perabo also revealed that the crew would load up the Tilt-A-Whirl with mannequins to stand in as thrill-seeking enthusiasts.
"You can't ask real people to ride the Tilt-a-Whirl for 14 hours," Perabo continued. But even more fun was had during lunch. The crew would remove the dummies from the ride, so that Gabriel Guilbeau (Gator) and the show's COVID supervisor could take a spin on the Tilt-A-Whirl. "Just imagine Gator on the ride, howling in the dark," Perabo said. "It was really fun. There was huge joy, and it was just an amazing day."