60 Minutes Sparked A 1979 Rumor Of Johnny Carson Retiring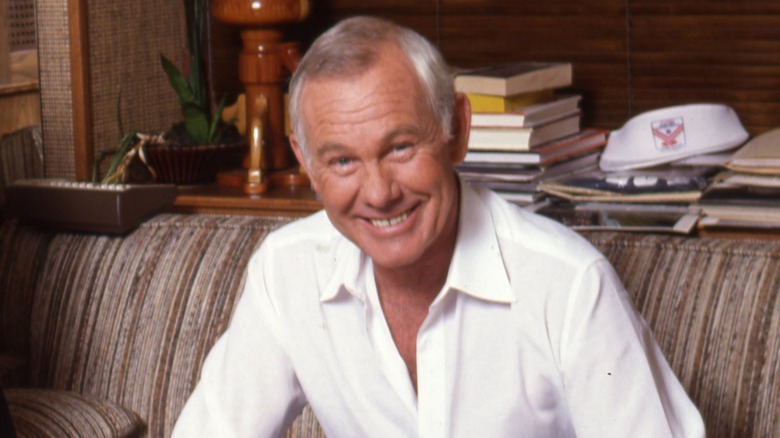 Donaldson Collection/Getty Images
Rigorous journalism comes with certain risks, even to life and limb, as the correspondents at "60 Minutes" well know. Then there are the more mundane pitfalls, such as stepping into the middle of a broadcasting rivalry. Television network politics can be intensely tricky to navigate, and that seems to have been particularly the case when it came to "The Tonight Show Starring Johnny Carson."
Carson, who passed away in 2005, has long been remembered as the undisputed king of late night. He hosted NBC's "The Tonight Show" for over 30 years, taking over from Jack Paar in 1962 and arguably establishing the talk show format that we recognize to this day (via PBS.com). But that isn't to say that it was always smooth sailing. Carson, despite his reserved personality, often had a rocky relationship with the network that put him on the air. And unfortunately for "60 Minutes," broadcast on rival network CBS, one of their best-known reporters once contributed to the tension.
In 1979, "60 Minutes" ran a segment profiling Johnny Carson, who by that point had been hosting "The Tonight Show" for 17 years. When correspondent Mike Wallace asked Carson how much longer he expected to be hosting, a smiling Carson replied, "I don't know." "You do know," fired back a determined Wallace. "You smile that way because you do know."
Johnny Carson leveraged the segment for a better contract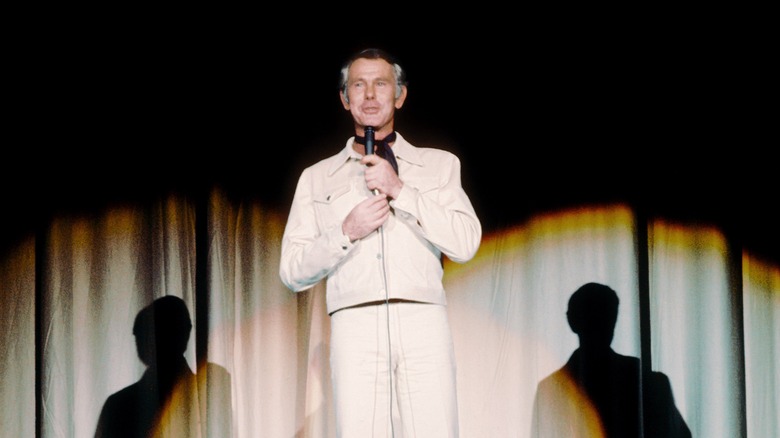 Michael Ochs Archives/Getty Images
There was a broader context to that puzzling exchange, however. In the 1970s, "The Tonight Show Starring Johnny Carson" was NBC's highest-rated show, but new executives at the network nonetheless complained that Carson wasn't working hard enough. By 1979, Carson was threatening to leave (via Vulture).
The "60 Minutes" segment was one volley among many in the battle between host and network, but it did seem to be a particularly powerful one. As a piece that year in The New York Times recounted, "The relentless Wallace got the reserved Carson to acknowledge just how tired he was of doing the show, setting off shock waves that have reverberated through NBC ever since." It certainly wasn't the kind of intrigue that gets the staff at "60 Minutes" in hot water, but was pretty dramatic nonetheless.
It would take another year, and eventually legal proceedings, for the feud to be mostly resolved. In 1980, a legal arbitrator concluded that Carson, who was by then threatening to move over to ABC, was legally free to do so. NBC agreed to a contract of $25 million a year, which at that time was the largest sum offered to an individual in the history of television (via The Hollywood Reporter). Ultimately, Carson didn't retire until 1992.