Johnny Carson Would Not Approve Of Today's Late Night Talk Shows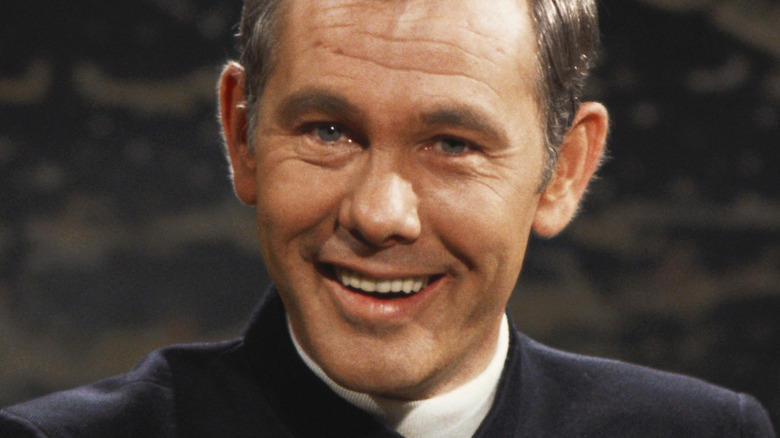 Michael Ochs Archives/Getty Images
Long before Stephen Colbert and Jimmy Fallon, and even Jay Leno and David Letterman, the undisputed king of late-night TV was Johnny Carson (via GoldDerby). Carson's reassuring and constant presence provided plenty of laughs and variety entertainment during his run as host of "The Tonight Show" from 1962 through 1992. Although the host and comedian signed off from the franchise over 30 years ago and passed away in 2005, his influence can still be felt within the format the world over. Like all forms of entertainment, the late-night variety show has evolved over the years, with personalities much different from the joke-telling and self-deprecating comedy Carson offered.
Carson is certainly in the pantheon of greatest late-night hosts of all time but many of his successors have pushed the envelope to include pertinent topics of the day within their programs. Comedy and awareness of political, social, and cultural issues can co-exist peacefully, but a more traditional approach is still favored by many. This can be seen in "The Late Show with Stephen Colbert," "Jimmy Kimmel Live!," and many other similar series today. However, due to his preference for keeping "The Tonight Show" politically neutral, it could be said the legendary host would not approve of today's nighttime chat shows.
Carson believed that late night talk shows should prioritize humor over politics
Johnny Carson never believed in letting his political or ideological opinions be known by the public. In a 1979 interview on "60 Minutes," the late-night host was asked by Mike Wallace if he ever gets sensitive to criticisms alleging he never talks about controversial issues. Carson replied, "Well, I have an answer for that. Tell me the last time Jack Benny, Red Skelton, or any comedian used his show to do serious issues. That's not what I am there for, can't they see that?"
Wallace then interjects by stating the comedian's monologues are full of various types of satire, which are some of the "best on the air." Carson continued by adding that he can do satire due to its strong correlation to humor, but sitting and having serious conversations with politicians was "not his job," and made him feel uncomfortable at the prospect of doing it. He concluded by observing, "It is tougher to make people laugh than it is to make them think." 
Despite modern late-night comedy's featuring those within or seeking election to government, this trend may be on the decline with viewers due to extreme oversaturation for the host's preference of one political divide over the other (per CNN Business).