The Winchesters' Showrunner Says We'll See 'More Glimpses' Of Dean In Season 1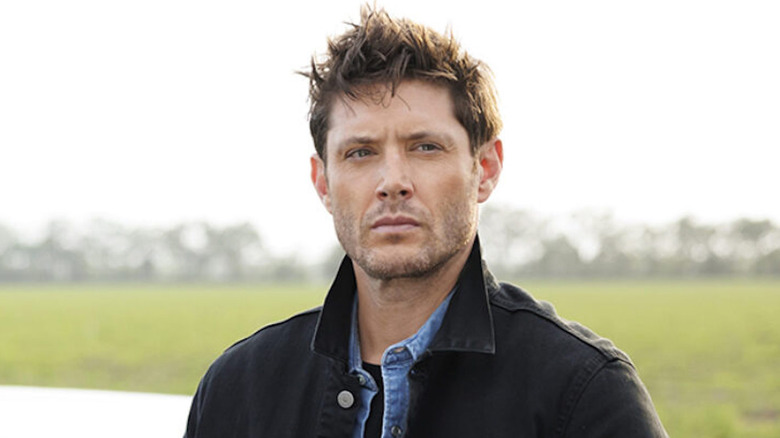 Matt Miller/The CW
The debut season of "The Winchesters" has seen twists and turns galore, with even Dean Winchester (Jensen Ackles) making appearances in some of the show's episodes as of late. And according to series mastermind Robbie Thompson, it won't be the last we see of the "Supernatural" character.
Dean's latest appearance came during Episode 9, in which he was once again shown in an old photograph from the 1970s. His father, John Winchester (Drake Rodger), was looking at the picture while Dean — the show's narrator — offered up some revealing words for context. "This isn't how I saw things going when I pushed over that first domino," Dean says. "Thing is, I've had more than a few dances with free will and fate," he adds. "But as my dad used to say, fate is what you make it." 
The photo of Dean that keeps coming up first surfaced during the January 25 mid-season premiere of "The Winchesters," which is based around the monster-hunting lives of Dean's parents. A promo for Episode 10, which airs February 7, features a scene with Dean's picture being examined by suspicious reporter Kyle Reed (Ryan McCartan) and others close to the show's villain, the Akrida Queen. 
Thompson and "The Winchesters" producers have been open about the future of the fantasy series and how it will include other familiar faces from "Supernatural." But Dean's fate ultimately remains unclear. However, Thompson did reveal a much larger plan for the legacy character in an interview recently, which he says will include "more glimpses" of him throughout Season 1.
Dean's appearances are not just fun cameos, but a teaser for something major
According to showrunner Robbie Thompson, fans of Dean Winchester will have tons to look forward to for the rest of Season 1 — with the character currently slated to have a massive influence on "The Winchesters" series as a whole. 
"I think we refer to him a lot as the Mystery Man, and he's a huge drive for the remainder of the season," Thompson told Entertainment Weekly in a January 31 interview. "They obviously know that this person is someone who's been on the Akrida's radar, but they don't know who he is," Thompson said. "We obviously do. But the drive to find this handsome, slightly out-of-focus man is a huge, huge part of the remainder of it. And we'll see more glimpses as we go along."
Conspiracy theories have been running rampant on social media about Dean's involvement in the spinoff series, with many believing he's done something to alter the order of things. Twitter user @munson_mylove said, "I think the Winchesters is an alternate timeline that Dean created." User @onceinauniverse said, "I have a weird theory that all what we saw in 'Winchesters' so far is Dean's POV to the point that he kind of 'puts' himself in a story as Carlos, hence so many likenesses. But [something] went wrong ... and Dean had to go back to the past to fix it." 
Thompson told EW that plans for Dean's impact on "The Winchesters" and its first season were decided early on during the production process, with his writing team specifically honing in on the show's big letter reveal in Episode 8. "We're not just throwing Easter eggs around," he insisted. "This is all building to something that will pay off in Episode 13."