The Winchesters' Showrunner Says Fans Can Expect To See More Familiar Faces In Season 1
The CW series "The Winchesters" has been taking "Supernatural" fans on a nostalgic, monster-filled ride over the course of its debut season. And according to showrunner Robbie Thompson, things on the popular spin-off are just getting started — especially when it comes to seeing more familiar faces.
For those who missed it, Jensen Ackles' Dean Winchester made an appearance on the January 25 mid-season premiere show to the amazement of viewers everywhere, but not in the way that many had initially expected. Instead of showing up in person, Dean — who narrates the series — was featured in an old photograph from the past, which has caused some fans to think he could be alive somehow despite being killed off during the series finale of "Supernatural." 
As it is with most spin-offs, many of the people tuning in to "The Winchesters" each week are looking for some sort of throwback to "Supernatural" and its awesome catalog of characters. Dean's return came in Episode 8, titled "Hang On to Your Life," which marked the show's return from a nearly two-month hiatus. Now, people are wondering if more familiar faces will show up. And they're about to get what they wish for. 
Showrunner Robbie Thompson says more Supernatural characters are coming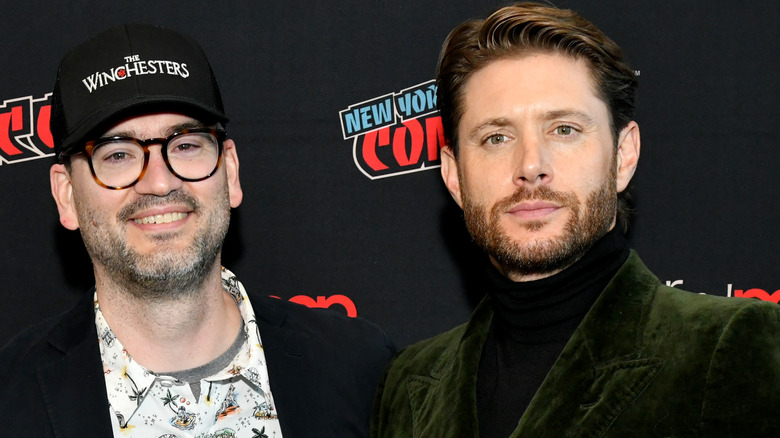 Craig Barritt/Getty Images
Speaking in a January 2023 interview with SyFy, "The Winchesters" showrunner Robbie Thompson assured fans that good and familiar things were coming from the world of "Supernatural."
"I'm really excited," Thompson said, before revealing a few of his big plans. "We have a really exciting legacy character coming back in Episode 12. We're bringing back some really, really cool and exciting characters in our Season 1 finale that fans will instantly recognize, and I'm hoping that we can announce that sooner rather than later because I'm not a fan of holding on to stuff."
According to Thompson, efforts were made to work with or reference as many "Supernatural" characters and actors as "The Winchesters" story ultimately allowed, meaning he had to reach out to each person individually for approval and insight. "I wanted their input," Thompson said. "I wanted their collaboration because, for the most part, these are people that have been playing these characters way longer than I've written them." When all was said and done, Thompson was shocked by just how many people he involved in the long run. "I was surprised there were a lot more [characters] than I thought there would probably be," he told SyFy. "But we found story for all of them."
Drake Rodger, who plays the young John Winchester in "The Winchesters," has previously said that he'd love to work with legendary "Supernatural" regular Misha Collins and the angel he portrays, Castiel, or perhaps Richard Speight Jr.'s nefarious Norse god Loki. "Having Loki or Castiel would probably be my top two choices," Rodger recently told Collider. "And then, you've obviously got Rowena (Ruth Connell) and Crowley (Mark Sheppard)," he added, stressing how there are so many great "Supernatural" characters to choose from.