Grey's Anatomy Fans Make It Abundantly Clear How They Felt About Cristina And Owen's Wedding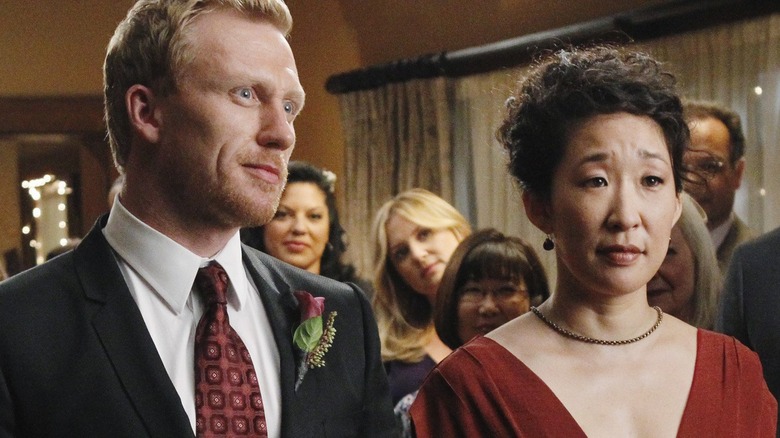 Mark H. Preston/Getty Images
"Grey's Anatomy" may focus a lot on darker themes like loss and death, but every once in a while, the show takes the time to celebrate love. Over the course of its 19-seasons-and-counting run, the series has featured a metric ton of weddings between various characters and it's pretty much always a weighty, emotional affair. It's gotten to the point where the show has even featured a literal dream sequence wedding, and it still managed to become an infamous "Grey's Anatomy" scene that had fans in tears.
Wedding bells have chimed twice for Sandrah Oh's character of Dr. Cristina Yang in particular over the course of "Grey's Anatomy." The first instance comes in the Season 3 finale, when she very nearly marries Isaiah Washington's Preston Burke before he leaves her at the altar. The next instance occurs several seasons later, during the premiere episode of Season 7, when she marries Kevin McKidd's Owen Hunt. This time, the wedding actually goes relatively smoothly, though that hasn't stopped fans from looking back on the big moment with some exceptionally strong opinions.
Fans aren't big on the Cristina/Owen wedding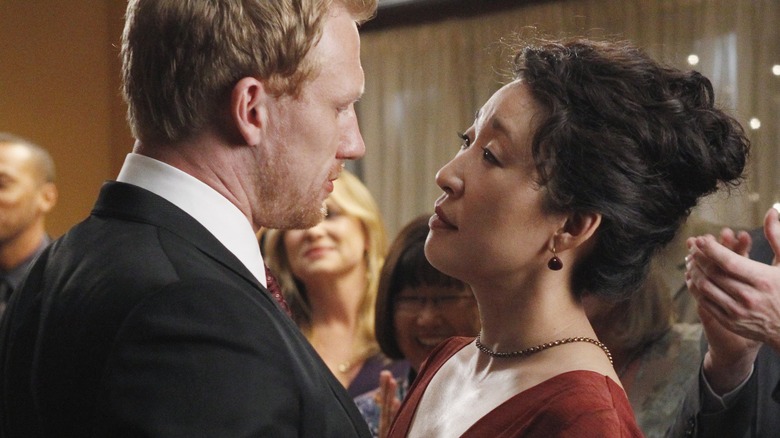 Mark H. Preston/Getty Images
Many fans aren't too keen on Cristina and Owen's wedding from the "Grey's Anatomy" Season 7 premiere. In a poll on the r/greysanatomy subreddit asking fans to vote for the show's worst major wedding, the pair's union obtained first place with over 38 percent of the total vote.
There's some solid reasons behind the unpopularity of Cristina and Owen's big day. For one thing, the wedding comes immediately after an armed attack on the hospital spurs Cristina and Owen into pursuing marriage as soon as possible, prompting their friends to worry that they're rushing something they aren't ready for (which turns out to be true in the long run). "I really disliked Cristina and Owen's wedding because she was literally not herself and completely traumatized after the shooting and shouldn't have gotten married at all," u/trulylovelyone commented. Owen's ostensible failure to see Cristina's emotional state also provides more fuel for those that consider him their most-hated "Grey's Anatomy" character.
Despite negative buzz surrounding the wedding, that's not to say that the team didn't put effort into constructing the scene. "Grey's Anatomy" set decorator Nicole Cramer and costume designer Mimi Melgaard told Cosmopolitan that the wedding was intended to represent Cristina more than her previous marriage. "She already had a wedding that was so unlike her, so I wanted this one to feel like her," Melgaard said. "Shonda [Rhymes] and Sandra Oh both loved it." Unfortunately, fans just don't feel the same.