1923's Harrison Ford Tried 75 Different Hats To Find The Right One For Jacob Dutton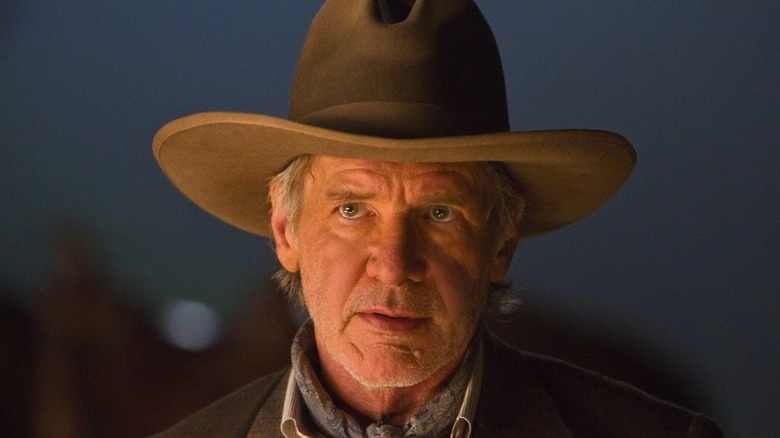 Paramount+
"1923" successfully expanded creator Taylor Sheridan's Wild West universe, and critics are largely praising the show to the tune of an 89% approval rating (per Rotten Tomatoes). The Paramount+ streaming series ably serves as a prequel to "Yellowstone" and a sequel to "1883," and the adventures of this incarnation of the Dutton family are in good hands thanks to the casting of Harrison Ford as Jacob.
However, landing Ford for the lead role wasn't a sure thing, but Sheridan's unique and arguably obtrusive method of offering the thespian the role obviously worked out, even without having a single screenplay prepared. "He [Ford] flew down," Sheridan said in an interview with Deadline. "I said, 'We're going to do this thing together.' He goes, 'Can I read a script?' I said, 'You can when it's written, but it ain't written yet and you got to commit to it now.'"
"'So, are you going to do it or are you going to watch Chris Cooper do the next great thing?'" Sheridan explained in the same interview. "'What do you want to do?' I poured about two bottles of wine down him. He said yes." Who knows what "1923" would have looked like with Cooper — an excellent performer in his own right — flanking Helen Mirren's Cara Dutton? But one thing we can't imagine is what Jacob Dutton would be without his trademark tan, 10-gallon hat.
Finding the right look for Jacob Dutton was crucial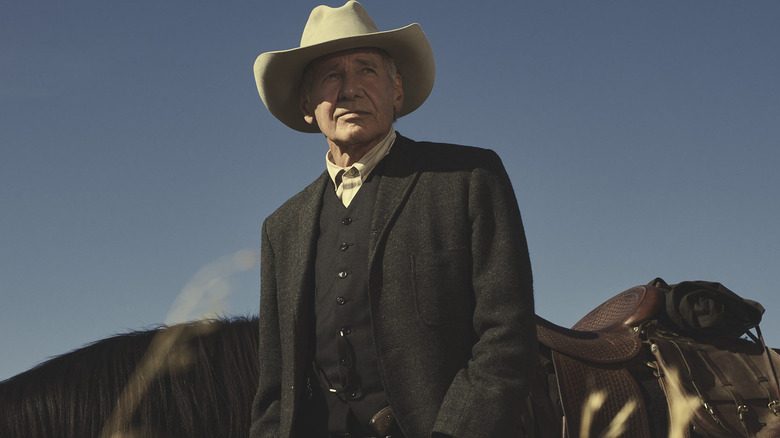 Paramount+
"1923" boasts a formidable protagonist in Jacob Dutton. Yes, Dutton stands out thanks to the Hollywood A-lister portraying him, but, the rancher's wardrobe also makes him more memorable. This bit of costuming genius isn't a new or untried gimmick, nor is it a first for Ford. The actor has been finely tailored on more than one occasion over his illustrious career to create the unforgettable aesthetic for so many of Ford's iconic characters.
And much like the brown, Fedora Indiana Jones sports, or the vests ("Star Wars," "Return of the Jedi") and jackets ("The Empire Strikes Back," "The Force Awakens") worn by Han Solo, Jacob Dutton has his own distinguished look. "It's all about his hat," said the show's costume designer, Janie Bryant, in an interview with Variety. According to the same discussion, Bryant went through a staggering 75 hats to find the perfect match for the hero of Sheridan's latest Wild-West world: a light tan, 10-gallon cowboy hat.
"We made so many for him," Bryant continued. "All the different colors — trying the different creases, the different brims, the different crown heights. It was definitely a process. Taylor [Sheridan] is also very specific about the kind of hat that he likes, too. There was a lot of collaboration with Taylor, with Harrison, and myself to create what I call the 'Jacob.'"
"The Jacob" might be a long way off from being as instantly recognizable as Indy's Fedora, but it wouldn't be surprising if the epic hat leads to more "Yellowstone"-inspired Halloween costumes this year.