Matt Bomer's Ideal Season Of AHS Involves Sharks And Sirens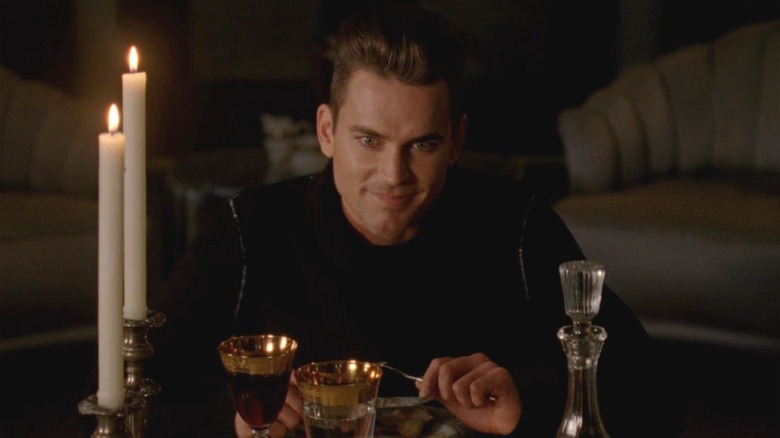 FX
"American Horror Story" is allowed a fair amount of freedom between its seasons due to its anthology format. Each "American Horror Story" season tends to focus on one location and set of characters. Still, some examples of characters appear across multiple seasons, like Pepper (Naomi Grossman) and the witches from "American Horror Story: Coven." Besides often changing characters, "American Horror Story" also changes settings and eras of time, which has resulted in a tremendous range that has involved haunted houses, freak shows, evil hotels, suburbia cults, and even the AIDS epidemic of the 1980s.
Speaking with Entertainment Weekly in 2011, "American Horror Story" creator Ryan Murphy was asked how he and Brad Falchuk came up with the idea for the show's very first season. "Brad and I have been working on it for three years. It was inspired by our favorite childhood movies. We both like to be scared," he said. Judging by this comment, it makes sense as to why many "AHS" seasons focus on horror tropes like witches, clowns, and demons, mainly because that's what usually has an impact on children, or at least a young Murphy and Falchuk. Of course, with as long as "American Horror Story" has been on, series alumni Matt Bomer definitely has an idea of what he would like to see in a future season.
Bomer lends his talents in both American Horror Story and its spinoff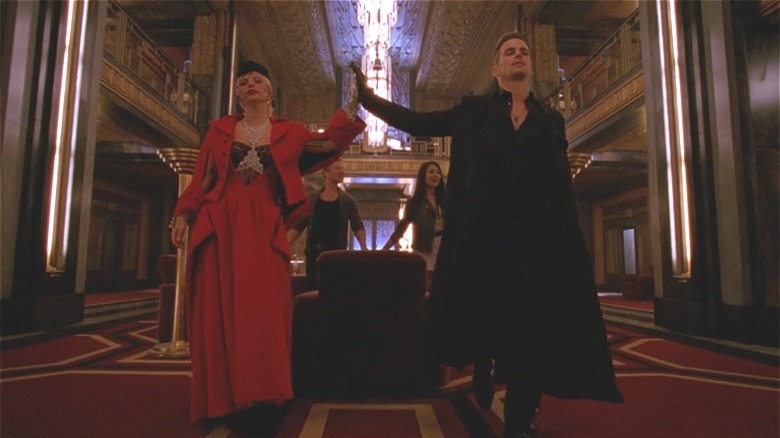 FX
According to IMDb, Matt Bomer appears in 13 episodes of "American Horror Story" between Season 4 and Season 5. He also appears in two episodes of the spin-off, "American Horror Stories." In Season 4, Bomer plays the minor role of Andy, a prostitute involved with both Dandy (Finn Wittrock) and Dell (Michael Chiklis). Although Dell honestly has feelings for Andy, Andy is soon caught in the snare of Dandy, which results in a brutal scene highlighting Dandy's descent into a ruthless and sadistic killer. However, Bomer's acting skill must have greatly impacted the "American Horror Story" creators because he has a much more critical role in "American Horror Story: Hotel."
In Season 5's "Hotel," Bomer plays Donovan, one of the lovers of the Countess (Lady Gaga) and son of hotel worker Iris (Kathy Bates). It is immediately established in this season that Donovan has a reasonably antagonistic relationship with his mother and has been infected with the same virus as the Countess, which resembles vampirism. This means that Donovan craves blood and engages in a hedonistic lifestyle with the Countess that soon comes crashing down when she decides to take additional lovers. Although Bomer only appears in these two seasons of "American Horror Story," he is a massive fan of the series and has a specific theme he would like to see.
Bomer would love to see a season of American Horror Story focusing on a beach community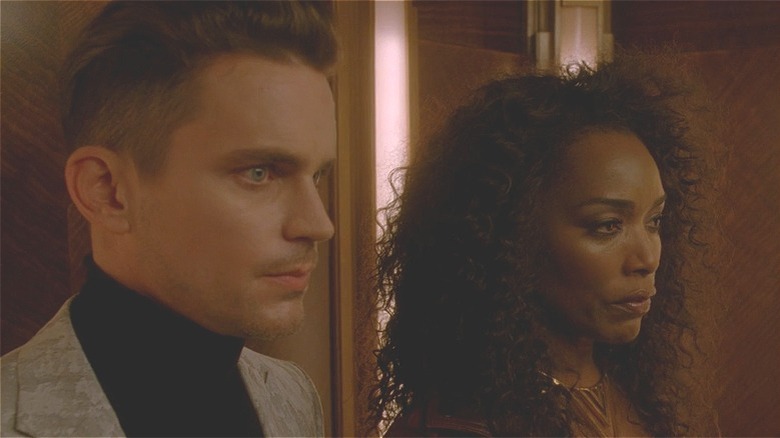 FX
In a 2021 interview with Decider, Matt Bomer was asked a series of questions about his appearances in both "American Horror Story" and its spinoff. Predominately promoting "American Horror Stories," Bomer explained that he was excited to come back to work on a Ryan Murphy and Brad Fulchuk project because he would be getting a chance to play around in the infamous "Murder House," which has proven to be a well-loved setting in the "American Horror Story" universe. Bomer even elaborated that he would love to come back to appear in "AHS," and he patiently awaits a phone call from Murphy.
Toward the end of the interview, Bomer was asked what his vision of an ideal season of "American Horror Story" would be; he replied, "I feel like so many of them have been fleshed out in such a great way. I'm at the beach right now. I'm looking at the ocean as I'm talking to you, so I'm thinking it would be sirens, it would be sharks. It would it be something to do with living in a beach community, something like that." Although "AHS" audiences have seen some seasons of the show set around the beach, mainly "American Horror Story: Double Feature" and a couple of episodes of "American Horror Story: NYC," there has never been a season that was entirely aquatic in focus. Who knows, maybe they can get Jessica Lange back to be a siren! Joking aside, Bomer might be on to something, and it would be interesting to see what kind of results Murphy and Falchuck would be able to produce.