T.R. Knight Described An 'Overwhelming Feeling Of Love' While Filming His Grey's Anatomy Return
Since 2005, "Grey's Anatomy" has seen a revolving door of doctors and interns — with a staggering death rate for the staff. Over 19 seasons, multiple main characters have been killed off the ABC medical drama, including heart patient Denny Duquette (Jeffrey Dean Morgan) in Season 2, Dr. Derek "McDreamy" Shepherd (Patrick Dempsey) in Season 11, and a double whammy when Lexie Grey (Chyler Leigh) and Dr. Mark Sloan (Eric Dane) both died following a plane crash in Season 8, per People.
But it was the first central character's death that was the most shocking — and heartbreaking. At the end of Season 5, Dr. George O'Malley (T.R. Knight) died from complications after he was hit by a bus while trying to save a stranger. The good-natured Seattle Grace doc was severely disfigured in the accident, and it wasn't until the "John Doe" patient outlined his nickname, "007," in Meredith Grey's (Ellen Pompeo) hand just before he died that she realized it was him.
It was Knight who decided to leave the hit show. At the time, he told Entertainment Weekly that he had a communication "breakdown" with showrunner Shonda Rhimes, with concerns about the storylines and the direction his character was going in. "There just comes a time when it's so clear that moving on is the best decision," Knight told EW in 2009. "In the end, I need to be fulfilled in my work."
But O'Malley returned to "Grey's Anatomy" more than a decade later, and Knight was overcome with emotion as he filmed the scenes.
T.R. Knight called his Grey's Anatomy return a 'profound' experience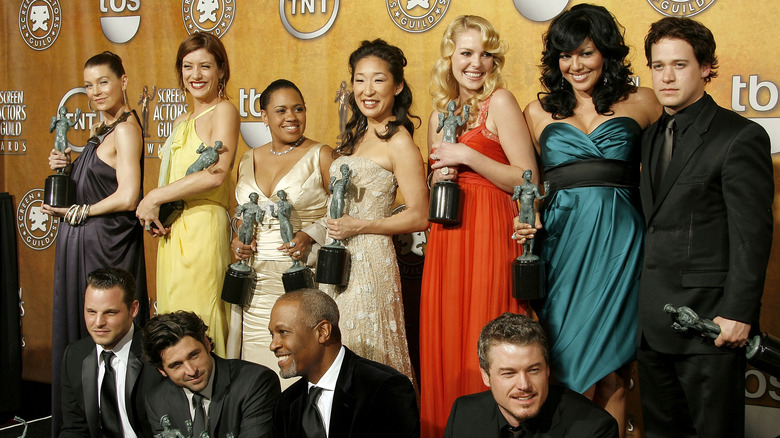 Vince Bucci/Getty Images
In 2020, after an 11-season absence from "Grey's Anatomy," T. R. Knight appeared in the Season 17 episode "You'll Never Walk Alone." The George O'Malley character was resurrected for a dream sequence as Meredith Grey fell ill with COVID-19. George and Meredith's reunion scene was set on a beach, where the dead character told Meredith he sometimes checked in on her, and she told him that knowing him changed her life. The end of the episode featured the reunited friends joined on the beach by their hospital mentors, Dr. Richard Webber (James Pickens Jr.) and Dr. Miranda Bailey (Chandra Wilson).
In an interview with Deadline, Knight said it was hard to explain what the reunion meant to him. "I'm still trying to put into words how profound the experience was for me," he said. "It was incredible; it was just an overwhelming feeling of love in that moment."
"We were apart from everybody quite a bit because that was a drone shot," he added of the final scene. "And so it was just the four of us, and the sun was setting, and this big fly buzzing around our heads, and it filled me with just a lot of joy ... To have Ellen, and Chandra, and Jim ... and all the other familiar faces that were there, too, because there were quite a bit of crew that were there still. To have all of that, it was just unlike any other experience I've ever had in my entire life."
After the episode aired, Knight shared still photos from the shoot and wrote, "George O'Malley will always claim my heart."