Austin Butler Got To Keep Two Incredible Props From The Elvis Set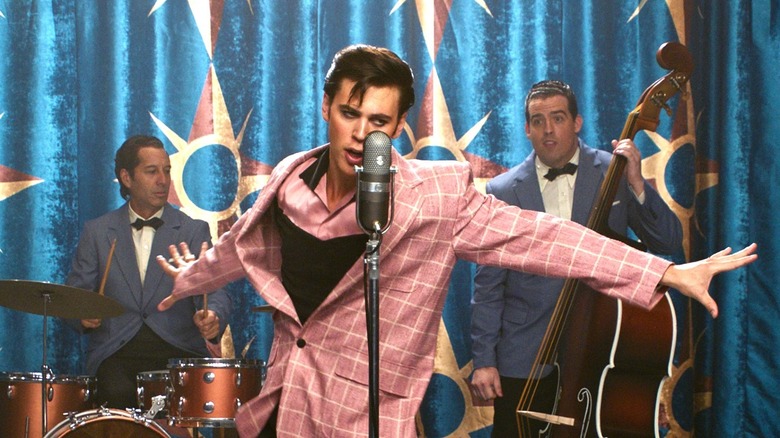 Warner Bros.
It's not a given that actors get to keep props from productions. Otherwise, we'd never see items like one of Luke Skywalker's lightsabers being auctioned off for nearly a half-million dollars decades after a film like "Star Wars" is released (via The Hollywood Reporter). Lucky for Austin Butler — whose riveting performance in the titular role of "Elvis" earned him an Oscar nomination for Best Actor — he got to keep not one, but two major pieces of screen memorabilia connected to his character to treasure.
Directed by Baz Luhrmann, "Elvis," of course, recounts the incredible life of "The King of Rock 'n' Roll," Elvis Presley. In addition to various scenes recalling his early years and breakout as a singer-musician in the 1950s, there are such pivotal moments from Presley's career in the film, such as his classic '68 Comeback Special, a television event that aired on NBC in December of 1968 that gave The King's career a much-needed second wind (via Rolling Stone). Several heartbreaking moments in Presley's career are depicted as well, including a scene late in his career where the singer — ravaged by the effects of drug use and barely an image of his former self — sits in front of the piano in Las Vegas to play a stirring rendition of a song also made famous by The Righteous Brothers.
While normally props from scenes with that much significance are archived by the studio, Butler revealed to Jimmy Fallon on "The Tonight Show" that two of them are now in his possession.
Butler kept two major pieces of wardrobe from the film
While discussing such things as a bevy of awards nominations, a Golden Globes win, and of course, his work on "Elvis," Austin Butler told the host of "The Tonight Show Starring Jimmy Fallon" that he "kept a number of things" from the film but noted the two items that were special to him in particular.
"I kept the black leather [jacket] from [the] '68 [Comeback Special]," Butler told Fallon. "It's in a box right now but I need to, like, put it on a mannequin or something. Eventually I'll do something."
The other piece of memorabilia, which Butler wore in the film's Las Vegas scene near the end of the film, came courtesy of director Baz Luhrmann. "Baz gave me the back of the 'Unchained Melody' jumpsuit ... the medallion on the back of that, so I have that framed at home," Butler told Fallon.
Naturally, some of the things that Butler treasures most are the memories of working on the film; in particular, the kinship he formed with Elvis Presley's only child, Lisa Marie Presley, who tragically passed away on January 12, 2023, at the age of 54.
Sadly, Lisa Marie Presley didn't get to experience all of the awards season glory for "Elvis," which was nominated for eight Academy Awards, including Best Picture and Best Actor for Butler after her passing. However, she witnessed Butler's win for Best Actor in a Drama at the Golden Globes a mere two days before her untimely death.
"It's weird in moments like this because it's so bittersweet," Butler explained to Fallon. "I mean, so much great stuff is happening, but it's really — I'm just, you know, devastated for her family and for her not to be here celebrating with us."