Sylvester Stallone Consulted Taylor Sheridan About Tulsa King's Longevity Before Signing On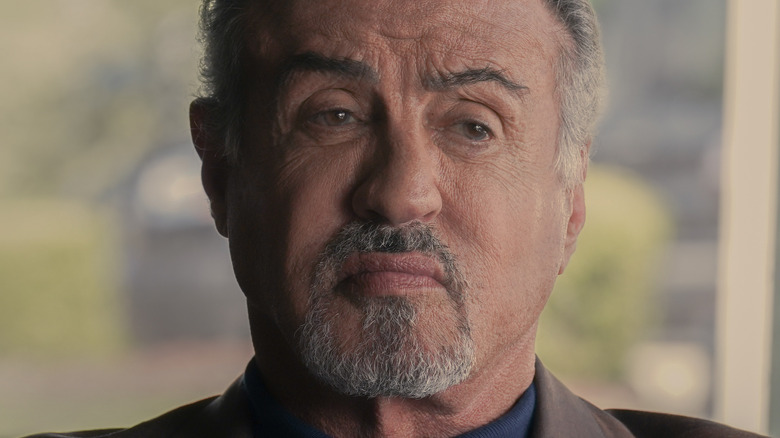 Brian Douglas/Paramount+
Sylvester Stallone is Hollywood's unofficial king of franchises. The filmmaker is responsible for creating some of his own with "Rocky," "First Blood," and "The Expendables," he's also headlined or joined plenty of others — "The Suicide Squad," "Guardians of the Galaxy," and "Spy Kids 3-D: Game Over," and the "Escape Plan" trilogy. The point is Stallone is a man who knows a thing or two about the art of the sequel and the grind of keeping a franchise alive for not just years but decades.
What Stallone hasn't dabbled a lot in is television, but Taylor Sheridan changed all of that by casting him as Dwight "The General" Manfredi, a New York mobster who is cast out to Tulsa, Oklahoma, by his bosses after more than 20 years behind bars. "Tulsa King" Season 2 was quickly greenlit, giving Stallone another successful franchise (per Variety).
What remains to be seen is how long this franchise goes. Sheridan kept series like "Yellowstone" running for multiple seasons, but the writer also wrapped up the story of "1883" in one season and only plans on two seasons for fellow "Yellowstone" spinoff "1923" (via Deadline). According to Stallone, he and fellow franchise heavyweight Sheridan have discussed just how long "Tulsa King" could go for.
Stallone wants to do multiple seasons of Tulsa King
In a November 2022 interview with Collider, Sylvester Stallone revealed he and Taylor Sheridan discussed the longevity of "Tulsa King" early on. The actor cited "The Godfather" as an example of how he'd like to continue following his character.
"I'm a big believer, since I started my career, in sequels. I think that if you build a character, why have them disappear? Like say, 'The Godfather,' Michael [Corleone], you want to see him move on. I want the same thing with this," the filmmaker said.
In an interview published the very same month at Variety, however, Stallone revealed how brutal he felt television production was compared to movies, joking it'd be better if they could film at his home in Palm Beach.
"It's beyond tough. I can't believe some people have done this for four, five or six seasons. It's brutal, compared to filmmaking. I'll never say, 'This is a hard shoot' again on a feature. It's a vacation compared to this! It really is," Stallone said. Luckily, "Tulsa King" Season 2 is already on the way, and if there's one thing Stallone's proven over the years with his films, franchise fare or not, it is that he's not one to back down from a challenge.