Everything Everywhere All At Once Directors Were The Ones Who Made That Bonkers Lil Jon Video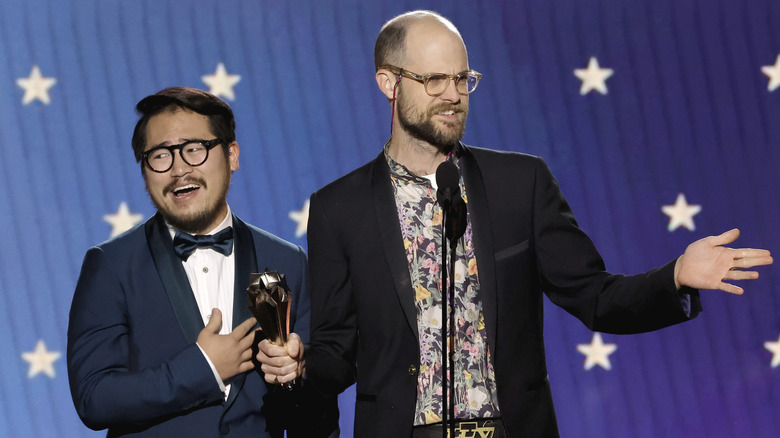 Kevin Winter/Getty Images
For as long as they've been creative partners, Daniel Kwan and Daniel Scheinert have been risk takers. The reception hasn't always been glowing. The pair's feature film debut "Swiss Army Man," lovingly deemed the "farty corpse movie," elicited walkouts when it premiered at the 2016 Sundance Film Festival, even if scores of others endorsed the movie's full-hearted weirdness. All that risk-taking paid off with "Everything Everywhere All At Once." In an Oscars field full of snubs and surprises, Daniels' universe-hopping, genre-bending phantasmagoria leads the pack with 11 nominations.
Daniels got their start directing music videos together, and it's easy to trace a line from the directors' early work to their farty, dildo-filled films. Indeed, the pair's first video in 2010 for FM Belfast features people running down the street in their underwear, and a later video for Chromeo offers a very literal answer to the question, what if great music could get you pregnant? But the music video that put Daniels on the map was their bonkers video for "Turn Down for What."
Daniels' Turn Down for What video has over one billion views on YouTube
In Lil Jon's own words, "Turn Down for What" was written to capture a specific mood. "It's basically a movement of people that like to have a good time," the rapper told SPIN of his collaboration with DJ Snake. "This song is the type of song that gets you motivated to do anything." Daniels took that directive to heart and delivered a silly, hedonistic video to accompany the 2013 banger.
Watching the "Turn Down for What" video now, it's easy to detect early evidence of the duo's directorial style. The video features tenants of an apartment building — one of whom is played by Kwan himself — whose bodies (genitals, specifically) are moved by the spirit of the beat to twerk into oblivion and destroy their building in the process. Basically, it's not hard to imagine that the same guys would later choreograph a butt plug fight scene.
"For a while Daniel and I had been wanting to explore male sexuality in a really weird way," Kwan told Vice. The "weird way," it turned out, would be indestructible dancing genitals. Neither director anticipated that the video would generate a billion views on YouTube. "With this we were afraid of how people were gonna react," said Kwan shortly after the video's release. "I mean, our managers are getting phone calls from everyone in the industry now asking for meetings, and that just doesn't make sense to us." Needless to say, Daniels are officially the first Best Director nominees to have made a music video for Lil Jon.