Nick Offerman Was Not The First Choice For Bill In The Last Of Us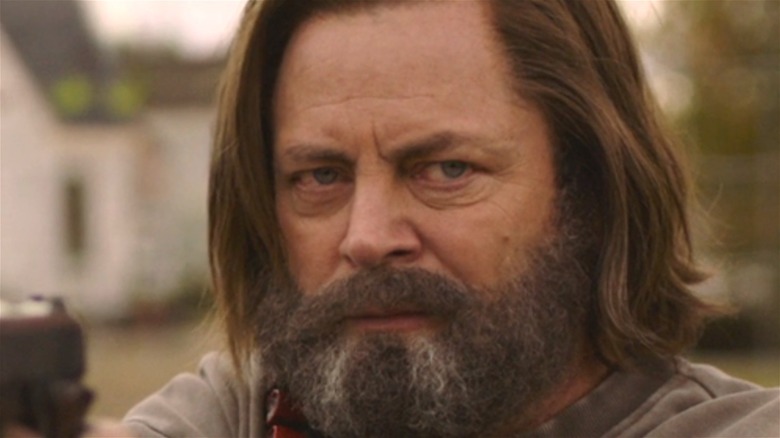 HBO
"The Last of Us" is certainly providing a new and fresh look at the zombie genre, and with a new crop of fungus absolutely ravaging the world and shattering society, people not only have to deal with mushroom-covered humans-turned-monsters but other survivors as well. This means that even though these new infected are dangerous, regular humans can be even more so. Of course, not everybody turns into a cold-blooded survivalist like Negan (Jeffrey Dean Morgan) from the hit show "The Walking Dead," though some may need a little nudge not to be completely removed from the struggles of others.
Bill (Nick Offerman), in the most recent episode of "The Last of Us," is originally quite content to live his life in his heavily fortified neighborhood by himself, and upon his introduction, audiences can see that Bill has been preparing for an end-of-the-world scenario for quite some time. However, when Frank (Murray Bartlett) stumbles into one of Bill's traps, an unlikely romance begins to form, and Bill goes from a gruff and reserved individual to one that is absolutely in love and dedicated. This entire episode of "The Last of Us" allows Offerman to really display a range of emotions between tears, scowls, and beautiful piano renditions, but it seems as if the famous actor wasn't the first one considered for the part.
Another HBO alumni was suppose to be Bill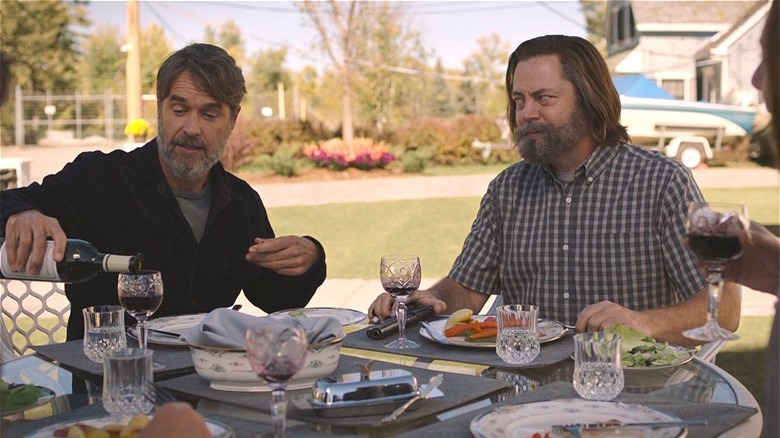 HBO
Speaking with Troy Baker on the official "The Last of Us" podcast, creators Craig Mazin and Neil Druckmann had a chance to discuss Episode 3, and the subject of Bill being played by Nick Offerman came up. Mazin then explained that the original intention for casting Bill was to find a middle-aged gay man. Mazin clarified, "Initially, the role of Bill was going to be played by Con O'Neill, who played Bryukhanov in 'Chernobyl,' and he wasn't able. Ultimately he couldn't do it because he was on 'Our Flag Means Death.'"
Mazin continued, "So we couldn't do it with Con. And that's when the idea of Nick came around, but for Nick and for me, both straight men, it was important to say, 'look, we can do this work, and we can tell these stories with these characters, but the key is that you have to do your homework.'" Mazin elaborated and said that they were lucky enough to have several married middle-aged gay men on set, and through their guidance, Mazin and Offerman were able to create a convincing romance story filled with emotion, nuance, and grounded in reality. He added that it seemed like the most important aspect of casting Bill wasn't actually that he is gay but that he is middle-aged, which means that the character has a different approach to relationships and their ultimate goals. One thing is for certain, though, and that is Offerman certainly offers a tremendous performance as Bill in "The Last of Us."