The Walking Dead's Ross Marquand Compares Walkers To Jurassic Park's Raptors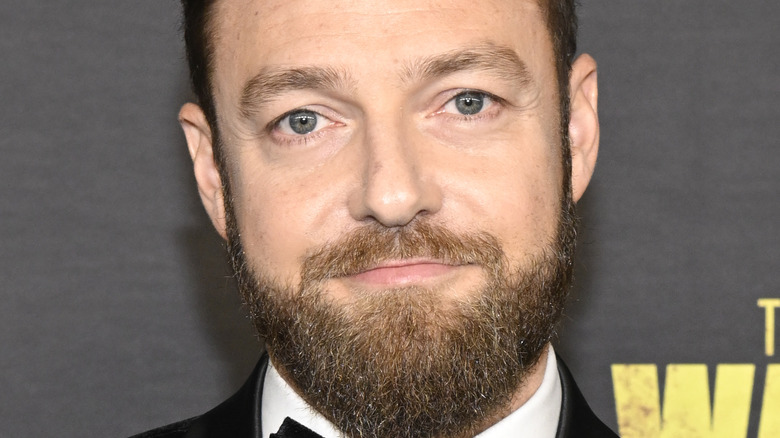 Timothy Norris/Getty Images
Ross Marquand is a fabulous celebrity impressionist whose uncanny imitations of Matthew McConaughey, John C. Reilly, and Kevin Spacey even impressed talk show host Jimmy Kimmel (per Jimmy Kimmel Live). Marquand got his start as a thespian in 2006 with appearances on the television series "LA Forensics" and in the short film "Love Sick." But, up until 2015, the actor's most prolific work came courtesy of his 13-episode run as Ross Marvin on "Impress me." However, Marquand's rise to fame began that same year when he joined "The Walking Dead" world as Aaron in the Season 5, Episode 10 entry titled "Them."
Aaron officially reveals himself to Maggie (Lauren Cohan) and Sasha (Sonequa Martin-Green) by surprising the women as they sit peacefully under a tree, but the stranger ensures them that he is friendly and carries good news. Yes, Marquand's character found it difficult winning the trust of Rick Grimes' (Andrew Lincoln) group, but, in real life, Marquand only needed one unusual audition to convince "TWD" producers he was the right fit to play Aaron.
"This one was super weird in that it was a one in done," Marquand said of the auditioning process in an interview with Skybound. Obviously, the actor won the part, and he portrayed the character until "The Walking Dead" series finale. For over six seasons, Aaron had his fair share of encounters with the post-apocalyptic world's zombies, but Marquand eventually came to discover that the undead have a lot in common with "Jurassic Park's" Velociraptors.
Walkers remind Marquand of those cunning Velociraptors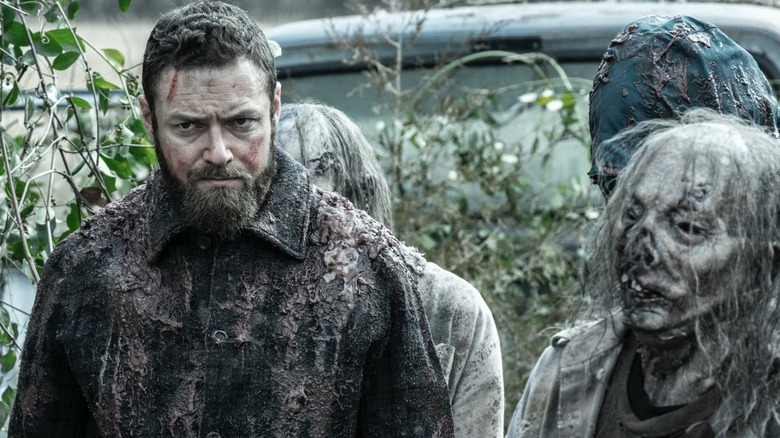 Jace Downs/AMC
Ross Marquand portrayed the kind-hearted Aaron during Seasons 5 through 11 of "The Walking Dead," and he managed to evade the kiss of death that struck down so many of the "TWD" mainstays over the years like Glenn (Steven Yeun), Carl (Chandler Riggs), and Beth (Emily Kinney). In a world teeming with the undead and other seething threats, Marquand had plenty of time to form an opinion about the zombies his character encountered on a weekly basis. And those relentless flesh eaters reminded him of "Jurassic Park's" cleverest creatures.
"It's pretty terrifying," Marquand said during an interview with Decider. "It kind of reminded me of when I was a kid watching 'Jurassic Park' and seeing those velociraptors, controlling the door handles and just thinking, 'My God, what a terrifying thought.' When they actually become really somewhat intelligent and are able to figure out basic motor skills and motor functions, that is a terrifying concept to grasp."
Over the course of Aaron's character arc on "The Walking Dead," the one-time shy and soft-spoken recruiter for the Alexandria Safe-Zone evolved into a formidable and hardened hero who was quintessential to the group's survival. "It's been cool to see him go from like this really nice, diplomatic chap to the mace-wielding machine he is now," Marquand said in an interview at the 2022 FanX Salt Lake Pop Culture & Comic Convention (via Ammaross Danan).