The Former University Of Alabama Football Star Who's Tackling Procedurals In Hollywood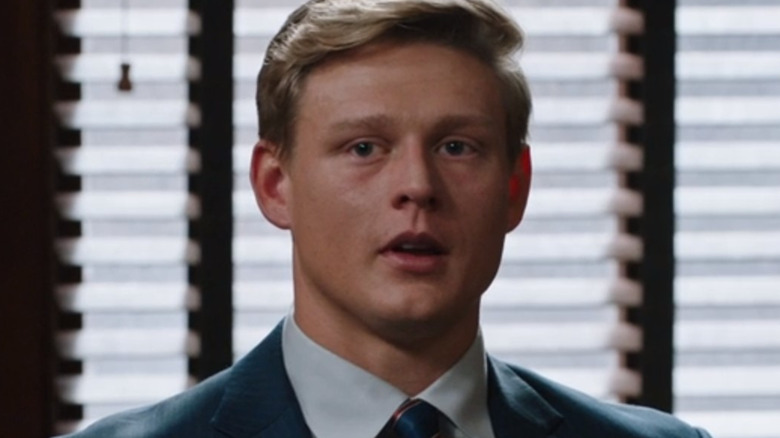 NBC
In recent years, it has seemed as if more and more football players have their eyes set on Hollywood. One of the biggest and best-known players, Tom Brady has even begun to produce films like the upcoming, "80 for Brady" (via IndieWire). Even one of the biggest movie stars working today, Dwayne "The Rock" Johnson, began his career as a football player before slipping into professional wrestling. "Lost" actor Matthew Fox was also a wide receiver for Columbia before heading to the island. Looking further back, even actors like Jim Brown, Terry Bradshaw, Howie Long, Fred Williamson, Carl Weathers, Bill Goldberg, and Burt Reynolds have backgrounds that include football. The list goes on and on. 
Adding his name to the growing list of football players-turned-actors is a star on the rise. This University of Alabama football star has started his acting journey with appearances in a favorite TV genre for fans — crime procedurals. Fans may have already clocked him in some popular shows.
Brandon Tyler Moore has broken out as an actor, appearing in Law & Order and Mayor of Kingstown
University of Alabama offensive lineman Brandon Tyler Moore has made the jump over to Hollywood, having appeared in several TV procedurals and films. A relative newcomer to the business, Moore made his acting debut in 2019 with the TLC TV mini-series, "Brides, Grooms and Emergency Rooms." On the big screen, he appeared in the 2023 film, "Condor's Nest," alongside prolific character actors Michael Ironside, Arnold Vosloo, and Bruce Davison.
Moore has carved himself quite a niche on television most of all, having starred in three procedural shows between 2022 and 2023. He led the cast of ID's "The Tetris Murders," and also appeared as a guest star on both "Mayor of Kingstown" and "Law & Order." When asked about his fast-rising success, Moore credits a familiar sports legend who he says inspired him to reach for his dreams.
Moore received some encouraging advice from Coach Nick Saban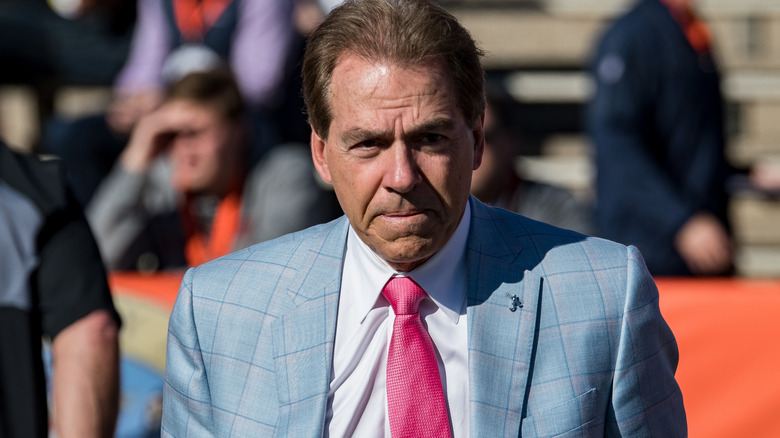 Brad McPherson/Shutterstock
In a piece from Alabama local NBC affiliate, WVTM13, Brandon Tyler Moore credited his former University of Alabama coach Nick Saban before the airing of Moore's "Law & Order" appearance. "I owe so much to Coach Saban," Moore said. "I'm so thankful that my dream is coming true." Saban has been head coach at University of Alabama since 2007, and is generally considered to be one of the best college football coaches ever (via ESPN).
While in high school in Cincinnati, Ohio, Moore was an offensive lineman who caught the attention of universities around the country for his skill, but he never let go of his dream of being an actor. He told WVTM13, "I set the squat record at my school, yet I still had time to star in 'Godspell.'" While he assisted 'Bama in winning two national championships from the practice field rather than the playing field, he also gained a degree in Consumer Science, all while trying to get an acting agent and while going to readings. He said, "I learned from Coach Saban that sometimes we have to do things we don't want to do to succeed in life."
It seems through all his hard work and determination that Moore has begun to find success in his dream occupation. He has several projects in various stages of production as of this writing (via IMDb). Fans will be seeing plenty of Brandon Tyler Moore in the future.