Brendan Fraser Hated Working On The Mummy: Tomb Of The Dragon Emperor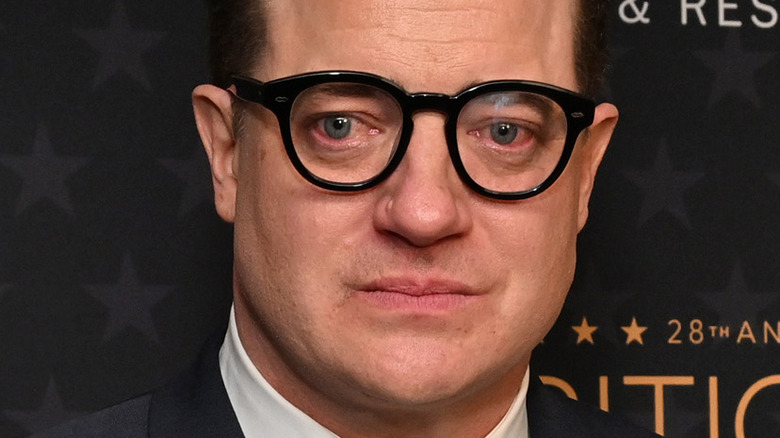 Michael Kovac/Getty Images
Hollywood is experiencing what some have referred to as a "Brenaissance" (via Yahoo), as the actor has returned from a long hiatus appearing in a number of worthwhile endeavors such as "Doom Patrol" and "No Sudden Moves." Everyone arguably loves a comeback, and there is no denying that Fraser has successfully returned to the spotlight. To top things off, the actor's career resurgence also has received some much-deserved recognition from both the Golden Globes and the Academy Awards for his performance in Darren Aronofsky's feature "The Whale."
While Fraser's successful comeback tour may have been unexpected, it should not be all that surprising. While he does have some bizarre roles on his resume, the actor does have several impressive credits to speak of, including "Gods and Monsters," "Crash," and "George of the Jungle." He is also perhaps best known for starring in three of the "Mummy" films that together grossed over $1 billion at the global box office (via The Numbers). While many would agree that "The Mummy" trilogy is quite entertaining, Fraser didn't have the best time making them — especially when it came to what went down on the set of "The Mummy: Tomb of the Dragon Emperor."
Fraser struggled both physically and mentally during the production of the third Mummy movie
Brendan Fraser disclosed that when it came time to shoot the third "Mummy" movie in 2007, years of doing his own stunts did quite a number on his body, causing injuries and requiring surgical procedures. As a result, it became difficult for him to keep up with the action-packed efforts of his character Rick O'Connell, to the point where he described the painstaking process he was forced to endure every morning. In an interview with Deadline, the actor made the shocking revelation that after he woke up, he would put himself "together like a gladiator with muscle tape and ice packs, strapping on this Transformer-like exoskeleton just to get through the scene." 
But it wasn't just the physical pain that was taking a toll on the actor during the production of "The Mummy: Tomb of the Dragon Emperor." Unfortunately, some of Fraser's pain was due to a considerable amount of mental struggles, including self-loathing. "I think on some level I felt I deserved [a beating] and wanted to be the one who got in the first punch" Fraser revealed.
Despite having a less-than-ideal experience in his final run in the franchise, the actor has indicated he would not be entirely against returning to "The Mummy" franchise should the opportunity ever arise, saying, "I'm not opposed to it." While nothing appears to be in the works, and the chances of it happening may seem substantially low, many fans would not be disappointed if a Rick O'Connell comeback was the next phase of Fraser's return to glory.