Here's Where You Can Stream Tár At Home
Everyone's talking about "Tár"!
The heavily memed "Tár" was recently nominated for six Academy Awards, including Best Picture, Best Director for Todd Field, and Best Actress for Cate Blanchett. Its slew of nominations shouldn't come off as a surprise considering "Tár" has been a critical darling since it debuted at the Venice International Film Festival in early September 2022. Critics haven't been the early ones swooning over Lydia Tár, who has quickly become a Film Twitter favorite.
/Film critic Marshall Shaffer praised the film's direction and performances, saying "... to watch Blanchett unravel over the course of "TÁR" is akin to watching a classical Greek statue shatter." Yes, "Tár" has great reviews, is an awards darling, and has become the subject of dozens of memes and fancams, but what exactly is it about? Well, it's about EGOT-winning  composer Lydia Tár (Blanchett). The film follows the famed composer as she conducts her masterpiece in Germany. There's a lot more to Field's masterpiece than just that, but it's best to go in as blind as possible. Based on several memes and tweets, it's easy to assume that Lydia Tár is a real person but we can assure you that "Tár" is as fictional as a film can be. 
Still eager to learn more about Twitter's favorite composer? Audiences who missed "Tár" when it first debuted in cinemas now have the opportunity to catch the definitely-not-real biopic at home.
Tár can be streamed on Peacock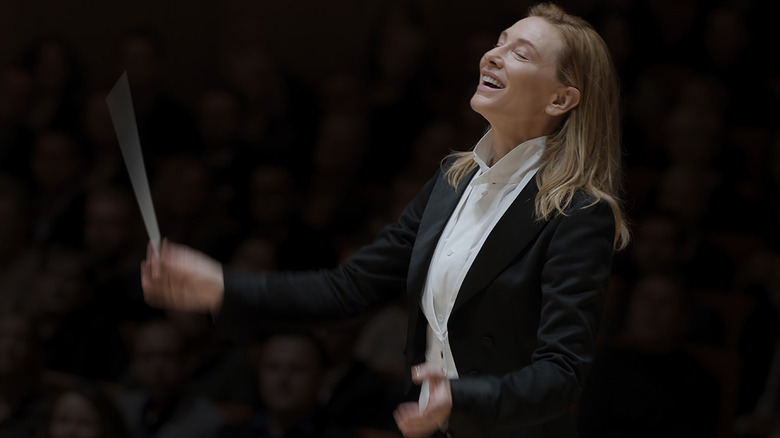 Universal Pictures UK
Those hoping to watch Todd Field's Oscar-nominated masterpiece at home have a slew of options to choose from. New and current "Tár" stans located in the United States can watch Cate Blanchett's latest with a Peacock subscription. Don't have a Peacock subscription? Plans start at $4.99 a month for the Premium option, which includes ads. Don't want ads while you're seeing Lydia Tár conduct her greatest hits? Peacock's ad-free Plus option is available for $9.99 a month.
If the idea of streaming "Tár" on Peacock isn't appealing, fans of the composer can always rent her life story. The Berlin Philharmonic's conductor's tall tale is available for rent on several digital storefronts in both 4K and HD. It's available on platforms like Apple TV, Google Play Store, YouTube Movies, and Vudu, among others. It can be rented for $5.99. Of course, some might want to obsessively rewatch Tár's highs and lows, which is why purchasing the film is a sound option. A digital copy of "Tár" is competitively priced at $19.99 across various platforms. 
First time viewers and excited rewatchers outside of the United States will not be able to stream "Tár" for now at least. Instead, they can rent or purchase the film on their favorite digital storefront. Canadian fans who want to see Petra's father on the small screen can rent the film for $6.99 or purchase it for $24.99 CAD.
Want to watch "Tár" in cinemas ahead of the Oscars? Focus Features has a nifty tool on its website to find a theater near you that's playing "Tár."