Cate Blanchett Talks The Early Days Of Filming Tár With Todd Field
His first film since 1995, "Tár" is Todd Field's story of one incredibly influential woman's downfall. Cate Blanchett stars as Lydia Tár, one of the foremost orchestra conductors of her generation. When we come upon her at the start of the movie, she is preparing to complete a recording cycle of Gustav Mahler's symphonies, cementing her place in history.
Blanchett's performance conveys the sheer talent Lydia possesses. However, Lydia quickly reveals her darker impulses. As the movie progresses, it becomes clear that she has wielded her outsized influence and power to coerce young women under her wing into quid-pro-quo sexual relationships in exchange for prime placements in her orchestra and scholarship programs, not hesitating to destroy their careers entirely should they refuse. She operates out of Machiavellian instinct, pulling the strings to control those around her just as carefully as she controls an orchestral string section.
Despite the blackness of its subject, Blanchett's performance as Lydia is a tour de force for the veteran actor. Though it's hard to root against her downfall, it is nonetheless tragic to watch her inevitable comeuppance unfold. In a recent interview alongside Field, Blanchett spoke about the early behind-the-scenes work on "Tár," focusing on how the director, a former collaborator of Stanley Kubrick's, helped her shape that sharp performance of the character.
If you or anyone you know has been a victim of sexual assault, help is available. Visit the Rape, Abuse & Incest National Network website or contact RAINN's National Helpline at 1-800-656-HOPE (4673).
Field thrust Blanchett directly onto the conductor's pulpit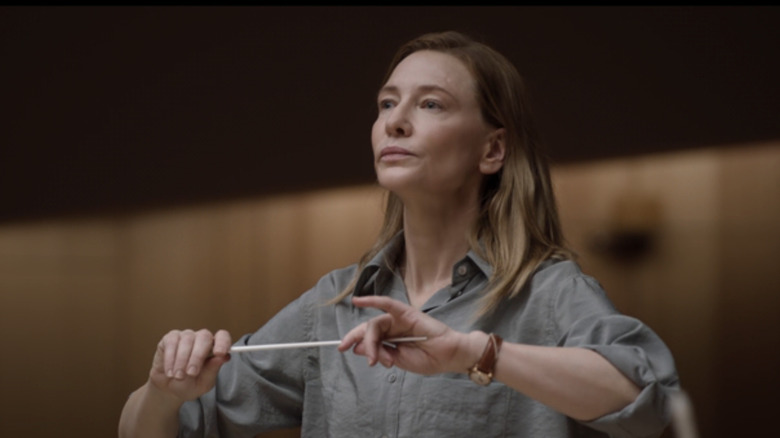 Focus Features/Universal
Creating a character such as Lydia Tár is undoubtedly a high-wire act. For audiences to empathize with someone who is ultimately a monstrous figure, Cate Blanchett said she had to focus on Lydia's one true joy: conducting. "Which started with the music," the "Thor: Ragnarok" star said in a recent interview with Variety. "Interrogating, 'Why is it the Mahler Fifth? Why has she saved that for last? What is it about that piece of music that means so much to her that she is so frightened of?'" According to the actor, she had initially wished to film some of the transitional scenes first, but Todd Field had a limited time to shoot the stunning orchestral scenes and insisted they come first. "He said, 'Here's the thing ... We're going to lose the orchestra in Dresden and we have to do all of the conducting first,'" she explained.
However, Blanchett admitted plunging into the deep end of the role was a gift because it allowed her to explore Lydia's true passion, which only made the characters fall from grace more visceral on a storytelling level. "I started with what she loved," the actor said. "I started with what she did, where her identity was bound up, and I realized the stakes. Because when we lose what we love, when we lose our identity, without the music, who is she?"
Though the role was hard work, forcing Blanchett to conduct a symphony and work with an orchestra, those initial days of filming brought her into tune with the innermost desires of Lydia Tár. But the work was far from over.
Blanchett based her performance partially on Susan Sontag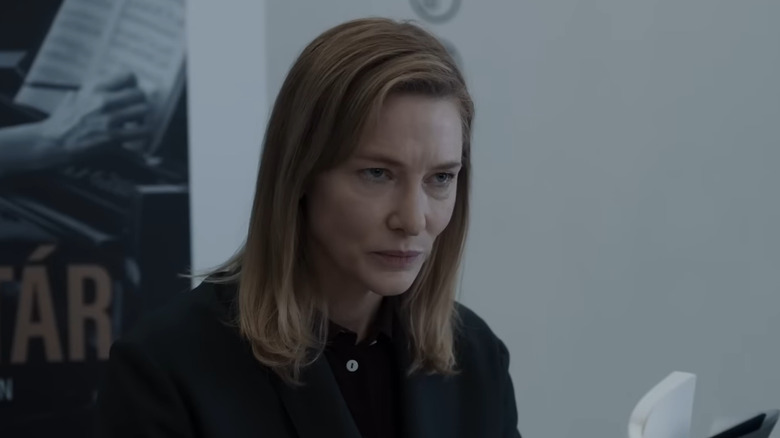 Focus Features/Universal
According to Todd Field and Cate Blanchett, working through Lydia Tár's backstory was a major component of getting things right. Field wrote the script for "Tár" with Blanchett in mind and said he had envisioned far more backstory for Lydia than appears in the film. But though the actor claims she didn't want to change a syllable of the script, Field allowed Blanchett to bring her own angle to the performance.
In crafting her approach to playing an artistic luminary, the "The Lord of the Rings" actor took inspiration from a famous postwar novelist and literary theorist. "I listened a lot, strangely, to Susan Sontag," Blanchett explained to Variety. "I kept thinking, 'Who is a really razor-sharp, absolutely authentic public intellectual?' and I thought a lot about Susan Sontag." Though Sontag was never accused of abusing her status or power, she was, like the fictional Lydia Tár, a queer woman who reached the highest levels of public life and an exacting aesthete whose writings and speeches often brandished a cutlass at societal mores and flouted the status quo.
All of that preparation and backstory was important to Field and Blanchett because of the degree to which "Tár" relies on unspoken truths to forward its plot. "It wasn't just stuff that we were writing in our notebooks," Blanchett said. "As actors, we wanted to bring it into the subtext. The subtext is very, very thick in this film."
Their collaboration seems to have paid off, as "Tár" has already joined the conversation for possible award-season contenders.