Amazon Reportedly Planning A Tomb Raider Franchise, Including A New Feature Film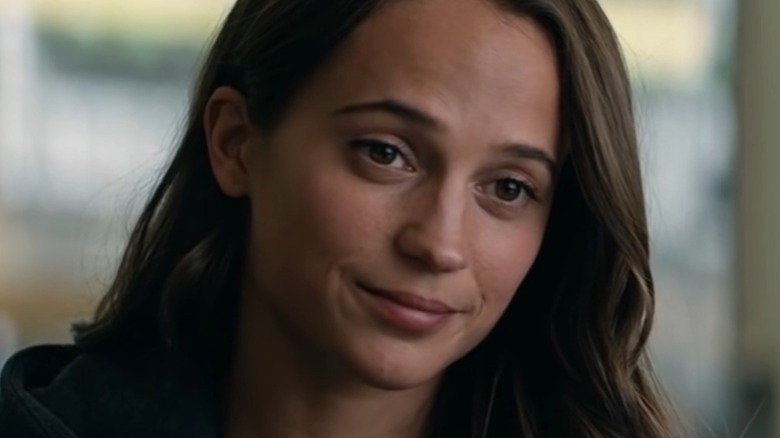 Warner Bros.
If you've spent any amount of time in video game circles, chances are you're familiar with "Tomb Raider" to some extent. The action-adventure series led by main character Lara Croft has been around for years, cultivating a massive fanbase and earning a reputation as one of the most recognizable franchises in gaming. Of course, if you're not much of a gamer, there's still a good chance the "Tomb Raider" series rings a bell. Over the years, it has jumped to the cinema a handful of times, attaining varying levels of success throughout its big screen history.
In the early 2000s, "Tomb Raider" fans were treated to a pair of adaptations: "Lara Croft: Tomb Raider" and "Lara Croft: Tomb Raider – The Cradle of Life." While perfectly suitable action movies, the Angelina Jolie-starring duology hardly set the world on fire and didn't exactly impress at the box office. As a result, a "Tomb Raider" movie wouldn't reach the silver screen again until 2018 with the aptly-titled "Tomb Raider." This adaptation served as a reboot with Alicia Vikander as Lara Croft, though it, too, failed to catch on. Ultimately it never received a continuation, but as it turns out, there's more "Tomb Raider" media on the horizon.
It has come to light that Amazon has its sights set on a "Tomb Raider" franchise, with a new feature film and so much more in the works.
Amazon is going all-in with a Tomb Raider shared universe
Paramount Pictures
As detailed by The Hollywood Reporter on January 27, 2023, Amazon is going all-in with its "Tomb Raider" franchise. Not only is it planning a television show written by Phoebe Waller-Bridge, as revealed previously, but it intends to produce a new film as well as at least one new video game. The publication notes that Amazon's goal with all of this is to create a multimedia saga similar to what Disney and Marvel Studios have done with the massively successful Marvel Cinematic Universe. To accomplish all of this, Amazon is teaming up with Dmitri M. Johnson's dj2 Entertainment.
To make this shared "Tomb Raider" universe a reality, it seems that Amazon is digging deep into its wallet, too. According to one source that spoke with The Hollywood Reporter, this commitment rivals the size of the streamer's foray into the world of J.R.R. Tolkien via "The Lord of the Rings: The Rings of Power." For reference, it's said that Amazon shelled out roughly $250 million on the rights to "Lord of the Rings" alone, so one has to imagine that it has plans to pay out the nose to get this "Tomb Raider" franchise up and running.
Overall, "Tomb Raider" hasn't had the best track record when it comes to blockbuster reimaginings, but with Amazon's vast resources and a skilled crew behind it, perhaps a shared universe will work out after all.