Criminal Minds: Evolution Fans Are Worried For Rossi's Life After Episode 8
Contains spoilers for the latest episode of "Criminal Minds: Evolution"
The "Criminal Minds" revival is inching ever closer to the end of its first season on Paramount+. With just two episodes of "Criminal Minds: Evolution" left, the stakes have arguably never been higher for the BAU team. And the final moments of the season's 8th episode have fans worried over the fate of one of the series' best-loved characters, Special Agent David Rossi (Joe Mantegna).
If you're wondering why, it's because the episode — titled "Forget Me Knots" — finds Rossi and his BAU buddies getting closer than ever to identifying the seasons' biggest, baddest unsub Elias Voit (Zach Gilford), better known to some as the nefarious serial killer Sicarius. After kidnapping a real estate agent (Kerry Knupe) and using her for some oddly therapeutic role-playing, Sicarius evaded the BAU's grasp once again after leaving the killing to one of his Dark Web buddies, who ultimately fails in that endeavor.
Still, with mortal threats made against her family, the lucky-to-be-alive victim refuses to put a face to Sicarius, further frustrating the BAU's case. Undeterred by the killer's slippery ways, Rossi decides to go old-school in his pursuit, using a phone list as a starting point for a door-to-door interrogation campaign. Said campaign quickly finds him knocking at the door of the Voit residence. That stunning twist of fate indeed has "Criminal Minds" fandom fretting over Rossi's fate.
Some fans threaten to stop watching Criminal Minds: Evolution if they mess with Rossi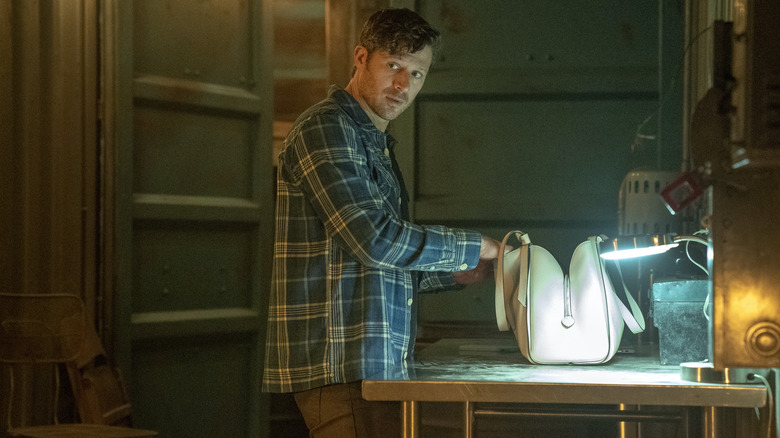 Bill Inoshita/Paramount +
As far as fan bases go, "Criminal Minds" boasts one of the more ardent groups of admirers out there. Over the series' 16-season run to date, many have become deeply invested in the lives and fates of the BAU team. And since David Rossi has been a key player on the team since Season 3, fans are arguably more invested in him than most. One of those Rossi lovers cares so much about the character, they took to Twitter with a threat to stop watching "Criminal Minds: Evolution" altogether if the writers take him out, with @CMfan710 posting, "I need ALL of the #CriminalMindsEvolution episodes NOW!!! Y'all better not play with Rossi's life either. Imma stop watching period."
They're not the only fan tweeting in fear for Rossi's life, with @gavipedri posting, "Pls don't let Rossi be in danger," along with a weeping face emoji. Meanwhile, user @kangsbabies called the show out on Twitter directly with the post, "#CriminalMindsEvolution DO. NOT. KILL. ROSSI." Elsewhere in the greater Twitterverse, @booknerd8621 was one of several users who posted the eerie, — and instantly meme-able–  clip of Elias Voit's wife Bridget Voit (Keile Sanchez) opening their front door to Rossi's smiling, unsuspecting face. They summed up their own concern by posting that clip with a single word, "Chills." 
"Criminal Minds: Evolution" fans are clearly fearing the worst for the BAU all-star. Thankfully, with just two episodes of "Evolution" insanity left they won't have to wait too long to find out what happens to Rossi during his ominous visit to the Voit residence.
Killing Rossi would likely up the ante on Criminal Minds in fascinating ways
Given all the emotional turmoil David Rossi has already endured on "Criminal Minds: Evolution," it would be shocking if the creative team actually took him out of the picture, even at the hands of an unsub as cunning and unscrupulous as Elias Voit. So it's a safe enough bet Rossi will end the season alive, if not completely well.
And if history has taught us anything, it's that "Criminal Minds" has oft-enjoyed putting one BAU heavy or another in mortal danger, only to save them via some last-minute heroics. Heck, even "Criminal Minds" diehards might admit the series went to that well too many times during its initial 15-season run on CBS. Various near-misses aside, Mandy Patinkin's Jason Gideon is the only BAU member to actually die on the series, and his death occurred not only off-screen, but years after the character's BAU exit, and Patinkin's own exit from the show.
Frankly, it's high time "Criminal Minds" raised the stakes for the BAU. "Evolution" is maybe the best opportunity longtime showrunner Erica Messer will have to do that. She has, after all, stated the revival earned its new subtitle because it felt like an evolved form of the original series (per Deadline). Nothing would seal that concept more than killing off a central character. Few character deaths would have a bigger impact than Rossi. As heartbreaking as said death would be, it would no doubt set "Evolution" apart from its predecessor in ways even all those well-earned F-bombs couldn't. And if you really love the show, that's just the sort of evolution you should be hoping for.