Gwendoline Christie Gushes Over Playing Brienne Of Tarth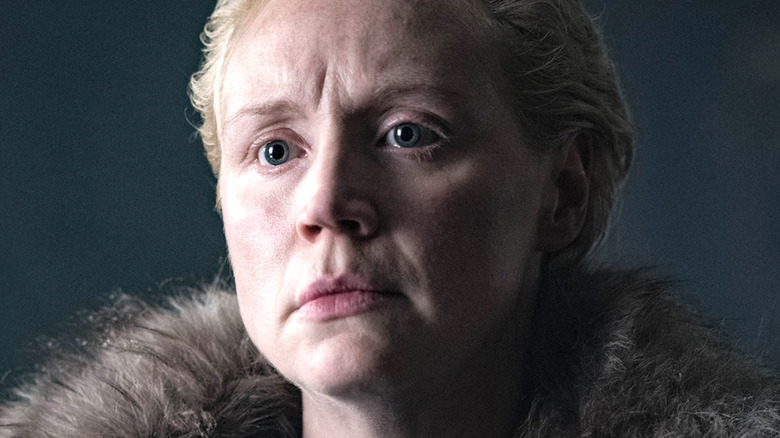 Helen Sloan/HBO
Ever since her breakout performance in "Game of Thrones," Gwendoline Christie has become a star in the industry, appearing in numerous movies and TV shows. Her performance as Brienne of Tarth even snagged her an Emmy nomination in 2019, although she had to submit herself for consideration.
After her scene-stealing performance in "Game of Thrones," Lucasfilm quickly swept Christie up, bringing her into the "Star Wars" universe as Captain Phasma for "The Force Awakens" and "The Last Jedi." Many fans agree that "Star Wars" royally under-utilized Captain Phasma, who appears for only a few minutes across both films. While we can only hope that her death was more of a "Boba Fett in the Sarlacc pit" situation, it doesn't seem likely fans will see Phasma again, even if a novel gave her an awesome origin story to go with her badass armor.
Christie also landed roles in two of Netflix's most popular 2022 shows, "The Sandman" and "Wednesday." In the adaptation of Neil Gaiman's classic comic book, she plays Lucifer, the ruler of Hell. For the "Addams Family" spin-off, she appears as the shapeshifting principal Larissa Weems at Nevermore Academy. Needless to say, Christie has played some incredible characters during her short time as a hot commodity in Hollywood. However, no role has come nearly as close to capturing a piece of her heart as much as Brienne.
Gwendoline Christie never thought a role like Brienne of Tarth would be on screen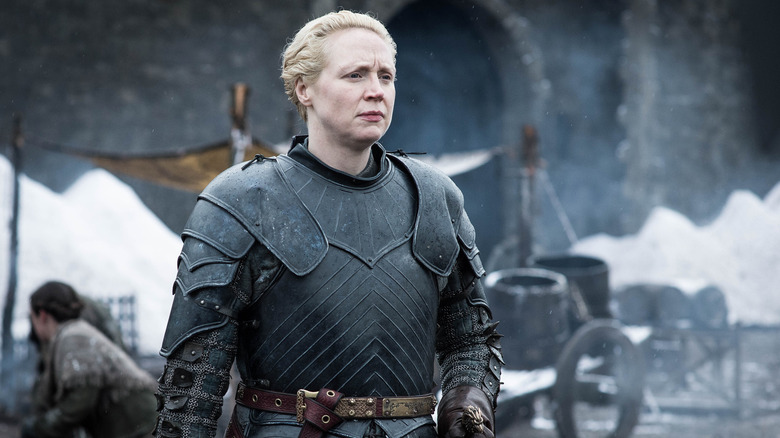 Helen Sloan/HBO
During a recent interview with Vogue, Gwendoline Christie broke down some of her iconic on-screen looks. Of course, the conversation started with her most well-known performance, Brienne of Tarth, in "Game of Thrones," and the actor couldn't stop expressing her love for the knight.
"My goodness, Brienne of Tarth is just so close to my heart," Christie said. "I remember when I first heard about the part, I really wanted to do screenwork. That's all I wanted to do my whole life, really. I'd been told, just simply because I was a tall woman with somewhat unusual looks, that I would probably never work on screen." She continues by praising "A Song of Ice and Fire" author George R. R. Martin for writing compelling feminist characters.
Christie was honored to play Brienne in seven seasons of the fantasy series but couldn't believe to see herself and other women like her represented on screen like that. "And I had to take my hair away, I had to acknowledge my height, my strength, my size, my androgyny, and also my vulnerability," she said. Christie added she had to also get physically stronger, hitting the gym daily to achieve the perfect knight physique. Previously, she told Games Radar she exercised with a trainer who tailored her workouts to develop the body a knight would have specifically. 
Christie concluded, "But this part, I will never stop loving ... and I think it's helped to contribute, in some small way, towards the landscape of how we see women in our modern entertainment because the amazing thing was people loved the character." Indeed, Brienne remained a fan-favorite character even in the controversial latter seasons, with her knighting scene being one of the only highlights of Season 8.