Both Taylor Sheridan And Sylvester Stallone Wanted To Work Together Long Before Tulsa King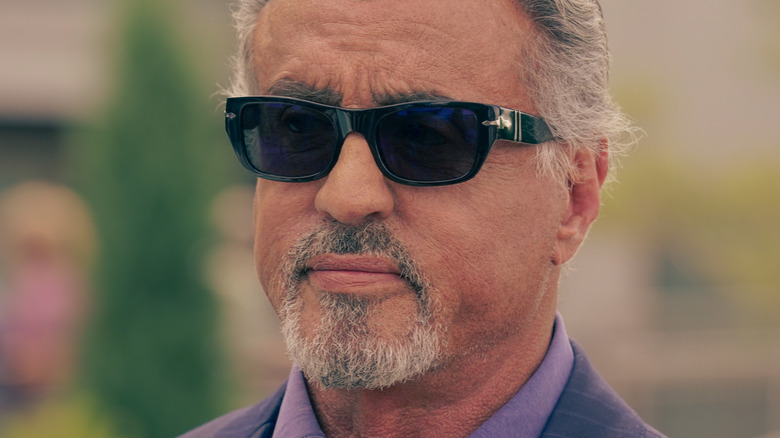 Brian Douglas/Paramount+
When it comes to crafting TV dramas, Taylor Sheridan is probably the hottest commodity at the moment. He got his start in the industry as an actor, but made the switch to writing and directing. Sheridan's work is praised as being partly responsible for helping to reinvigorate the neo-Western genre with films like "Hell or High Water" and "Wind River" (via Salon). However, arguably his biggest accomplishment to date was creating the smash hit Paramount Network series, "Yellowstone." In a world where franchises are typically reserved for superheroes and space wizards, he branched "Yellowstone" out with various spinoffs, including "1883" and "1923," with more to come. 
It seems Paramount is very happy to be in the Taylor Sheridan business, as he created a different kind of show for Paramount+ – "Tulsa King." It's a crime drama series about a mafioso who's sent to Tulsa, Oklahoma to try to start a criminal organization there. While it may not involve cowboys, it's still something very much within Sheridan's wheelhouse, and Sylvester Stallone brings a lot to the lead role of Dwight Manfredi. As it turns out, Sheridan and Stallone wanted to work together for a long time, and "Tulsa King" managed to be the perfect project to bring them together.
Sylvester Stallone always wanted to be a cowboy and Dwight was close enough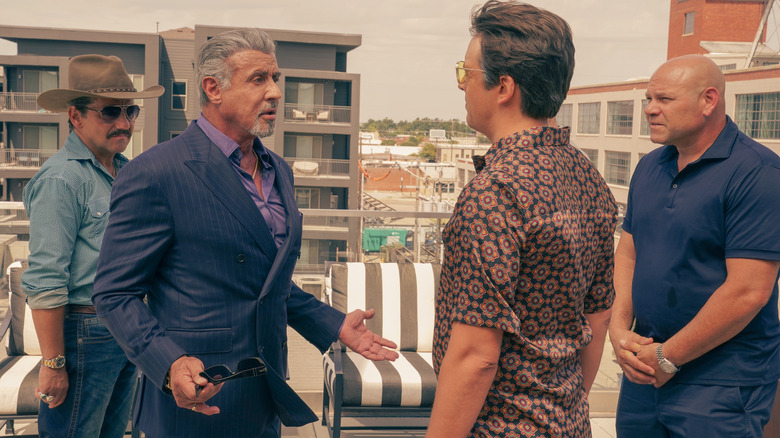 Brian Douglas/Paramount+
Taylor Sheridan has been known to rope in some serious talent for his projects. "Yellowstone" cast Kevin Costner, while the show's various spinoffs have wrangled stars like Harrison Ford, Helen Mirren, and Sam Elliott. Sheridan teaming up with Sylvester Stallone seemed like a natural match, and Stallone was more than happy to step into the world of television for the opportunity. 
In an interview with Decider, Stallone confirmed that his desire to work with Sheridan was mutual long before he was pitched "Tulsa King." "I knew that no one was going to buy me as a just cowboy, but it's something I've always wanted to play," Stallone said. "Unbeknownst to me, Taylor was working on this project where this mafioso goes west and steps into that classic fish-out-of-water situation that we all love. When Taylor called and I read the script, I knew that the role of Dwight Manfredi taps into my desire to play that kind of cowboy character."
"Tulsa King" could be viewed as a kind of neo-Western. Dwight makes his own rules and tries to make a life for himself in an unknown frontier. Plus, it doesn't hurt that he has some horses to his name to help make the correlation even clearer. Ultimately, Dwight is an outlaw who has his own code he abides by, making for one of the juiciest roles Stallone has had in his lengthy career.