Small Details You Missed In Tulsa King Season 1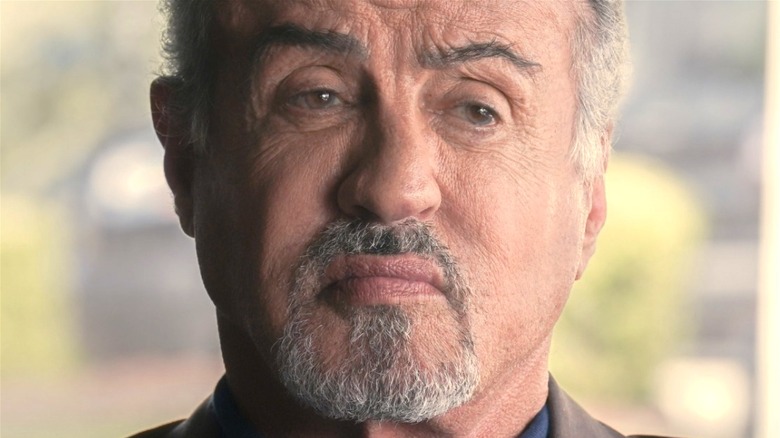 Brian Douglas/Paramount+
Three-time Oscar-nominee Sylvester Stallone is back in a big way, but this time he's on the small screen, chewing up the scenery in Tulsa, Oklahoma in the Paramount+ series "Tulsa King." This fish-out-of-water, mafioso-out-of-jail saga makes for delightfully bingeable viewing. Trust us, this is already your dad's favorite show — and it might end up being yours, too. Brought to you by "Yellowstone" creator Taylor Sheridan and showrunner Terence Winter, who honed his television chops on "The Sopranos," "Tulsa King" combines just the right amounts of action, drama, and crazy plot twists to keep viewers wanting more. In addition to Sly as the aging-but-still-intimidating wiseguy Dwight "The General" Manfredi, the series boasts a superb supporting cast including Martin Starr, Dana Delany, and Annabella Sciorra.
Sheridan and Winter have been responsible for some of the most compelling, culture-defining television of the last few decades. These guys know what they're doing, and it really shows with "Tulsa King." Who else could make ex-con Manfredi struggling to acquire his first debit card such riveting television? For the discerning pop-culture vulture, "Tulsa King" is chock full of clever references and nods to '70s and '80s cop shows, mafia-themed cinema, and classic literature. You might even spot one of Stallone's kids if you look hard enough. So throw on your cowboy boots and pinkie ring and let's take a closer look at some of the surprising details you may have missed in the first season of "Tulsa King."
Dwight's prison library alludes to his life choices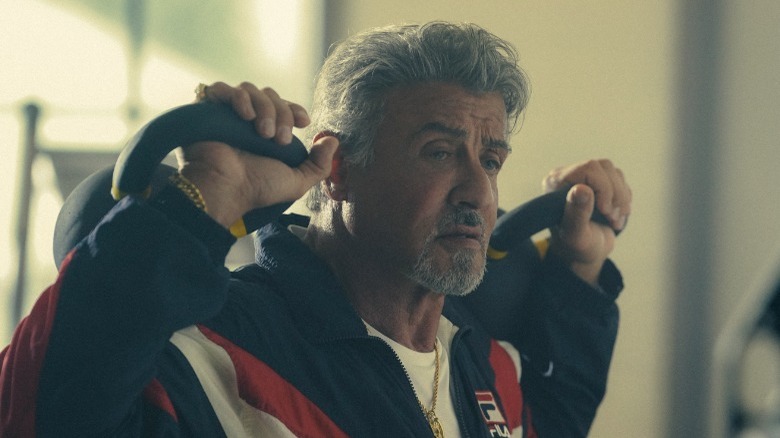 Brian Douglas/Paramount+
Episode 1 of "Tulsa King" introduces us to Dwight "The General" Manfredi as he prepares to leave prison. Dwight avoided violence in the penitentiary by escaping into books. Manfredi says of his time behind bars, "I read some very good literature, wrote some very bad poems." A stack of books in the foreground contains some of the titles he's alluding to, including "Othello" by William Shakespeare, "Thus Spoke Zarathustra" by Friedrich Nietzsche, "Faust" by Johann Wolfgang von Goethe, "The Laws of Human Nature" by Robert Greene, and "Middlemarch" by Mary Anne Evans, who wrote under the pen name George Eliot.
Some of these books clearly allude to Dwight's life choices. "Thus Spoke Zarathustra" explores the philosophical concepts of "will to power" and "Übermensch," both of which are concerned with human potential and achievement. "The Laws of Human Nature" investigates self-mastery by understanding others' emotional motivations. But perhaps the book that illustrates Dwight's circumstances best is "Faust." In this tale, Faust makes a bargain with the Devil: He exchanges his soul for worldly knowledge and pleasures. Like Faust, Dwight makes his own ruinous pact with nefarious forces, but instead of making a deal with Satan's representative Mephistopheles, he aligns himself with mafioso Pete Invernizzi (A.C. Peterson).
Spencer the Barista is Sylvester Stallone's daughter
If you noticed Dwight and barista Spencer's easy, natural chemistry, then it will come as no surprise to learn that they've been working on it for a couple of decades. Spencer is played by Scarlet Rose Stallone, Sylvester Stallone's youngest daughter. We get to know Spencer when Dwight, missing the comforts of his home turf (New York City) decamps to a local coffee shop to sip on double espressos. The ex-con and the young barista soon become friends. Dwight looks out for her, and he even secures her a new job at Fennario Ranch as the exclusive caretaker of Pilot the horse.
"Tulsa King" marks Scarlet's first major acting gig. She had a small part in the 2014 Sly-led movie "Reach Me," but this is her first recurring television role. Dad has nothing but praise for his daughter's budding acting career and her talents. "There's a thing she has with the camera, even with still shots, that is unique," he told USA Today. "All my daughters are beautiful, and they all have their specialties. But Scarlet is the one who's most adamant about pursuing the job of a wondering dramaturge — and she's up for anything."
The meaning of Fennario Ranch's name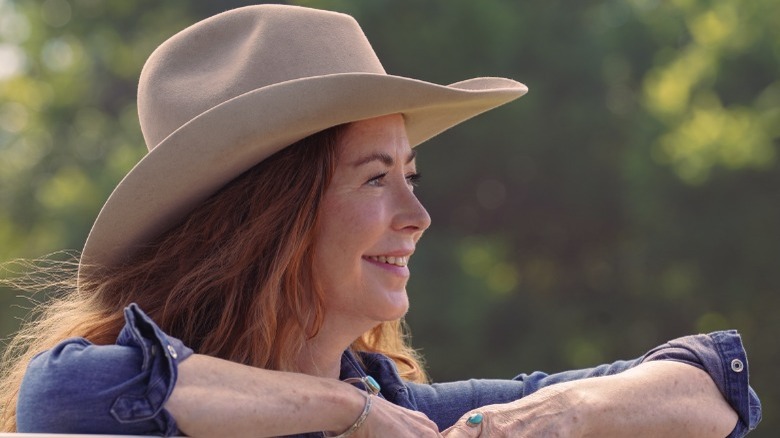 Brian Douglas/Paramount+
After his attempted murder by a masked shooter in Episode 3, Dwight puts on his investigative hat and tries to figure out who wants him dead. His findings lead him to Fennario Ranch, owned by the hard-talking Margaret Devereaux (Dana Delany). As the series progresses, Margaret, intrigued by Dwight, asks him out to dinner. On their date, Margaret and Dwight get to know each other and share details about their personal lives. One fun fact that Margaret reveals in their conversation is the meaning behind her ranch's name.
No, Fennario is not Margaret's last name, as Dwight wrongfully assumes. It's a mythical Scottish locale from the traditional folk song "The Bonnie Lass of Fyvie," also known as "Peggy-O." Famously covered by Joan Baez, Bob Dylan, and — as name-checked by Margaret — The Grateful Dead, "Peggy-O" tells the story of Peggy, a maiden who rejects a penniless soldier's love. The jilted soldier promises vengeance but dies before he can act upon his threat. Luckily for Margaret, her love life hasn't played out so tragically. Her first husband apparently had more than a few pennies to rub together, because she inherited Fennario Ranch as part of her divorce settlement.
The Goodfellas of the Great Plains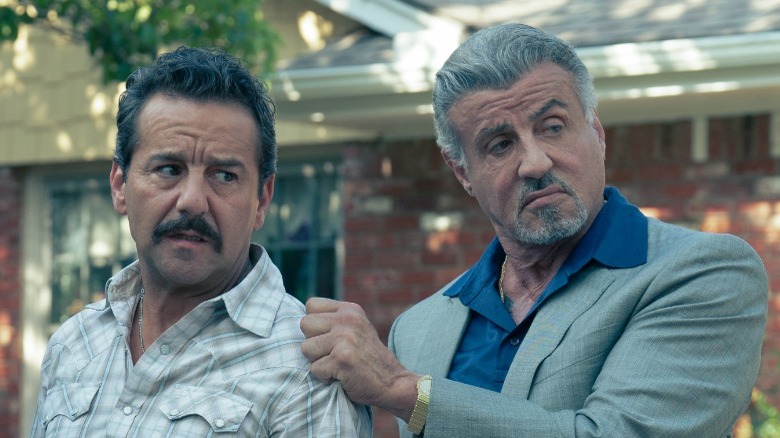 Brian Douglas/Paramount+
"Tulsa King" brings the Mafia to the Great Plains and it's only natural that the show plants subtle references to the classic mobster movie "Goodfellas," another tale of a mafioso banished to Middle America. In Episode 3, Dwight's driver Tyson (Jay Will) wants to be a gangster and references Henry Hill, the main character of "Goodfellas," as an example of how he can make his way in organized crime. Dwight refutes the idea, telling him the real Henry Hill and his family were almost killed. He tells Tyson to ditch his lofty criminal aspirations and go to college instead.
"Goodfellas" is referenced once more in Episode 4, but it's not as explicit as the previous mention. Armand (Max Casella), a gangster-in-hiding residing in Tulsa, has a neighbor who takes delight in letting his dog do his business in Armand's yard. Eventually, enough is enough, and Armand steps in dog poop for the last time. He walks across the street, soiled boot in hand, and viciously beats his neighbor with it. This scene mirrors the moment in "Goodfellas" when Ray Liotta's Henry charges across the street to beat up Karen's (Lorraine Bracco) sleazy neighbor for assaulting her.
The Center of the Universe is a real place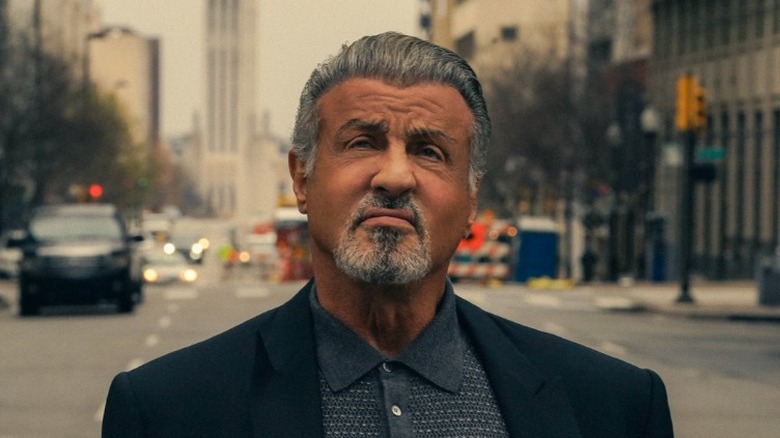 Brian Douglas/Paramount+
Episode 2 of "Tulsa King" is titled "Center of the Universe," and it's not just a clever name. In the episode, Dwight wanders through Tulsa and finds himself at The Center of the Universe. He's informed by a local woman that only people standing within the circle can hear what's said inside it. Later in the episode, Dwight tries and fails to reconnect with his estranged daughter Tina (Tatiana Zappardino). Distraught, he goes to The Center of the Universe and confesses he stopped talking to his daughter because it was too hard on him. Only he can hear his tearful apology to Tina.
While The Center of the Universe seems like a convenient plot device for showing Dwight's inner turmoil, it's actually a real place in Tulsa. According to Atlas Obscura, The Center of the Universe is considered an anomaly and folks haven't quite figured out how and why it works, but it certainly does (although the show does take some liberties with the particulars). In addition to The Center of the Universe, other "Tulsa King" locations can be visited in real life. According to Visit Tulsa, fans of the show can also check out South Boston Avenue in downtown Tulsa, Tulsa International Airport, The Mayo Hotel, and Triangle Coffee Roasters.
The General vs. The Colonel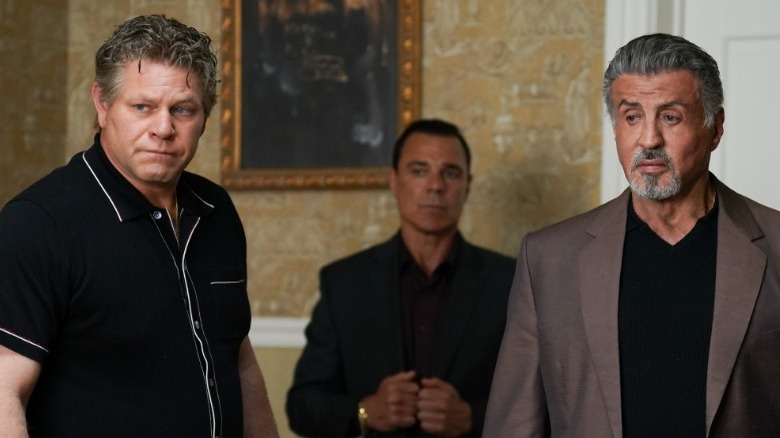 Brian Douglas/Paramount+
In the first episode of "Tusla King," we learn that Dwight is named after one of the 20th century's most celebrated military officers. Dwight shares with bartender Mitch (Garrett Hedlund) that his immigrant parents named him after World War II general and future president Dwight D. Eisenhower, hence his nickname, The General. He's also seen as a leader in the Invernizzi crime family, someone to admire and follow. One person in the Invernizzi family who idolizes Dwight is Charles "Chickie" Invernizzi (Domenick Lombardozzi), son of boss Pete Invernizzi. However, his admiration soon turns into competition.
Unlike The General, who only wanted to be a gangster, Chickie truly wanted to be a military hero, and resents his father dragging him into the family crime business. Colonel Chickie has a nice ring to it, we must admit. Eventually, Chickie kills his father and becomes the leader he always wanted to be, although his decorations are less gold medals and more gold chains. However, a general still outranks a colonel, and in Episode 9, Dwight orders Chickie out of Tulsa.
Landline phones and Dwight's connection to the past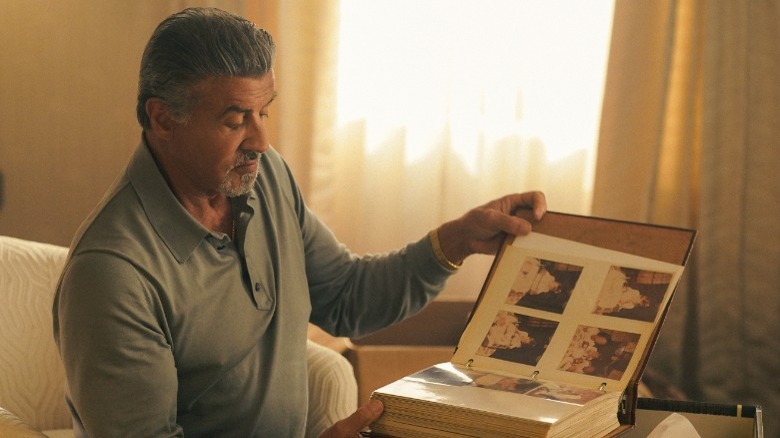 Brian Douglas/Paramount+
Dwight has dedicated his life to being a loyal mafioso, maintaining his silence and loyalty to the Invernizzi family while spending decades behind bars. But, while Dwight kept his oath to his organized crime cohorts, it came at the price of neglecting his real family. We learn that Dwight stopped communicating with his daughter Tina because talking with her was too painful for him and he also hasn't seen his brother and sister in years. Finally out of prison, Dwight calls Tina, but she's not interested in talking and he only connects with siblings as his brother dies. A small detail you might have missed gives insight into how Dwight longs to reach back into his past.
When Dwight calls his family, he calls on a smartphone, but his kin often uses landlines. In the 2020s, having and using a landline for personal phone calls is pretty antiquated, yet Dwight calls his sister-in-law Denise (Phyllis Pastore) and leaves her a lengthy message on her answering machine. His daughter, who is most likely in the elder millennial demographic, has a landline in her home and, shockingly, she answers it. As Forbes reports, millennials really dislike phone calls, so the fact that Tina has an operational landline is something that surely serves as a metaphor for the communication gulf with her dad. It's a bridge to history, a way for Dwight to reconcile his relationships with his loved ones.
Dwight's many fish-out-of-water moments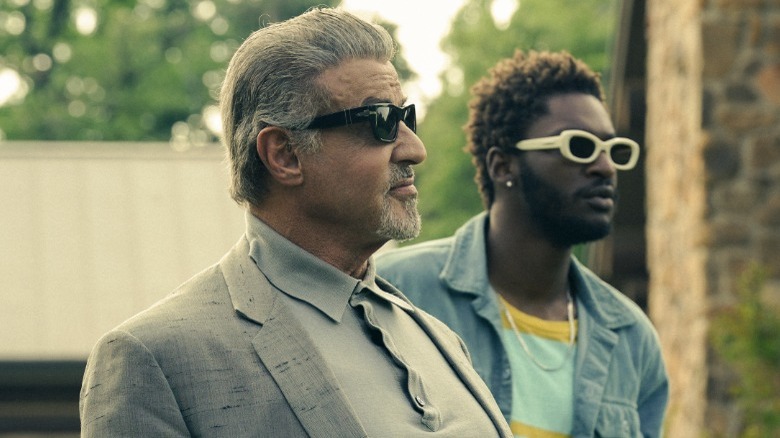 Brian Douglas/Paramount+
In Episode 1 of "Tulsa King," we learn that Dwight has been in prison for 25 years. After serving time for a quarter of a century, it's no surprise that he finds transitioning into 21st century life somewhat awkward. New York City is filled with Citi Bikes, yoga mats, and VR headsets, and while Dwight might shake his head at what the kids are doing these days, he has to adjust. They might not get his references to classic TV shows like "The Jeffersons," the Woodstock music festival, or Kenny Rogers, but Dwight does his best to speak their language.
It's clear that Dwight has managed to keep up with at least some pop culture developments while behind bars. He recognizes that a "Family Feud" episode is a rerun — he surely knows John O'Hurley hasn't been the host of the game show in years. However, while Dwight seemingly spent plenty of time watching TV, he's way out of the loop when it comes to cultural trends. Getting an Uber, the obsolescence of cash, and using agave as a drink sweetener are just some of the "oddities" Dwight encounters as he re-enters society.
The difference between Dwight and his brother Joe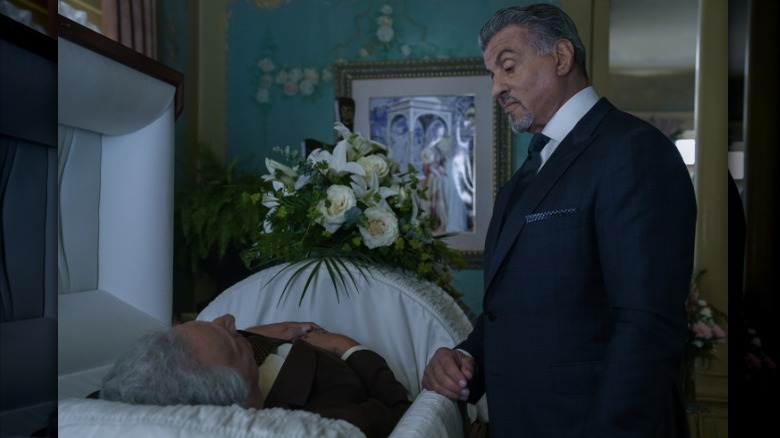 Brian Douglas/Paramount+
As a child, Dwight dreamed of the mafia life. In the first episode of the debut season, he recalls his father asking him what he wants to be when he grows up. He laughs at the suggestion that he becomes a barber like his dad and instead insists on becoming a successful gangster, a choice he eventually comes to regret. While Dwight choses a life of crime, his younger brother Joe lived his life more conventionally. Sure, Dwight eventually gains the means to pay for splashy dinners and for Joe's funeral service by being a member of the mafia, but that money can't buy the respect and love of his family.
Hints about the Manfredi brothers' differences are sprinkled throughout the show. At the end of Episode 1, Dwight's FBI rap sheet includes details on his family, including Joe, who is described as a "long-time employee" of an unnamed institution. During Joe's funeral in Episode 5, the portrait beside his casket shows him wearing a uniform with an arm patch and other guests can be spotted in the background wearing the same patched jacket. The episode's title, "Token Joe," alludes to Joe's possible profession as a public servant. Later in the episode, Dwight leaves a message on his brother's answering machine. In his message, Dwight honors Joe's peaceful, family-centered life. Dwight seemingly admits that he and Joe — who was dutiful, helpful, modest, and present — were polar opposites.
Pilot is the equine version of Dwight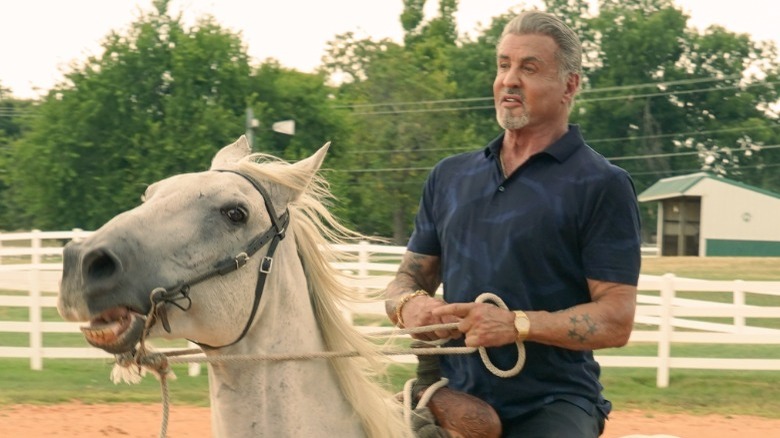 Brian Douglas/Paramount+
Pilot the horse and Dwight are both somewhat shiftless figures in "Tulsa King." First spotted trotting on the streets of Tulsa in Episode 2, old Pilot wanders around the city. Spencer the barista informs Dwight that "not all horses are a fan of the pasture." He quips back, "Tell me about it," clearly aware that, like Pilot, he's adrift in this town, trying to make the most of his own pasturing. In Episode 6, titled "Pasture," Dwight notices Pilot is absent from his morning jaunt. Spencer informs him that Pilot is going to be put down. Unhappy about this, Dwight offers to buy the horse from his owner and thus saves his life.
"The horse Pilot is really the equine version of Dwight himself," showrunner Terence Winter said in a behind-the-scenes interview. "You know, this former champion who's now seen better days, who's put out to pasture and people kind of overlook him." Both Pilot and Dwight have a second chance at life, an opportunity for redemption through love. Pilot goes to live at Fennario Ranch where he's doted on by Spencer, and Dwight reconnects with his daughter and his grandsons by taking them to ride Pilot. Dwight himself even takes Pilot for a ride at the end of Episode 9, trotting into their new lives together.
Paying homage to Miami Vice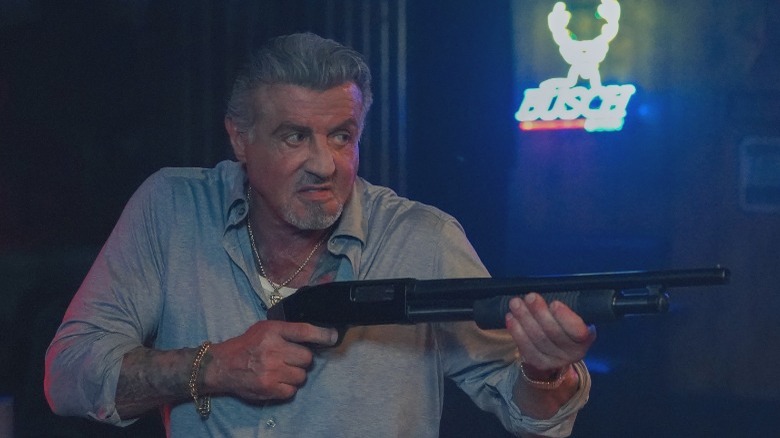 Brian Douglas/Paramount+
Season 1 of "Tulsa King" crescendos with an epic shootout between Dwight's ragtag crew of fighters and the vicious Black McAdam motorcycle gang. The violent confrontation, shaded by moody neon lighting, is set to "In the Air Tonight" by Phil Collins. The thundering drums build to a mesmerizing bullet ballet, and some of the people involved don't make it out alive. This isn't the first time "In the Air Tonight" has been used in a television drama. In fact, its use in "Tulsa King" can be seen as an homage to the show that did it first: "Miami Vice."
"Miami Vice" elevated the prime time crime caper into the realm of high aesthetics. The show's 1984 pilot episode, "Brother's Keeper," is effortlessly cool with its dramatic use of "In the Air Tonight." Crockett (Don Johnson) and Tubbs (Philip Michael Thomas) are heading towards a potential deadly confrontation, and the song pulsates as they drive through the streets of Miami. A sense of dread looms over their ride, just as it does for Dwight in "Tulsa King." The end of Episode 9 reprises the song as Dwight, now arrested, is driven away by the authorities, his future uncertain.
Actors who have worked with Terence Winter before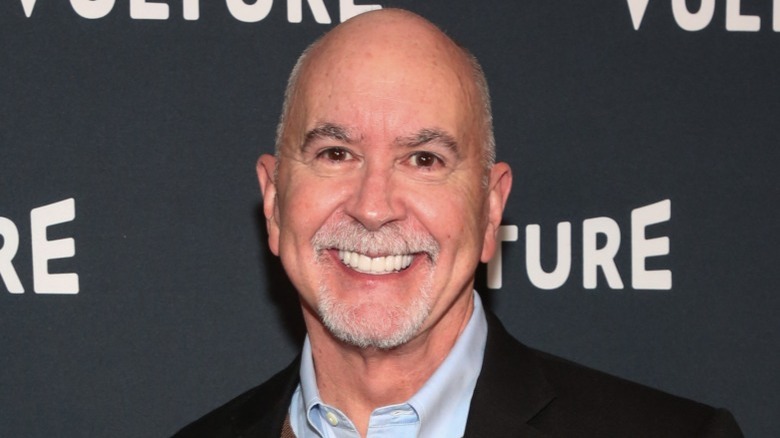 Paul Archuleta/Getty Images
"Tulsa King" showrunner Terence Winter has worked with some great actors over the years, and many players from his past projects appear in "Tulsa King." Winter served as an executive producer and writer on the seminal HBO drama "The Sopranos," and he created and oversaw the hit show "Boardwalk Empire." Not everything he touches turns to gold (he was also the co-creator and producer of HBO's "Vinyl," which didn't end up getting a second season despite some decent reviews), but, when it comes to crime, he clearly knows his stuff.
Winter's past projects all have a heavy emphasis on organized crime and transgressive underworlds, and "Tulsa King" is no exception to the rule. It's not surprising to learn that the "Tulsa King" cast overlaps with previous Winter shows in many areas. For example, Dwight's sister Joanne is played by Annabella Sciorra, who played Gloria Trillo on "The Sopranos." Chris Caldovino, who plays Goodie Carangi in "Tulsa King," appeared in both "The Sopranos" and "Boardwalk Empire," making him a Winter regular.
Vincent Piazza (Vince Antonacci) played Lucky Luciano in "Boardwalk Empire," and Domenick Lombardozzi (Chickie Invernizzi) played Ralph Capone in the Atlantic City-set period series. Max Casella (Armand Truisi) is another Winter power player, having had roles in "The Sopranos," "Boardwalk Empire," and "Vinyl." When it comes to acting, it's good to be a gangster.